Bazinga, now Bahzi
Gender: Male
Age: 1 Year Old
Height/Weight: 21" / 55 lbs
House-trained: Yes
Fenced yard required: Yes
Location: SE Michigan
Foster Home: Sue


Crate-trained: Yes
Treat-motivated: Yes
Toy-motivated: Yes
Likes Car Rides: Yes
Good with cats: tbd
Good with kids: 8 and up (only because he's big and bouncy)
Commands:
---
Pupdate July, 2014: At 6 ½ days in, life is good between people and puppy dog.
1) Name: We have updated to Bahzi (baa-zee). Kevin selected the name. Bazi looked too much like Nazi to me, so we added the "h" to differentiate.
2) Feeding was a little odd at first. We think it was related to not having a pack to eat with. He now knows it is his dish to eat from whenever something is in it.
3) Has learned to sit for many activities (like before we walk out the door and whenever we plan to cross the street). Is learning to "stop" before crossing the street. However, this all goes out the window whenever we enter the house or he meets anyone. Leaping and soft mouth are still being addressed.
4) Bahzi has many new toys. His tastes are a little different than our previous BC-mix, Jackk (RIP, 2002 ==> June 1, 2014). He has learned, mostly, to fetch and drop the ball. He is learning to bring his toys in from the yard. Since he is clearly capable, we are starting to also teach him to put his toys into a plastic tub. He carried a rawhide bone to the yard, and hid it in some ferns. Later in the evening, he retrieved the same bone so that he could bury it in the corner of a raised-bed strawberry garden. Birds/rabbits already ate the strawberries. Not sure if he has moved the bone again or not.
5) He has learned our back yard. He does not mess with trash cans. He will visit the dishwasher to take lick. He is still very interested in what we are eating. In an adjustment period, the door to Minnie Purrl's safe room and litter box was left open. Guess who will eat kitty droppings? Uck! We have a reminder note on the door now to prevent/minimize recurrence. Funny how Minnie gets a little annoyed when Bahzi bothers her, but when she did the exact same type of stuff to Jackk which was apparently okay.
6) He has met several other neighborhood dogs. He met Dakota, 4-5 year old yellow lab who is the much younger partner to yellow lab Dusty—one of Jackk's best friends, during a recent walk. Bahzi was very interested. Dakota not as much at first. Brought closer together with supervision, and they greeted, established dominance, Dakota play-bowed, Bahzi did not seem to know what this meant but played a little anyway, and then we separated. Next day, Bahzi was looking for Dakota as we passed his house. Met a tiny white dog ("Tank") of our friends with good success. This time Bahzi gave the play-bow, and Tank reciprocated. Good interaction. Bahzi met Bella and Molly when they were in their back yard; sniffed thru the fence. Bahzi looks for them each morning on our walk.
7) Oddly, our neighborhood acquaintances think he is Jackk until he gets super excited. Both boys are of similar size and share the BC-mix look but are really visually different in our thinking. When we meet folks, they all recognize how FRIENDLY and smart Bahzi is. Adults are distractions within 25 feet, children are distractions within 60 yards.
8) He has survived thunderstorm and meeting a deer without obvious trauma. Both of these bothered Jackk for different reasons.
We have a long weekend coming, and I'll pull together some pictures to share. Thank you for the wonderful training and love you provided.
---
Bazinga was adopted in June, 2014 and is now known as Bahzi. Here he is with his new family!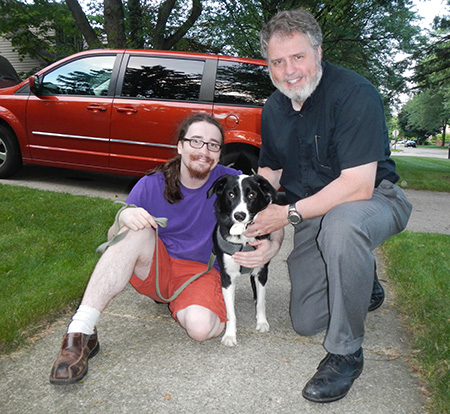 ---
So you've decided you want a Border Collie.
Except, well, you've heard they're kind of busy. And very smart. And you can't afford to quit your day job so you can devote yourself full time to playing fetch. And while you haven't read the homeowner's association bylaws recently, you're pretty sure they would frown on a backyard full of sheep.
Take it from the experts. What you're really looking for is a nice Border Collie mix. Like BaZinga.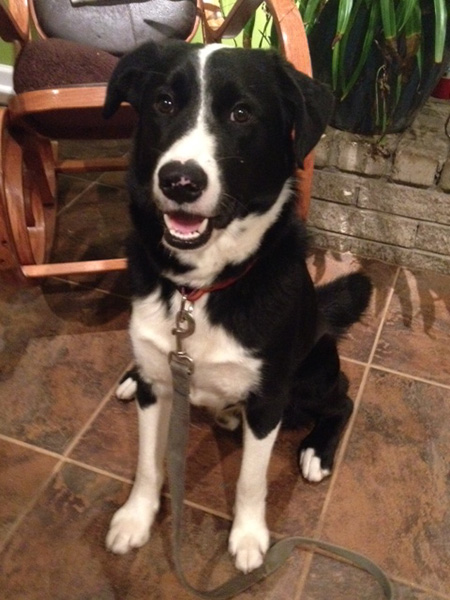 Which is perfect, because guess what? BaZinga is looking for you, too!
Our Zing is a big guy for a BC mix. Lab, maybe, or some kind of hound. One of our favorite mixes is the BC/Beagle – we call them Borgles. And don't laugh. Borgles are awesome. And that's how Zing's foster mom describes him – "a very big Borgle." He's got a PLUSH, SOFT, lovely thick coat, and a river-otter tail. He's really a BEAUTIFUL dog, and will be a great family pet.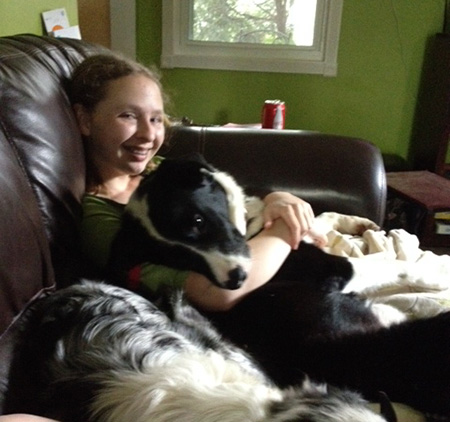 Zing has many wonderful qualities, and great potential. He would be a fantastic walking or jogging buddy, but most of all, he has what it takes to be a great family companion. Zing is a bold dog who loves to play, both with humans and with other dogs. He's up for anything and interested in everything – whatever the humans are doing, that's what Zing wants to be doing too. Zing enjoys lots of scratching and hands-on attention. He will come lay down next to you, and give that beagle-lean-in. When he settles down, he likes to be close.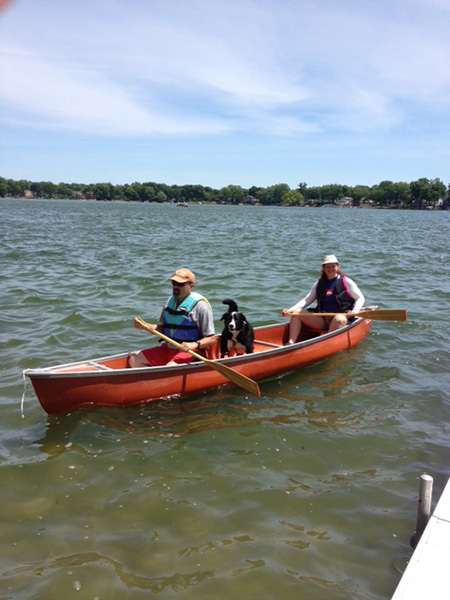 Zing is both food and treat motivated, which will make training and obedience class a snap. Even better, he wants to please his human, and likes nothing more than to be a good boy. He gets along with everyone, two-legged AND four-legged – there are no strangers in Zing's world. He's good for nail clipping, brushing, and baths, and will even let you pick him up and snuggle him. Assuming you're strong enough, of course.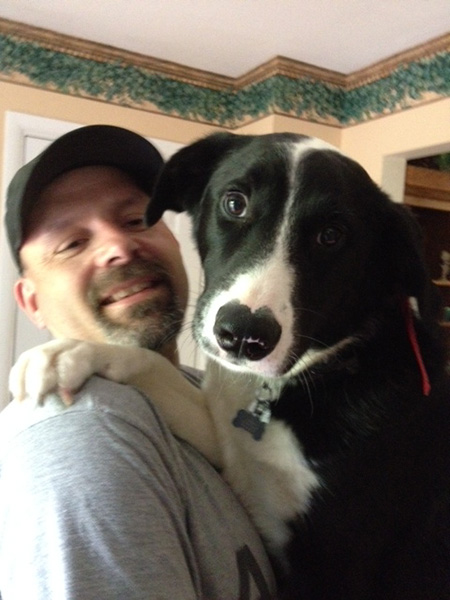 He's very affectionate and ADORES kids (though he still needs to learn that he shouldn't jump on them and try to kiss their faces.) Zing loves to chase tennis balls, pull on a tug toy, or just romp around with the other dogs. Loves car rides, (and boat rides) and is not generally nervous.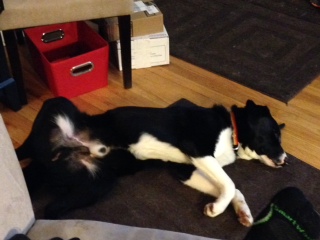 Here's where you come in. We don't know much about Zing's history, but it's evident no one spent time teaching him the basics. He's a big strong dog with the wide open mind and heart of a toddler. Obedience classes are a must, but we think you'll find them a rewarding experience. We will require a fenced yard for Zing's new home – sometimes his nose is in charge of his feet. Zing is super-smart, learns quickly, wants to please, has speed, energy, drive, but also has a good off switch. He will be an ABSOLUTELY AMAZING dog with a consistent, loving, firm, 'smart-strong-dog' savvy owner.
---
---
Photos
---
Videos