Betty
Gender: Female
Age: 11 Years
Height/Weight: tbd / 43 lbs
House-trained:
Fenced yard required:
Location: SE Michigan
Foster Home: Barbara R.


Crate-trained: Yes
Treat-motivated:
Toy-motivated:
Likes Car Rides: Yes
Good with cats: Yes
Good with kids: Yes
Commands:
---
October, 2014: A quick update on 11 year old Betty. She's as frisky as any young dog when it comes to play. We are very happy to have her in our family. She is more interested in getting the ball or Frisbee than chasing the squirrels or random deer that pass through the yard, which is a relief because she can't hear that well. She's found her favorite places in our house, but mostly prefers being in the same room with people. We can't wait to discover what new parts of her personality she will reveal.
Thanks to GLBCR for the care and dedication you all have provided!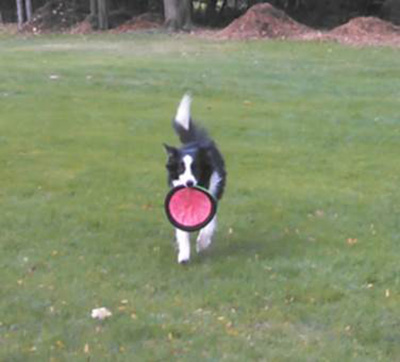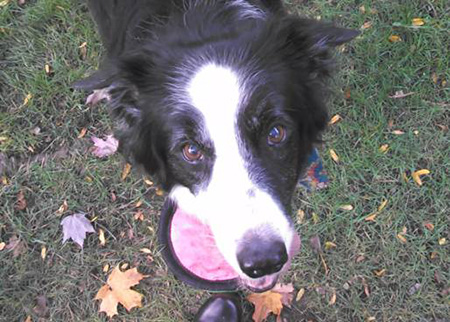 ---
Betty was adopted in September, 2014. Here she is with her new family!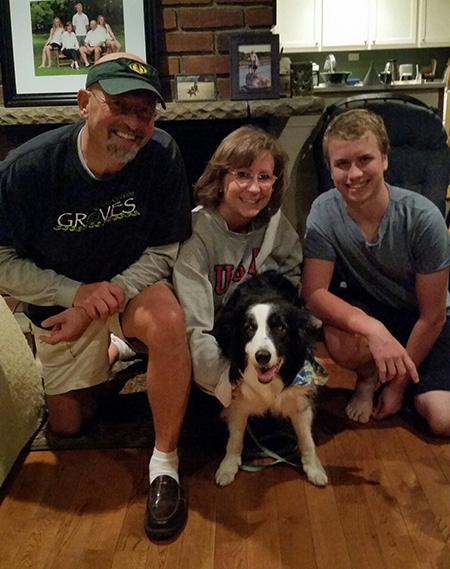 "(Betty) is like the energizer bunny! We are the ones who actually have to stop the Frisbee or ball retrieving because we get tired. She doesn't quit. Haven't heard a single sound from her. No barks, no growls. Good walker. She seems to prefer to follow people around, but if everyone is settled somewhere, she will actually lay down herself. She sleeps with the tip of her tongue sticking out which is very cute.
---
---
Betty's previous life is a bit of a mystery. It's sad to know her previous family left her at the shelter when she turned (10) years old in 2013. She was adopted, and then turned back into the same shelter at age (11) in 2014. Betty has a guardian angel who worked with GLBCR to get Betty into the rescue. Betty has had her world turned upside down twice, yet her spirit and personality remain to be as sweet as they come. She is a social butterfly and has great confidence. Betty loves everyone.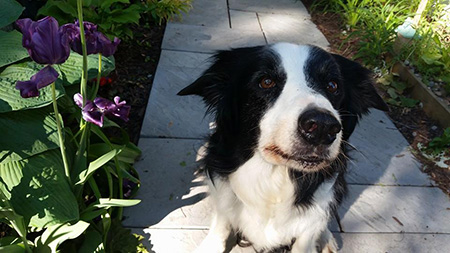 Betty had a mass removed from her left thigh in May 2014. The vet reports the mass removed cleanly, and easily. She has healed very nicely, but her exercise was restricted. She arrived at her foster home and was walking pretty stiff. She had lost a lot of muscle mass which isn't good for any dog, especially an older dog. Her front teeth are worn down, but her vet doesn't think they are bothering her therefore she's had no extractions. Her hips seem to be in good shape for an 11 year old dog, and she's gaining strength with daily regular exercise at her foster home.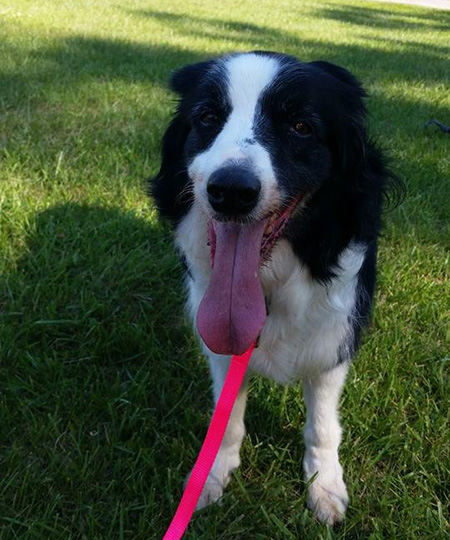 Betty loves to go for a walk. She's so happy to see a leash. She loves being a "girl on the go". I have played fetch with Betty in a public park. She comes back every single time. I wouldn't worry about her leaving, she loves her people.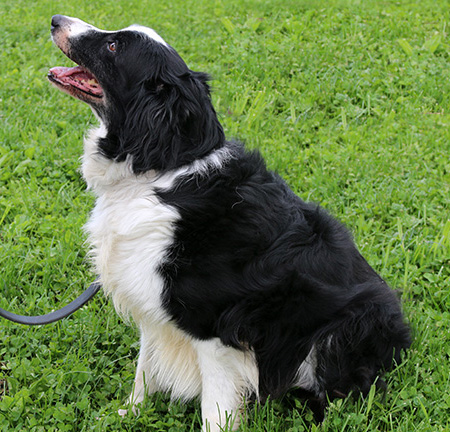 Betty loves to play ball and Frisbee. I don't see Betty as the type of dog who needs to chew on a toy, but she does love a ball and I could see her tossing it to herself if given the opportunity. Her teeth do not prohibit her ability to play. She doesn't have any problem picking up a Frisbee, ball, or trying to play with a basketball. The Frisbee can be a little challenging for her, but she doesn't give up.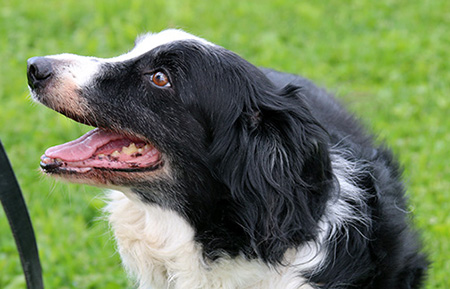 Betty is currently fostered in a home with (2) teenaged human boys, (3) resident dogs include (1) female border collie mix and (2) male PB border collies, (3) cats and (1) extra PB BC male foster dog. Betty gets along with every person, dog, and cat. Betty basically ignores the cats entirely.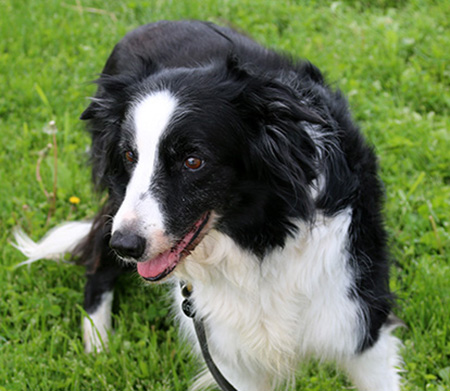 For our first weekend with Betty, we decided to take her to our son's baseball game. We thought she'd lay down in the shade and just casually soak in the day with us. We were WRONG! Betty was really excited when we arrived at the baseball game. We found out Betty likes to play fetch with a Frisbee. (She retrieves it, doesn't catch it.) We brought water for Betty, but forgot a bowl. We always keep a Frisbee in the car and thought it would do for a water bowl. Betty picked up the Frisbee and spilled water all over her foster mom's shoes. Clearly, she wanted to play. We played fetch with the Frisbee for about 20 mins that day.
I'm really trying to add exercising to Betty's daily routine, and she is really enjoying playing fetch. I probably throw the ball about 50 ft. It's obvious to me that Betty has played fetch in her previous life. I just throw the ball and Betty jogs to get it and brings it RIGHT back to me every single time and I don't have to say a single word. Once she returns to me, she stops about 2-3' short of me and she deliberately rolls the ball to my feet the remaining 2-3'. SO COOL! A couple of times I couldn't reach the ball from the bench I was sitting on, so I said, "Betty I can't reach it. Bring it here." Betty picked up the ball and rolled it right to me. I was all smiles! We play for about 20 minutes every day. I really enjoy this time with Betty.
---
---
Photos
---
Videos