Breezy
Gender: Female
Age: 5 1/2 years
Height/Weight: 22"/70 lbs
House-trained: Yes
Fenced yard required: No
Location: Central Indiana
Foster Home: Shauna


Crate-trained: Yes
Treat-motivated: Somewhat
Toy-motivated: Yes
Likes Car Rides: Yes
Good with cats: Yes
Good with kids: Yes
Commands: Sit, Down, Come, Stay, Kennel
---
May, 2014: "Breezy has not been anything other than perfect since the day we brought her home. She goes everywhere in the house and out of the house with me, which we both love. She has been alone only once, when we went to the spring band concert at Molly's school one evening. I don't think she moved from the rug by the front door while we were gone. She now knows what I mean when I say, "Do you see any spiders?" and she'll look up and scan the entire room floor to ceiling. Last night she DID see one when I wasn't asking her to look, and she got very excited and was looking up, and sure enough there was a brown spider up there. John killed it with a tissue, showed it to her, and we all made a big fuss about her doing a good job, gave her a treat, etc. She looked so happy and pleased with herself!
"We took her to the dog park this week twice, since the rain finally stopped. She is perfectly behaved there and makes a lot of dog and human friends. She ran around with a 9 month old pup, was obviously trying to herd him, but in the end could not keep up. She was tired that night! She also loves her walks, especially in the evening."
---
May, 2014: "So sorry, I meant to send this last night, but after the long drive and getting Breezy familiar with the house and everything, it got so late I fell asleep before making it to the computer! She is eating her whole meals, dinner and breakfast so far, with her meds in it, as long as I sit with her. It only takes her a few minutes to finish and I like sitting there with her anyway. She took a long walk around the neighborhood with all of us last night and was very well mannered; Molly was able to handle her easily part of the way. She sniffs the cats briefly if they get close but otherwise ignores them, and they are happy with that. She does love her plushy toys and will continue to drop them on our feet, laps, or anywhere to get our attention to throw it! But when we put them away, she settles right down. One funny thing I wanted to tell you about ... you mentioned she likes to chase moths when they fly into the house ... last night she was focused on the ceiling and I looked and realized there was a cobweb hanging and floating back and forth. I got my long-handled duster and wiped it off and showed it to her, and she got very excited and started licking my face, like she was saying, "Good job, you got it!"
"She has been sticking very close to me and is very, very affectionate ... which is just the way I like it! She is fitting in here like she belongs, causing no stress at all and adding joy to our household. I will send you some pictures later today; we are going to take her for a walk on our local bike trail through the woods so there should be some photo ops there and at home. She is doing so well and we couldn't be happier. My thanks to you, Shauna, for taking such good care of her and for choosing our home to place her in forever."
---
Breezy was adopted in May, 2014. Here she is with her new humans!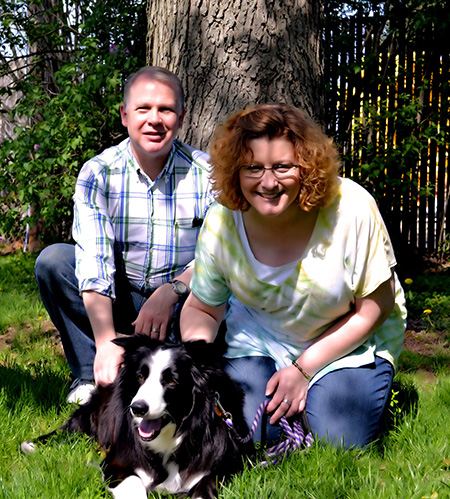 Her foster mom writes: "I am so happy Breezy found her perfect home. I have attached a picture of her with her new family. Karen and John lost their dog last year and they had mentioned how much Breezy reminded them of her. They got to know Breezy through her favorite activity-- playing ball. One thing Karen expressed to me a couple times is wanting a dog that enjoys walks and doesn't drag her. They took Breezy on a stroll around Kathy's house and even had their daughter walk her a bit and were so impressed by her leash skills. Her previous owner must have really worked on that with her. Karen mentioned how affectionate Breezy is, which is exactly what she wanted in a dog (and one thing I loved so much about Breezy). Breezy has a heart of gold and truly loves with all of her heart-- I wanted to find Breezy a family that was going to love her just as much as Breezy was going to love them. I found that with this family.
"Breezy will always have a special place in my heart because she was not only my foster dog, but my first foster dog. It's incredible to see how much she blossomed (both mentally and physically) in just a month. I am so happy I got the opportunity to help with this very important step for Breezy before she found her forever home. I think I would definitely love to continuing fostering in the future. It was such a rewarding process. Even though I will miss Breezy terribly, my happiness for her and her new family definitely outweighs anything else."
---
Breezy came to GLBCR after her owner was no longer able to care for her. She is a 5 ˝ year old pure bred border collie. She is a happy-go-lucky dog with a calm demeanor. She is overweight so we are working on getting her more active and shedding some pounds. She walks very well on a leash and loves going on walks. Her favorite activity is playing ball. Every time she goes out to potty she immediately picks up her ball. She retrieves it nicely and likes to toss it at her foster mom's feet for it to be thrown again. She's not very interested in frisbees. She also loves to play with stuffed toys too. She chews them, but doesn't destroy them.
Breezy had blood work done and was diagnosed with hypothyroidism which means her thyroid doesn't produce enough hormones. It's regulated easily with a medication she takes twice a day. This medication treats her condition, but doesn't cure it so she will need to be on this medication for her entire life. She will need her thyroid hormone level rechecked again in about 30 days and then a couple times a year for life just to make sure the dosage of her medication is regulating her thyroid correctly. She also has a yeast infection on her belly that is being treated with medicated wipes and baths. Breezy was excellent at the veterinarian's office and wanted to say hello to every person she saw. She made lots of new human friends there!
Breezy is very mannerly and would do best in a calm household. She does very well with her foster family which includes a dog and four cats. She has met kids and did well with them. She rarely barks and never picks up anything in the house that is not doggie-approved. At times she likes to look at what is on tables (especially if food is involved) and a simple "eh-eh" does the trick. She is very sensitive to correction and would do best in a home that utilizes calm, positive training techniques. She seems to bond very closely to "her people." She does not like to go outside by herself. Her foster mom has to walk with her off the deck into the yard before she'll go potty. She also doesn't like to eat without her foster mom sitting with her. While Breezy thinks treats are "ok", the best reinforcement for her is praise from people.
Breezy is a wonderful dog that loves with all of her heart. She deserves a wonderful family to call her own- could that be you?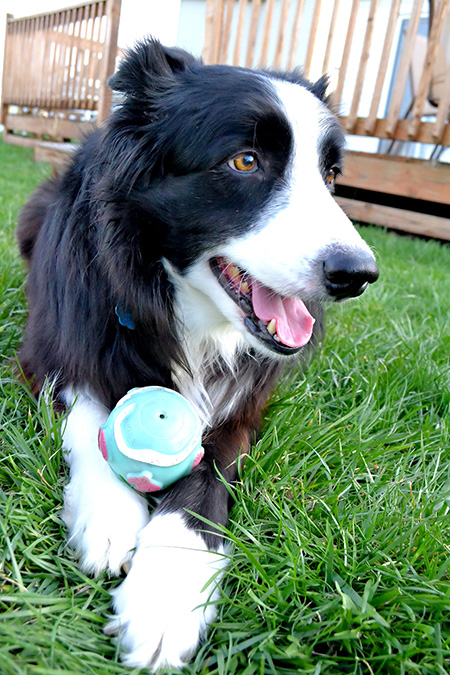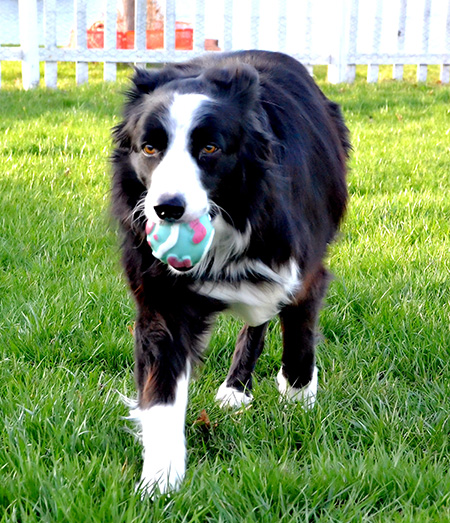 ---
---
Photos
---
Videos