Cub Scout, Now Apex
Gender: Male
Age: 2 Years
Height/Weight: 22" / 45 lbs
Housebroken: Yes
Fenced yard required: Yes
Location: Mid-Michigan
Foster Home: Pam


Crate-trained: Yes
Treat-motivated: Yes
Toy-motivated: Yes
Likes Car Rides: Yes
Good with cats: No
Good with kids: No
Commands: knows his name, sit, lie down, give paw, beginning of a good recall.
---
August 16, 2014: Apex took home the big prize at the Lapeer Days Distance & Accuracy event today with 30 points!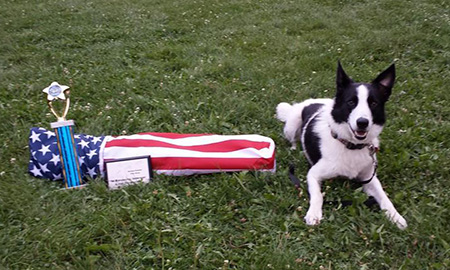 ---
June, 2014: Looks like Apex has found his calling!"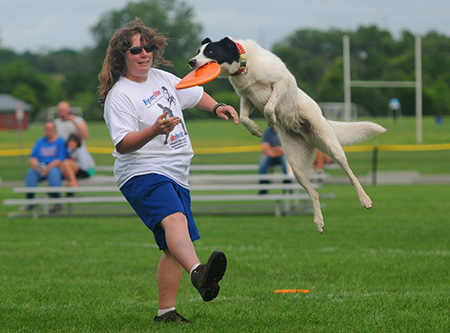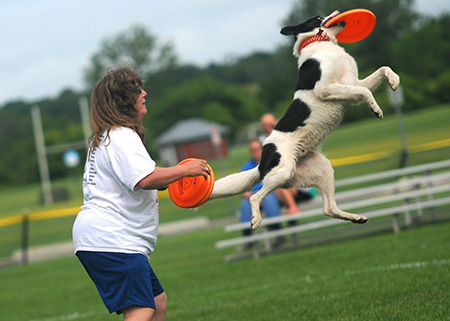 ---
From our Facebook page, April, 2014: "Apex and Aison had a great day in KY. Thanks to Nate, Apex and Aison took 1st and 2nd in pairs D&A(distance and accuracy). Apex stole the lead from Aison and qualified for Worlds. Aison also won 3rd place in Spot Landing and was runner up for the OVERALL for the day! Totally awesome for our first time out for the season."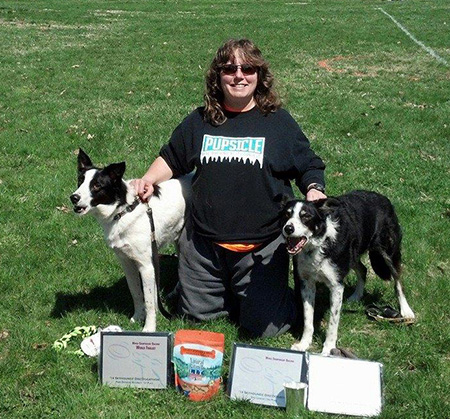 "I'm so proud of my new baby boy and happy that he waited until I was ready for him. Thanks to GLBCR for his foundation and specifically Pam and Rob for presenting him and choosing me to be his mommy. He is such a sweet boy with insane athletic ability and intensity. We both have so much to learn, now that we are together. Our adventures are just beginning. He pulled me to the ground twice and nearly dislocated my shoulder trying to get to the field while I was walking him before our rounds! Holy cow is he strong and determined!!! LOL I learned a LOT about him this weekend and he learned a lot about what's in his future and how things are going to be for him, now. He is a very happy boy and we are going to have a lot of fun learning and playing together."
---
Cub Scout was adopted in February, 2014 and is now known as Apex. He will be pursuing a career as a disc dog and we look forward to hearing about his exploits!
---
I don't know what all the fuss has been about with my story! Hear me out, 'cause I'm gonna set everyone straight.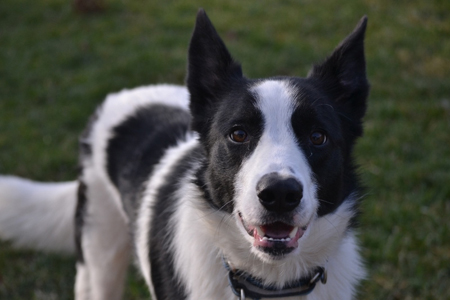 I have been a foster dog in GLBCR for WAY TOO LONG!! It is about time I go to a home I can call my very own! I am an active dog, but once I am comfortable with my inside routine, I settle down nicely. Of course, before that I must entirely empty the toy basket and squeak each and every toy. I specialize in "killing" the toys by shaking them ferociously! I LOVE a good chew on a nylabone, and I *really* love stuffed Kongs! Because this winter has been SO snowy and SO cold, I haven't been able to play outside as much as I would like – and I really like to play in the snow!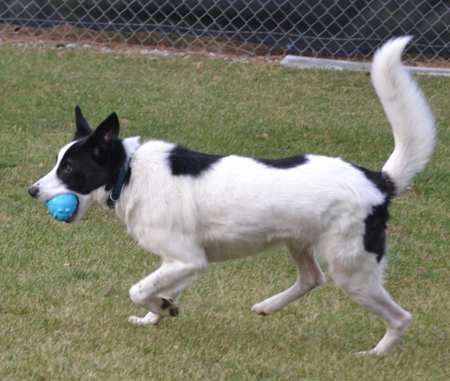 I've met a few dogs in the home I'm in, now. I can play rough, and at times I "talk" with a deep growl. There are FOUR teeny dogs, here, and I've been with them all. The teeniest one (4#) snarked at me, once, and it surprised me, so I backed off! I've seen their old cat, and I'd like to meet her, but since she's old they haven't let me. So, I obsess about seeing her. (Scout probably needs a "dog-broke" cat, or one that doesn't run from dogs- Pam)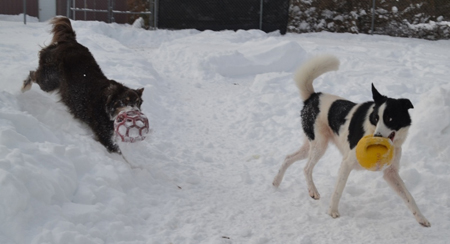 I love, love, LOVE Frisbee!! I've even been started on the basics! I can go out for the really long throws and catch them. I can jump over your leg to catch a tossed disc. I can even catch almost every flipped disc in something called a "butterfly"! Scott Jones from Michigan Disc Dogs took me for a "test drive" and pronounced me a great Frisbee Dog project! He even said I do some things better than his own dogs! I can hardly stand to watch other dogs playing Frisbee!
I don't have to do Frisbee, though. Casual fetch games with Frisbees or balls are a blast for me! I *love* to play in the water, and I could even be a Dock Dog (or just do it for fun!).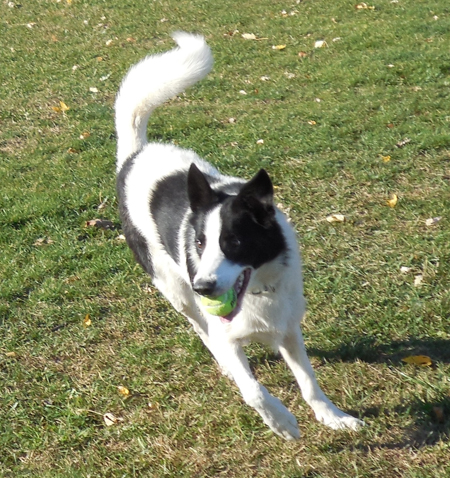 I would really like a home where my people are active in some way. Frisbee, fetch, running, maybe try agility (I saw a dog jumping at the Disc Dog competition, and I REALLy wanted to do that, too!!). Or Treiball. Or Flyball. I've never done these things, but I'm game to try them!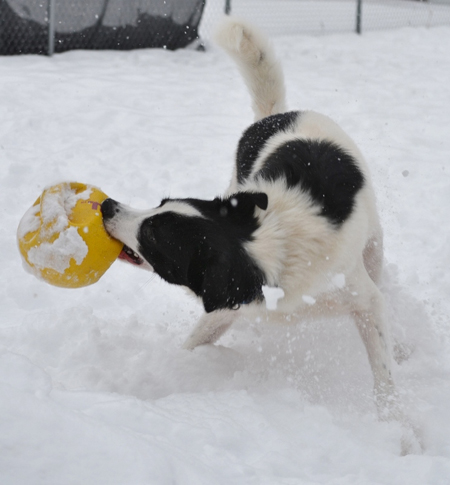 I know my basic commands (sit, down, stay, come) as well as wait, get back, kennel-up, shake, off, lie-down, go-potty, go-poop, and more! I respect my people, and just a firm voice is all that is needed to put me back on track. I love to meet new people, and I will sit to greet them. Older kids have been fine for me. If I hear or see something unfamiliar or strange to me, I will bark at it. I can be a great guard dog, but you need to be ready to set limits on me (like "knock-it-OFF!!"). I am comfortable in my crate, though I very much want to be out with you! I *will* go crazy barking at and herding the snow shovel, vacuum, broom, whatever, so I'm not allowed to be out when those things go on. I would probably be the same with a lawn mower, tractor, or car.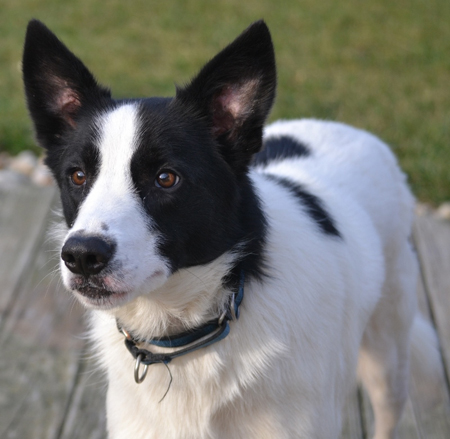 I was REALLY hoping to find my best friend for Christmas. Maybe it will happen for Valentine's Day?? After all, red REALLY looks good on me!!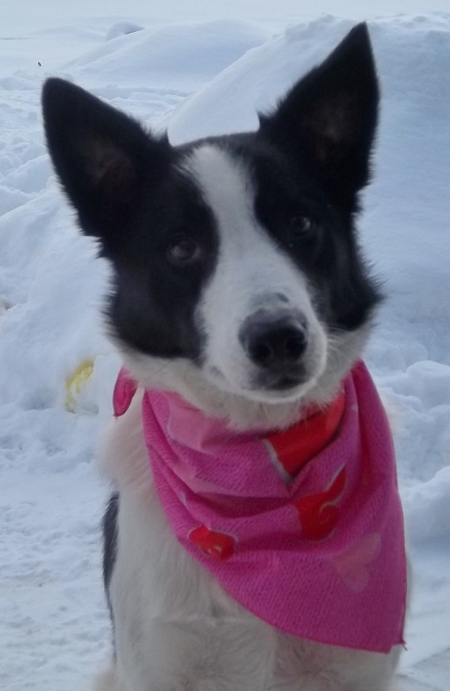 ---
---
Photos
---
Videos