Docker
Gender: Male
Age: 3-4 Years
Height/Weight:
House-trained:
Fenced yard required:
Location: Northern Michigan
Foster Home: Tina


Crate-trained:
Treat-motivated:
Toy-motivated: Yes
Likes Car Rides: Yes
Good with cats:
Good with kids:
Commands:
---
December, 2014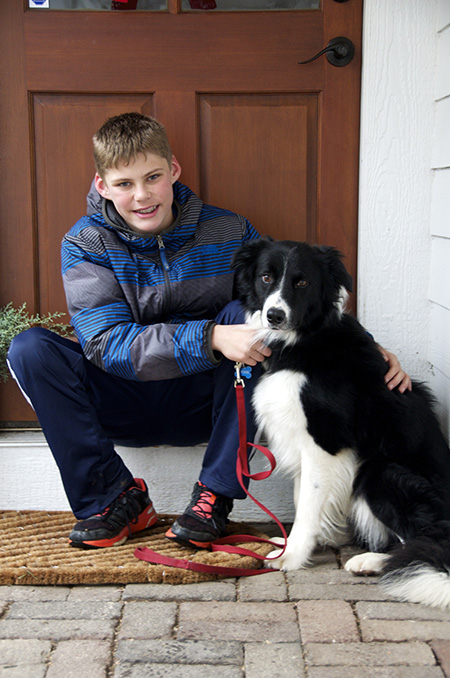 ---
November, 2014: Docker did great meeting kids and parents Halloween night! He was very concerned about the fact that ďourĒ candy was going into their bags. He had already staked out the candy bucket that had to be moved to a high location. He didnít bark or show any signs of stress with anyone, no matter how their were dressed. He seems to love meeting new people and hasnít shown any signs of aggression with people.
He did get to spend a lot of time at the dog park this weekend, but did have one episode of a doggy disagreement. A young bird dog jump on his back a couple of time to initiate play, but Docker mistook the cue. It only took a couple seconds to pull him out of it, and then he had to sit in a time out. Docker had been playing Frisbee so it may be that he didnít want to give up his toy. In any event, we moved to the back of the park where he could play Frisbee quietly and just watch the more social dogs run around. Heís fine with the other serious ball/Frisbee dogs, but I donít think heís going to be the type to just hang out in the middle and chat/sniff with the pack. At the last trip to the park, he was much more relaxed and knew what the scene was going to be like. He even trotted to the middle a couple times to see what was up with social butterfly dogs. Our previous BC was the same way; she would sit on her butt and snarl at any dog who wanted to disrupt her play time.
Heís a big personality and loves all his toys. Weíre keeping our local pet shop busy locating sturdy toys that can hold up to him. The only bad thing in the house thatís happened is he got a loaf of bread someone left on the counter. He really does like being with his humans, and will lay at the back door and yip for someone to come out. Thatís all Iíve got for now. He starts school next Monday.
---
October, 2014: Weíve been on Fall break and I just got back to the office. We went creek stomping in a park for two days and Docker loves chasing his Frisbee in the water. He now has a floatable Frisbee. He also has been on long walks on the Monon Trail (former rail line thatís now a walking/biking path in Indianapolis), and we walk all the way into Broad Ripple (village in Indianapolis) where all the ice cream stores have special ice cream treats for dogs. He has done very well meeting new dogs. He is only reactive when the other dog starts something Ė heís just determined to show the other dog heís a tough guy too. He needs to learn to just walk away. This week, heís been so tired at night he doesnít want to play and tries to hop in bed at 7 p.m. Iím sure heíll be back into nighttime play mode now that schoolís started.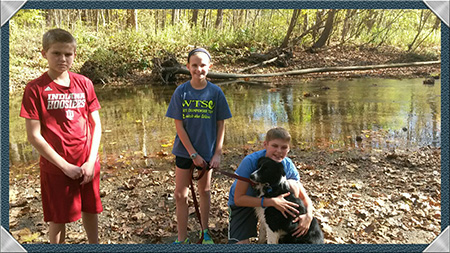 Heís such a fun boy to be around. He starts obedience school on November 10th. He does need to work on coming when called, and not to get upset if another dog barks at him. He was introduced to the trainer on Friday and she seemed to think he would be fine in a group class.
He now has his own soft bed, but he prefers sleeping with us. You are right; heís been pampered in his past life. He would love to spend his days on the sofas, but weíve put sheets of aluminum foil on them to keep him off. So far, itís working. We donít care about the beds so much.
My husband, Kurt, has bonded with him Ė Docker gets to go with him on evening runs/walks and ride in the car to Starbucks in the morning. I can tell Docker likes having a man give him commands. Iím sort of soft spoken, so having Erik and Kurt work with him should get him to listen a little better.
Thatís all I have right now. Heís a good, sweet boy. Weíre having a Halloween party for the neighborhood so weíll be sure to take lots of photos to send you. He loves meeting people so handing out treats this year should a lot of fun.
---
Docker was adopted in October, 2014 at the Great Lakes Border Collie Rescue Reunion picnic!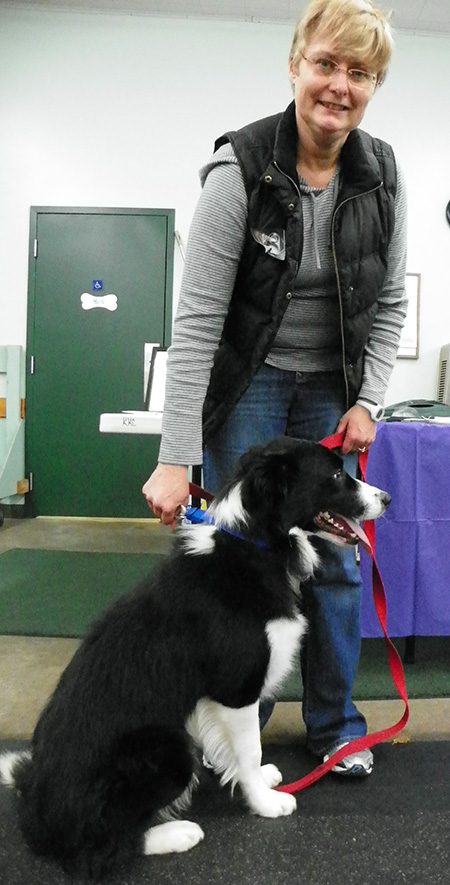 "Thanks for everything. He has been playing frisbee all morning with Erik. He is such a friendly boy. Everything is going well and the cat is fine with him. I will take him to the vet later this week to transfer his records. The picnic was such a nice event and I enjoyed meeting all the people involved with the program and the owers. I hope to make it back next year!"
---
Docker is a cute and energetic bundle. Thought to be a mix, I can't see anything in him except Border Collie. He has a smooth, short coat and is marked like a typical BC. He has the cutest white tipped tail that is always wagging. He weighs about 44 lbs, is of medium height and has a muscular build. He is light on his feet, agile and has medium PLUS energy. I wouldn't bill him as high energy, but he can race around the house and chase a frisbee outside like a pro! He absolutely loves toys, balls and frisbees alike. Just hand him a toy and watch him go! He will play fetch with you or chase toys and play on his own. He will even play with his leash if there is nothing else around.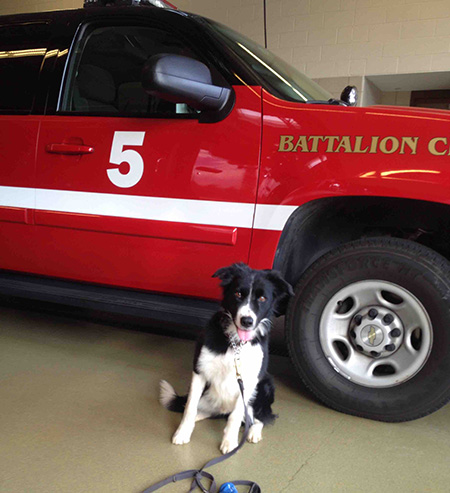 For all of his playfulness, Docker is not the least bit destructive. He has not attempted any chewing, not even his toys. He just plays. One of his favorite things to do is take his blanket out of the crate and drag it around the house like a little kid. He also has comfortable tastes, he loves to take his toys to the couch or bed to play, he is no stranger to comfort, pillows and all. On the other hand, he is great in his crate (only mild protests sometimes) and he is wonderful on a long line. He loves to be outside and will go in and out of the garage and even sit in an open crate out there. He is right at home there or in a fenced yard, with playmates or without. He adores the game of keep away, but keeping him on a short leash and stepping on it before you ask him to come has been working. He can't quite figure out why he can't scoot away, so he is giving up his toys more willingly. He is a quick study, for certain. He is fine with my female dogs ( age 15,and 10 and 9) but is hesitant with male dogs (at least the 2 he has met) he will need work or more time with that. Socializing in a controlled setting ( like an obedience class) would help.
Docker is great to play with outside. He retrieves balls and is a pro at frisbee, a very quick study. He is not a flight risk or escape artist. He knows where life is good and wants to be with his people.That is a great attribute to have.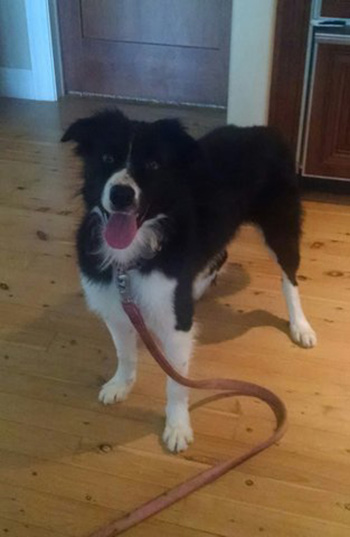 Docker has loved all of the people he has met, large and small and seems to really enjoy kids. He has been around my cat ( she hides a lot ) but doesn't seem to be set on finding her. He just looks and passes. She knows better than to give chase, so he isn't quite sure what to make of her.
Docker is good on a leash, especially if he is not over excited and adores rides in the car, where he will sit quietly and watch out the window for hours, never messing with anything in the car. He knows the commands of: sit, wait, and down. He will wait by the door to go out, kennel up nicely and go out to potty whenever you ask him. He has had to accidents or marking issues. None of the fosters before him have had such good house manners, with the exception of his love for comfortable furniture, that is!
He has been with me and his foster pack here in Northern Michigan for just a week, but he is settling in nicely and learning that life "on the outside" ( of a shelter, that is) is a wonderful thing!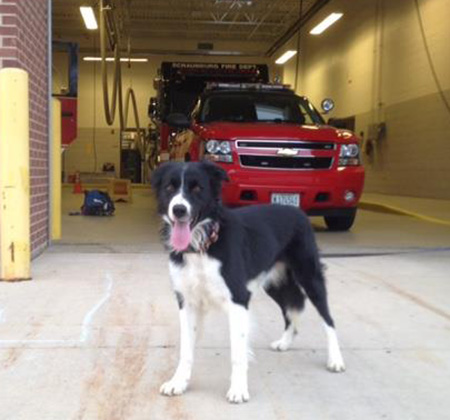 Stay tuned for updates on GLBCR's newest foster- Docker!!
---
---
Photos
---
Videos