Fergus
Gender: Male
Age: 10-12 Years (est)
Height/Weight: 23" / 46 lbs
House-trained: Yes
Fenced yard required: tb
Location: Western MI
Foster Home: Julie


Crate-trained: No
Treat-motivated: Yes
Toy-motivated: Yes
Likes Car Rides: Yes
Good with cats: Yes
Good with kids: tbd
Commands: basics
---
It is with deep sorrow for Julie and Steve and the entire GLBCR family that I share the news of Fergus' journey to the Rainbow Bridge earlier this evening.
After a battery of tests and surgery to repair one of his two dysplastic hips, Fergus was not recovering well, had been on many medications for suspected bladder issues that were until today, not clearly diagnosed. Yesterday, we made the decision to have Fergus seen by another veterinarian for a second opinion. Fergus received a thorough exam, including X-rays and an ultrasound. Unfortunately a very large mass was discovered in his abdomen, and test results today were consistent with what is suspected to be advanced bladder cancer. Further attempts at treatment would have prolonged Furgus' pain and suffering with very little chance of recovery. So we made the difficult, yet kind decision to let Furgus run pain free at the Rainbow Bridge.
We thank Julie and Steve for giving Fergus a warm and loving home in the last few months of his life. This vet estimated Fergus between 10-12 years old, and we're glad we could support his journey toward peace at the Rainbow Bridge.
---
Fergus had hip surgery on September 23 and is doing extremely well. We'll have a full write-up soon, but here are a few post-surgical photos so you can see how he's doing.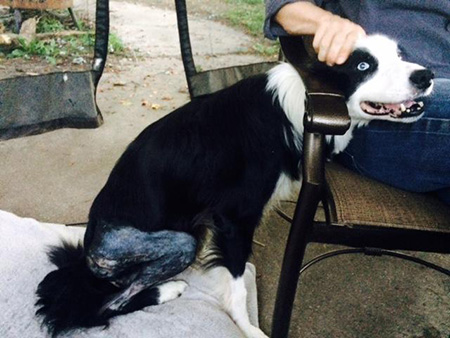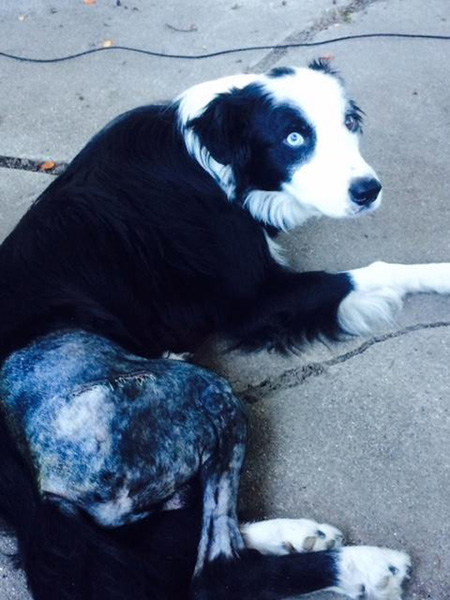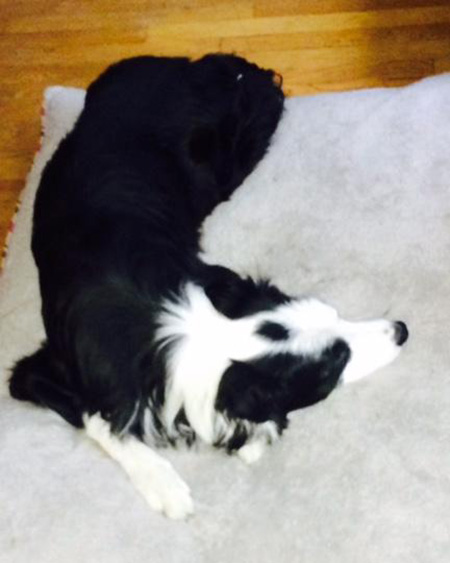 ---
Fergus is a sweet and gentle boy with very good manners. His age is a bit of a mystery – he has been estimated at somewhere between six and nine years old. It's really hard to tell with him. He has arthritis and horrid teeth like an old man, but he is needy and playful like a pup. So far he's fitting in very well at his foster home and has even found a "favorite spot" to hang out. He shows no interest in the other animals -- the dogs, cats, and even a free roaming chicken gets a pass. His foster mom bought him a new collar and he acted like it was a diamond necklace. He was so excited getting it fit on him and after it was on he rolled all over the floor in joy about it. We can't wait to see how excited he gets about his next gift -- a fluffy new bed.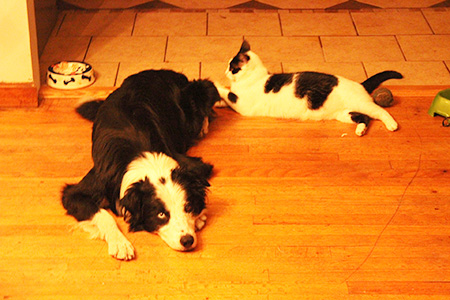 Fergus does have some health issues that will need to be cleared up before he can go to his forever home. He came to us with a some skin issues and a significant UTI, both of which have since been treated. He will also need to gain at least ten pounds before he can be neutered. He will also have his teeth cleaned and any damaged teeth removed while he is under anesthetic.
His foster mom describes him as "a love." Fergus still hasn't barked, but does whine when he wants to be heard. He also makes a noise throughout the night that sounds like he is humming to himself. In her words:
"When I picked him up from Jen's house, she mentioned that he "sings". I would describe it more as a "hums". And he hums all of the time! He even has to sleep outside of our bedroom now because he hums in his sleep! It's very cute for a brief period, but I am afraid it is not going to be a very good deal maker for him. It really is quite annoying :( He's lucky I love him and I won't hurt his feelings by telling him he doesn't have the hum of an angel. Lucky for him tomorrow is Saturday, and now that he is up to date on shots, I can take him to the dog park to run off some of his energy and maybe the humming will slow down. I think he's telling me he's bored and a tennis ball or a walk isn't cutting it.
"I have been home from work since yesterday afternoon with a migraine and Fergus and his foster siblings did their best to try to keep it calm and quiet for me. Here is a not very good picture of him and my pomchi, Teagan, snuggling on my favorite comfort go to blanket that fell off the bed. I didn't have the heart to take it away from them, it is pretty comfy."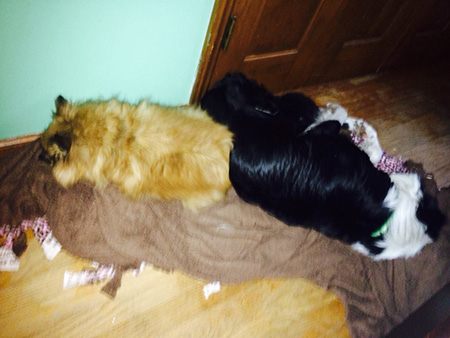 ---
---
Photos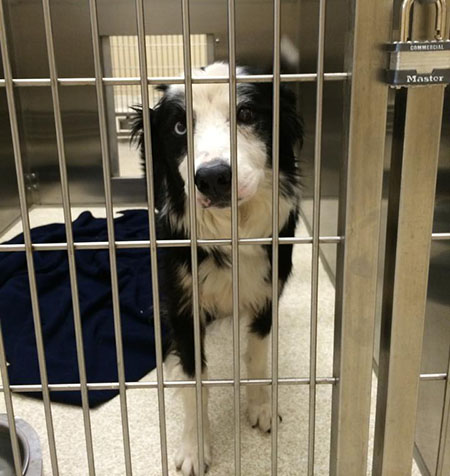 Fergus at the shelter -- he's much happier now!
---
Videos