Jaxson
Gender: Male
Age: 1 1/2 Years
Height/Weight: na / 38 lbs
House-trained: Yes
Fenced yard required: Yes
Location: SE Michigan
Foster Home: Barbara


Crate-trained: Yes
Treat-motivated: Yes
Toy-motivated: Yes
Likes Car Rides: learning
Good with cats: no
Good with kids: 8 and older
Commands: sit, down, come, crate, wait, outside, potty, shake
---
Jaxson was adopted in November, 2014. Here he is with his new family!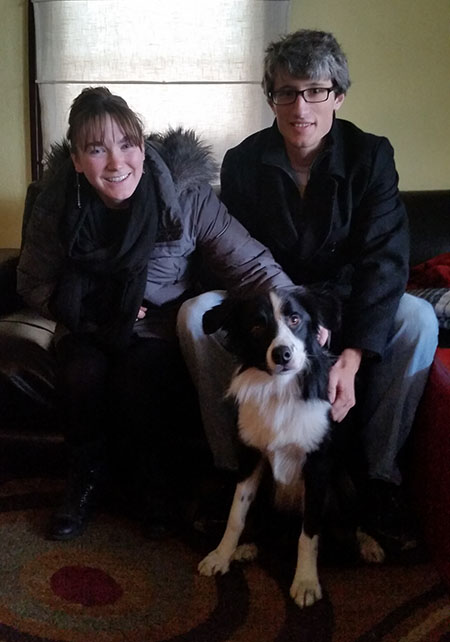 ---
Jaxson loves being an inside dog! He enjoys snuggling on warm doggy beds and fluffy pillows. He tries to join his foster family on the furniture but he is learning that it is off limits. He loves to snuggle in the evening and always wants to be touching or leaning on his foster family.
Because he had been an outside dog, some household noises are new to him and he is easily spooked. Once he understands what the noise is and where it is coming from, he settles down. Power tools are a different story though - he gets very frightened.
Jaxson gets overstimulated by passing cars or even when he sees headlights. His foster home is in a subdivision but on a corner. He runs the fence line and barks at the traffic. For this reason, he would be safest in a home with a fenced yard.
He has earned complete house privileges. He is housebroken, does not chew anything inappropriate, and his curious nature has not gotten him into any trouble. He eats in his crate just so that he doesn't get into a bowl that is not his. He will venture into his crate for naps throughout the day - with the door left open, but for the most part he is loose in the house. He prefers not to be left in the crate with the door closed and will bark but does eventually settle down.
He has learned "wait" "leave it" and most recently "touch" in a very short period of time. He is learning to ring a bell to let us know that he needs to go outside. He learns very quickly and pays very close attention to the words spoken to him. His recall is spotty so he has not had the opportunity to be off leash other than in the fenced backyard.
He plays a great game of fetch including dropping the object at your feet! and enjoys a good game of tug. He can jog along side a bike and walks great on a leash. He will be game for just about any activity. He is slow to warm up to strangers but a few treats in an open hand usually breaks the ice. He will need an experienced handler to teach him and to know how to be firm with him using positive reinforcement.
Jaxson is not the dog for a first time dog owner. He is super smart and will need someone to guide him toward appropriate behaviors for all the energy he has.
---
Jaxson is a pro at fetching tennis balls! He brings it back and drops it immediately for another toss. He plays this game nicely in the house and outdoors. He has been exploring the toy box to find other things he might like. We have tried the Frisbee, but he doesn't quite get what that is all about. He does leap and turn as he jumps for tennis balls - he reminds me of a Frisbee dog with his twisting and leaping catches.
Jaxson has great eye contact and is always watching to see what his handler expects from him. He is a very quick learner and is very eager to please. He is no longer afraid of the basement stairs and will go up and down when called. He focuses on moving objects - cars, bikes etc and will run the fence line in our yard - a fenced yard will be important for him to keep safe. He has enjoys a stuffed kong or a fresh butcher bone when he settles in for quiet time.
---
Meet Action Jaxson!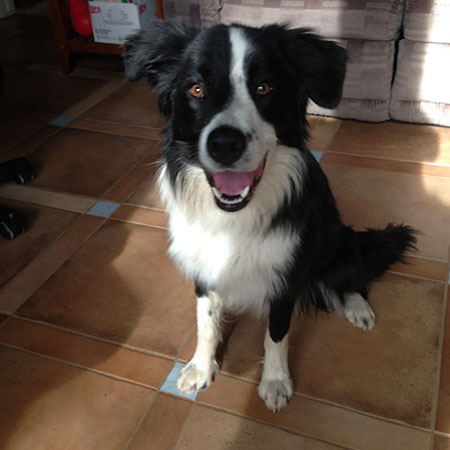 Don't be fooled by the pretty face, Jaxson is all Border Collie. This boy has spent most of his 18 months in a pen with nothing but his own imagination to keep himself occupied. He has energy to burn and needs someone to help him discover an appropriate outlet. He is fast, athletic and has strong herding instinct, and will probably excel at many dog sports with the right training.
Jaxson knows some basic commands, walks decent on a leash, and has a fairly good recall. He is learning what it means to live inside and the rules that go with it. He is very eager to please and loves to do some cuddling with his person. He is VERY food and treat motivated
Jaxson is currently working on his house manners. He is uncomfortable riding in the car, so short trips to fun places are on his agenda while with his foster family. He gets along fine with the 2 resident Border Collies although his herding instincts often take over when running and playing in the yard with them. He has not been tested with cats, but based on his behavior, he might be tempted to give chase.
His ideal home will be one where he can stay active - physically and mentally. An obedience class will be extremely important for him to not only bond with his person, but also to help him gain the skills necessary to be successful in other dog sports and activities.
This boy is a diamond in the rough. He will make a great active companion for someone that has experience working with a high energy Border Collie, and who can recognize his strong qualities and will help him find a purposeful use for them.
---
---
Photos
---
Videos