Kit
Gender: Female
Age: 1 Year
Height/Weight: 18" / 23 lbs
House-trained: Yes
Fenced yard required: no
Location: SE Michigan
Foster Home: Kim


Crate-trained: learning
Treat-motivated: YES!
Toy-motivated: YES!
Likes Car Rides: learning
Good with cats: with caution
Good with kids: over 12 (herdy)
Commands: sit, down, touch, working on recall
---
December, 2014: "Yup, they love each other!"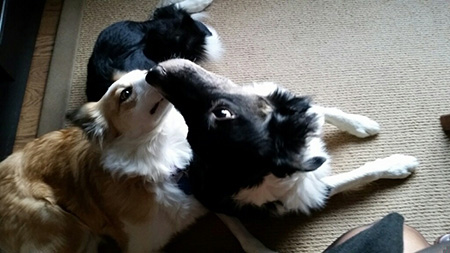 ---
Kit was adopted in November, 2014, joining former GLBCR foster dog Tag in her new home. Here she is with her new family!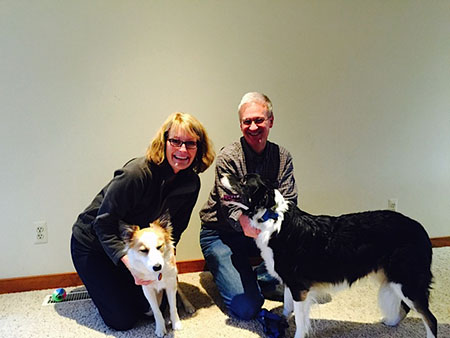 ---
Kit's been in foster care for 2 months now, so here's a brief update on how GREAT she's doing! She's curious and playful, and seems to absorb as much affection as we can give (and at GLBCR we can sure provide a lot of affection).
Her gorgeous yellow coat has thickened, has developed a slight wave, and is now wonderfully soft. In the evening when she gets sleepy, she loves to cuddle close. And when she wakes up in the morning, she requires more cuddles (mix in some belly rubs) - these are great times to appreciate her new coat!
Kit is delightfully attentive to her people. She's smart, sensitive and responsive to a soft voice. She likes voices that are upbeat and energetic. Or playful!
Kit loves to do things with her people and is a quick learner. I don't think she's the right dog for a serious sports competitor, but she'd likely enjoy agility or anything else for fun (Kit's forever story will be a love story, not a blue ribbon.) But don't forget she's a border collie and enjoys the stimulation and interaction with her people - she needs the activity! Once she's done working, she'll dig some lazy time with you too. With this combination of "on" and "off", she could easily be someone's once-in-a-lifetime dog.
Kit continues to enjoy playing with her people friends and dog friends. She'd be thrilled to find a home with another playful friendly dog. She's always loved all toys, but is now enjoying some soccer in the yard where she can stretch her legs and run hard with/herd her friends. She whines with excitement when she knows we're about to play soccer! Then she shows her true border collie-ness - she plays like she's working!
She gets along fine with my pack of diverse personalities. She doesn't challenge the status quo and reads their dog language successfully. Greeting her foster brothers and sister in the morning is one of her favorite moments of the day. Sometimes she's pushy for attention (No wait, I'M the cutest!).
Kit has not been kid or cat tested. While she hasn't shown any aggressive tendencies in brief interactions, she is a true border collie and can be very herdy. Therefore, applicants without cats or young children will be favored.
Kit rarely chews anything inappropriate anymore - she has learned her toys are the best. Current favorites include plush toys that squeak, a plastic flexible tug toy (gentle tug and chew), and elk antlers, but she's a fan of just about anything.
She's fully housebroken (for the last 4 weeks) - yay! Since this is a brand new life skill for her, she'll probably have a few accidents in the future. As she transitions into her forever home, good consistent training methods and your attention will be important for long term success.
Kit is crated 4-6 hours a day now (with a peanut butter kong and a toy), but she doesn't love it. She has been known to bark in her crate (especially if she hears noises in the house) but this seems to be diminishing as she gets the routine down; That said, she's not an apartment dog yet. She will also alert bark occasionally, and she sometimes barks when she's really excited. Otherwise, she's a quiet dog.
We haven't seen evidence of car-sickness recently - she mostly sleeps in the car now, or looks out the window.
New people and new places are still sometimes frightening for Kit. We're practicing this and making every event positive, but we expect it will take time for her to accumulate experiences. She's really enjoying meeting the new people in new places who have treats in their pockets - she just can't believe that! She'll show off her sit, down, and touch skills to them for a reward. She looks to her people (and her dog friends) for reassurance when she's frightened. In general, she recovers quickly. With more good exposures, I am hopeful she'll be a go-anywhere type of dog. Willingness to support Kit as she learns will be an important element of her forever home.
---
I was trying to raking the dog's potty area this weekend, while Kit tried to herd the rake into submission. Eventually she hid buried in the pile of leaves until Shadow was close enough to LEAP at. Shadow ignored her completely (as usual) but it charmed my socks off. Kit's been running in the yard (on a long line) with my big dogs while they play soccer. She loves it! Photo attached. Every day, she's gaining confidence. She's also increasingly showing her border collie-ness. Now all I need is a miniature-sheep farm for her.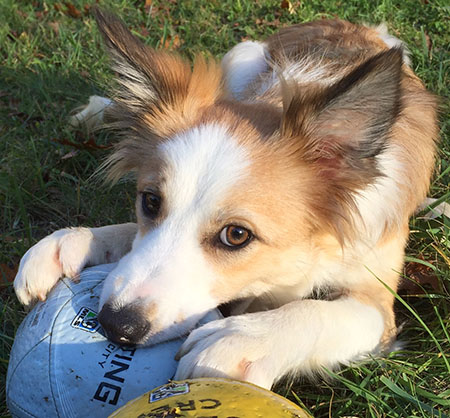 ---
Here she is at Kent Lake (first water experience).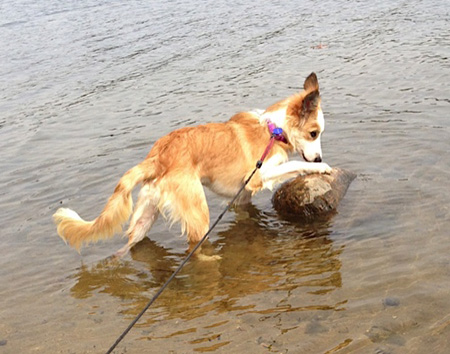 ---
Kit is new to GLBCR. For the first year of her life, Kit was neglected. It makes us so sad to think about this. But then she was rescued by GLBCR, received quality food and clean water, medical care, play and socialization, and much attention and love. And guess what? She's thriving!
Petite blond seeks perfect match! from Kim Crone on Vimeo.
Kit is a pint size border collie (just over 20 pounds) and though she does have some brown coloration on her back, she looks blond. She's playful, energetic, interactive with people and dogs, and has a very sweet personality. She's probably about a year old, however you can think of her as a puppy in behavior and in life experience. Though many things in the world are brand new to her and merit careful exploration with the support of her people, she's not shy; She is resilient and has a powerful curious streak.
She loves toys, all of them! All the time! At our house, she's explored plush toys, squeaky toys, tug toys, soft frisbees, kongs with peanut butter, nylabones, and elk antlers. She buries her entire head (and sometimes also front legs) in the toy basket, then she appears to joyously investigate her new find. She naturally retrieves toys.
She loves be chased, chase others and herd, and can be quite sensitive to movement. She is friendly and playful with other dogs, if sometimes overenthusiastic. When my dogs have had enough, they tell her and she listens. She wants to be wherever the pack (human or dog) is and will complain if left behind.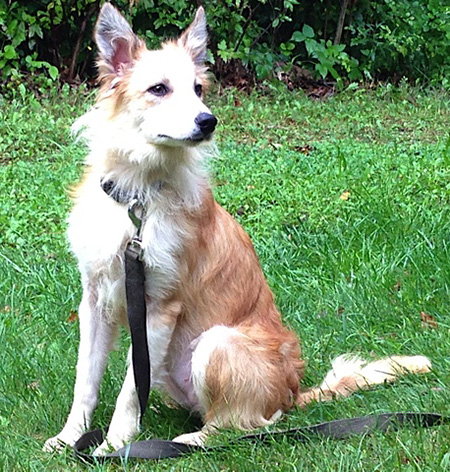 If you aren't ready for puppy energy and mischief, then Kit's not the dog for you! Kit is very active and loves to explore. She'll need your constant attention to solidify the good habits she is learning now in her foster home. She does chew inappropriately like a puppy (shoes, etc.), but is easily redirected to toys. She is learning it's not polite to nip at people's pant legs when they walk. She is about 90% potty trained (with regular opportunities given) and will ask to go out if you are paying attention. She has not been tested with cats or small children at this time but does have strong herding instincts so caution is warranted. We suspect she would not be an appropriate pet for a family with cats or children under 12.
Kit has learned that soft things are fabulous. She prefers to sleep on your bed at night, and might consider a job as couch snuggler for the right person. Though Kit is not an incessant barker, she will bark when she hears or sees something she doesn't understand, or when she's excited. Her foster home is introducing her to as many things as possible, and helping her learn how to calm herself when she's excited.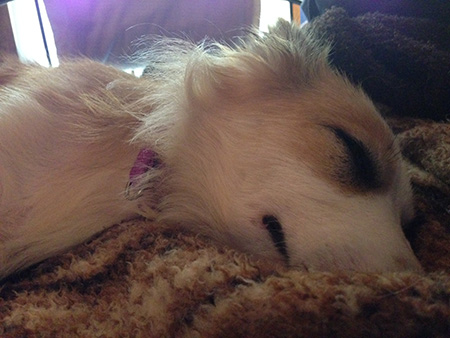 Kit is very food motivated. She also enjoys praise and play as rewards. Since Kit is smart and pays close attention, she learns quickly. She has learned sit, down, and touch in her first two weeks in her foster home, and is working on recall. She's learning about crates also. Like many border collies, she's sensitive and responsive - no need for harsh words or actions. In general, Kit would prefer a calm and neutral handler who could be upbeat and encouraging or gentle as needed.
Kit doesn't appear to have had a chance to use her rear legs much in her past life, so in her foster home she is building strength and coordination by watching Buns of Steel videotapes. (No, not really. She does a lot of walking in the park, and delightedly racing around the house with foster sibling border collies.) Kit mostly walks with on a long line, so leash practice will be necessary if she is to walk in a neighborhood regularly. When she arrived, Kit was a little motion sick in the car (no vomiting, but some drooling), however she seems to now be more accustomed to car rides and shows no evidence of discomfort on rides around town. After watching some foster siblings she learned how to hop in and out of the car.
Kit's dream home would include people who spend a lot of time with her, and the company of another friendly dog. Most importantly, her people would meet her physical and mental needs forever.
Kit is learning every day. Check back soon for updates!
Special thanks to Dr. Baker at Wildcat Veterinary Clinic for contributing initial veterinary care. Visit her Indiana practice here: http://wildcatvet.com
---
---
Photos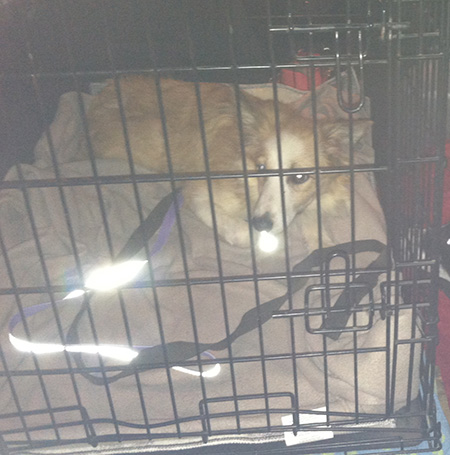 Kit's "freedom ride."
---
Videos