Lexis
Gender: Female
Age: 2 Years
Height/Weight: 17" / 45 lbs
Housebroken: Yes
Fenced yard required: No
Location: SE Michigan
Foster Home: Sue


Crate-trained: Yes
Treat-motivated: Yes
Toy-motivated: Yes
Likes Car Rides: tbd
Good with cats: Yes
Good with kids: 10 and up (herdiness)
Commands: Sit, Paw, Come
---
December, 2014: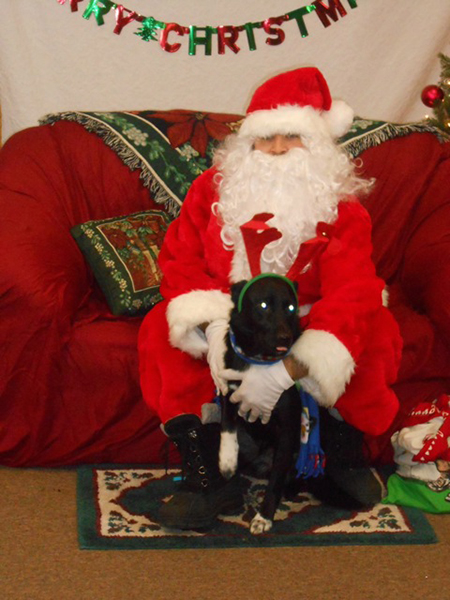 ---
Lexis was adopted in February, 2014. Looks like a pretty good match - don't you agree?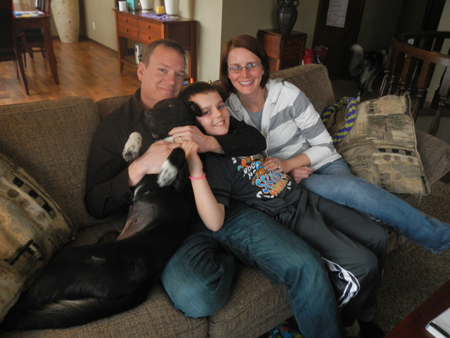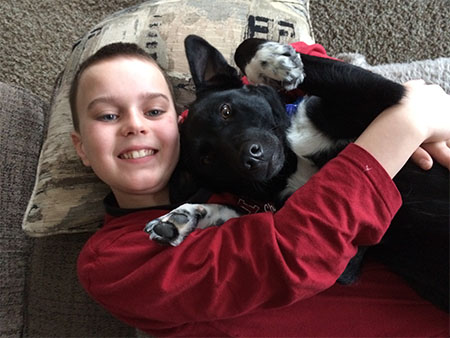 ---
Lexis is finally ready for her forever home. Her puppy-rearing days are behind her, and now she's looking for FUN FUN FUN! She gets along well with other dogs and bonds quickly with humans. Lexis is bright and agile, and would excel in a sport home, so if you're looking for an agility prospect or future Flyball star, she's your girl.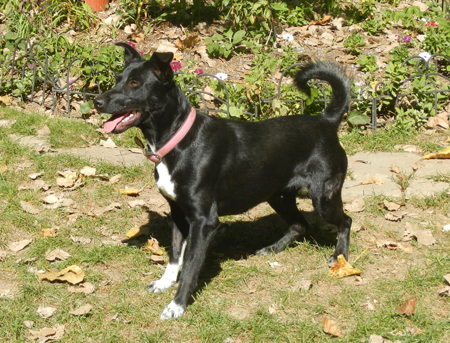 Come on, thow it!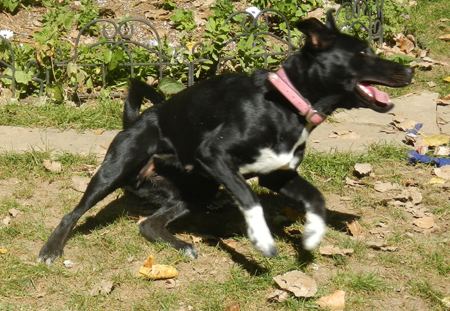 Woohoo!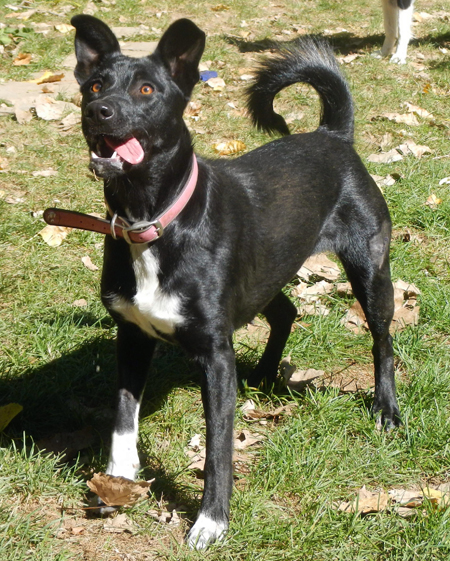 Now THROW IT AGAIN!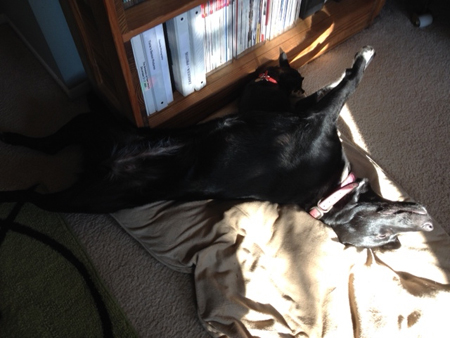 Dreaming of her next game of fetch.....
---
Lexis is SO sweet and lovable!!!! Course, she'd rather romp and play more than hang with her puppies these days, but who can blame her? Bryn is a solicitous little imp.... always encouraging her foster sis to join her in wrestling and bitey face games! That, and she knows now that when we go out the front door with dogs, it means mom's getting out the CHUCK-IT!!!!!! Wooooooooohooooooooooooooooo!!!!!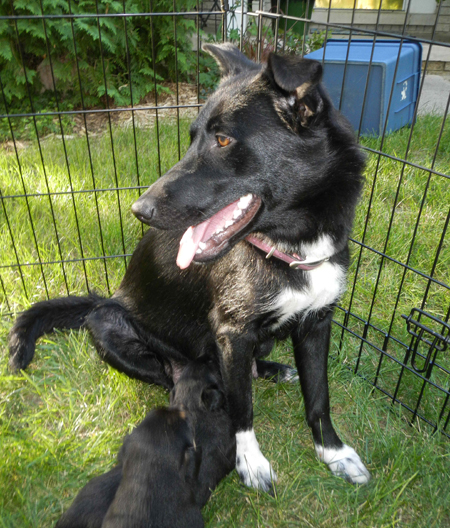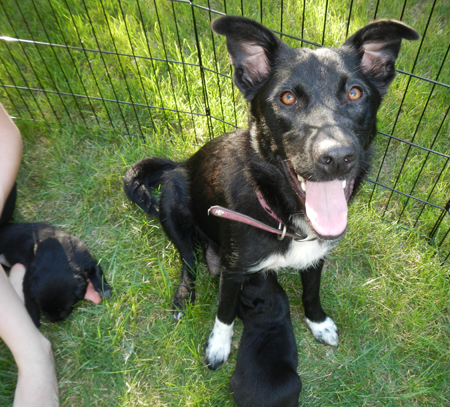 ---
Lexis is a young (about 1-1/2 years old) smooth-coated Border Collie girl, with a 'shepherd' like face, and nearly upright ears. She's small-ish, about 35 lbs., and mostly black. She is active and high energy when it is playtime, but she has a great 'house' mode, and enjoys being a 'couch potato' when playtime is over.


She is a wonderful dog; quite a quick learner, and already housebroken, crate trained, and knows 'Sit' and 'Paw.' She loves her people, and wants nothing more than to be loved back. She really enjoys rubs, pets, scritches, being brushed, and handled pretty much any way she can convince you to pet her! When she's not being petted, she wants to be near 'her person,' holing up under the computer desk, or next to her human no matter what job is at hand. Vacuuming, sawing, cooking, whatever - nothing bothers her in her companionship mode. She just lays down and watches the proceedings with interest.


Outside, well, she's all Border Collie! She thinks tennis balls are the BEST, and really enjoys good games of fetch or chase-the-squirrel-up-a-tree. She romps with the other two border collies who are resident at her foster mom's home. 'Bitey face' and 'smackdown' are GREAT! She is also completely fine with her foster family's Chihuahua.


Lexis shows no food aggression, and no major bad habits. Occasionally, she will 'excavate' a spot outside to lay in cooler dirt under the bushes. She also will bark at strangers or dogs walking by. Usually, though, she stops and comes right away when called. Leash walks are nice, Lexis knows not to pull or lunge. When she meets new people, Lexis assumes they want to pet her. If they don't, she will jump up to make sure her pettable self is closer to their hands…. We are working on keeping all four paws on the floor.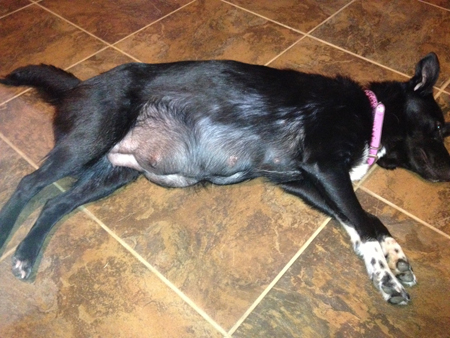 Lexis seems to be a wonderful good-natured dog that fell on hard times and landed at the shelter because her previous family didn't have her spayed. When she was turned in as a 'stray,' she was well into her pregnancy. Within a week of arriving at her foster family's house, she whelped 6 cute little pups, and has been caring for them ever since… When she is done raising her litter, she will be spayed, and then be ready for a great new life!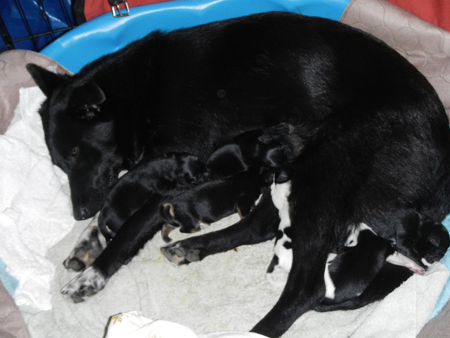 Lexis' foster mom thinks she'd love to live somewhere with another young active dog to play with, and would really enjoy being someone's running partner, or perhaps a Frisbee or Agility dog. She's very fast and lithe.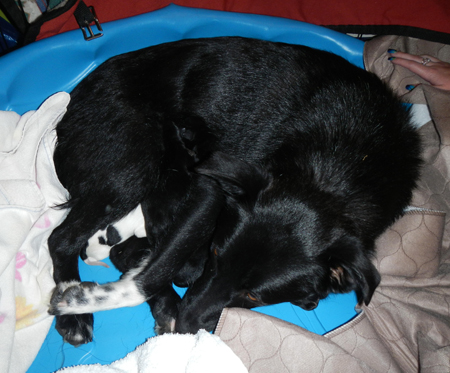 She is not super fond of young children, but this may just be because she's protective of her babies. She hasn't yet met an adult that she doesn't like.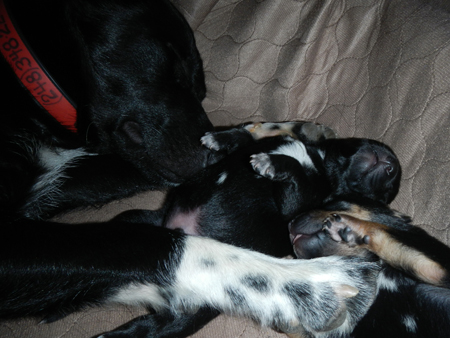 ---
---
Photos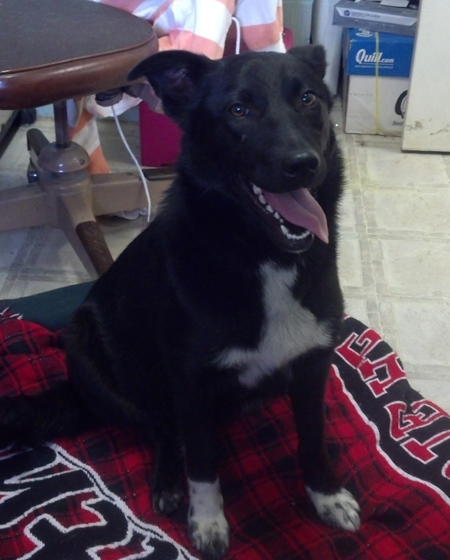 Lexis at the shelter.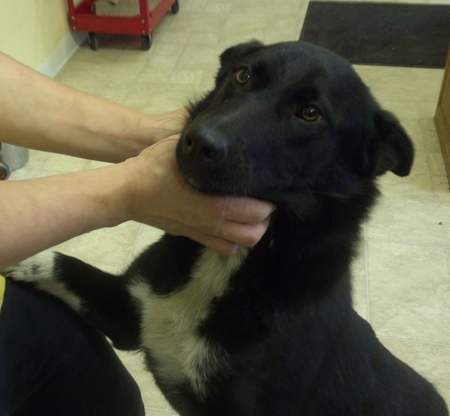 ---
Videos