Lizzie
Gender: Female
Age: 2-3 Years
Height/Weight: 19" / 31 lbs
House-trained: almost
Fenced yard required: tbd
Location: Northern Illinois
Foster Home: Julie and Ken


Crate-trained: Learning
Treat-motivated: Yes
Toy-motivated: No
Likes Car Rides: Yes
Good with cats: tbd
Good with kids: Older kids
Commands: Sit, kennel up, working on stay and down
---
July, 2014: Lizzie is really doing well and we enjoy her more each day. She loves riding in the speed boat sitting in the back jump seats at forty miles per hour with her nose to the wind. When we head down to the lake she runs full speed ahead back and forth several times really getting a great workout.
I did pay a visit to the vet this week and all is good news. She is up to thirty four pounds and I think that it is a good weight for her. The reason for the trip was that her nose was still not healing correctly so had it checked and they found bacterial growth on her nose. SOOOO she is on antibiotics and a cream for the nose. It is really looking great already and it has only been two weeks.
She gets along with all our grand puppies when they are here and all neighbor dogs.
Thanks again for what you do.
---
June, 2014: Things are going quite well. Lizzie loves to run and run and run up and down the road. She runs out onto the dock, skids to a stop and runs back to us at full speed. The only day she goes to church with us is on Wednesdays because we are both there that day for a long day.
I think we are wearing her out, because at about nine each night she heads off to her kennel and goes to sleep. We have to wake her up to go outside at eleven before we go to bed. She almost is never on a leash anymore as she just stays with us. Of course we put her on leash when going from the car to church and times like that.
She is a joy, well behaved and again words cannot describe how much we have bonded and get along together.
---
May, 2014: "Lizzie continues to enjoy life with us, I think. At least she is always with us and really soaks up the attention. When we go out to feed the neighbors cats, she just runs and runs up and down the street and always turns and comes when called. If fact she seems to love running to one end of the street and I call her to return and she comes running. Then I very briefly rub her head, say good girl, turn her and pat her and off she goes down the street again.
"I went by the vet yesterday on the way to Jackson and put her on the scales. She weighs 31.5 now so she is slowly gaining a little more weight. Don't want her to get too heavy.
"The only problem is her FANATICAL attraction to our car and van. She simply cannot wait to get in and is always disappointed when we go out of the house and not into a vehicle. She even hopped into a neighbors suv a few days ago and did not want to come out.
"Well as you might guess, you have two very happy adoptive parents of a Lizzie and it seems like she has always been with us. Very comfortable."
---
Lizzie was adopted in April, 2014. Here she is with her new family.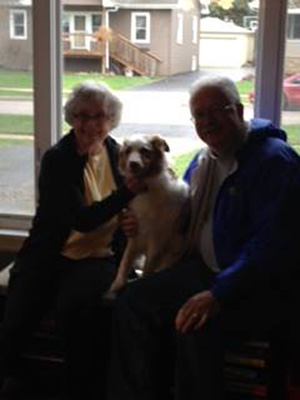 "It is now Sat. Evening. So far Lizzie has greeted three children, three spouses and six grand children along with three dogs. All has gone incredibly well. She is a real lady and has soaked up all the attention. It is very difficult to believe she has been here less than a week. I keep waiting for some skeleton from the past to come forth in a negative way, but so far there has been absolutely nothing.
"It seems that you and your husband have done a super job in starting Lizzie off to a wonderful life with a family. Although we do not let her go without a leash, she has gone forth several times being released by a young grandchild only to be called back, and back she comes. She does not seem to want to get away, only to go outside and see the world.
"Again and again we thank you for your gift of being a part of GLBCR."
---
Lizzie had a great vacation with our friends while we were in Arizona. She adjusted well to their home, would scratch at the door when she needed to go out and enjoyed being out of the cage a lot (as they're both retired). Lizzie has been accident free for over 2 weeks (know on wood) and even transitioned well back to our house and routine late last friday night and this weekend. If she can't find human attention, she finds a quiet place to lay. Overall, as long as she has human attention, she is happy. She has been exhibiting some more "dog" like behaviors in the past two weeks like increased energy and jumping up on the counter for food. It is a double edged sword since we are glad she is feeling more comfortable and able to be a dog, but don't want certain of these behaviors. The good news is she is easily corrected and learning her parameters.
I tried her in the yard again this afternoon on a long loose line. She is still really nervous and sticks close to me or the gate. I tried her jumping a little over the agility jump and she definitely has some potential. By the end of the "training session", I had her jumping between 8-12 inches high. Once my neighbors noticed her over the fence, she got nervous and went to the gate, but I gave them some treats to call her over and meet her. Once she was getting some attention, she was more comfortable. She would not jump again, but I didn't want to push too hard. It's been a lot of change this week for her.
We also took her to get her nails trimmed today at Petsmart, too. She did great with the trim, but she is gets very overwhelmed with the Petsmart store and parking lot. We have noticed that parking lots in general really get her stressed out. She pulls towards many cars and cannot relax until back in the car. She loves to go for rides and pulls towards our cars, but I would not call her relaxed in the car. She is getting more relaxed walking on routes that have more traffic though. She's a work in progress.
---
We think Lizzie will make a great addition to anyone's team.
---
We have had Lizzie for about three weeks and she is really coming out of her shell. When she first came to us she was fighting an infection and started off very anxious and a little timid, but curious. In the past week since being off medications and feeling better, she has really gotten more comfortable here. When Lizzie first came to us she was not interested in our dog Scout, but was coexisting well. This week she is much more interested in Scout. She will go up eagerly to sniff her and they walk very nicely on walks. She would get along great in a home with a dog, but might not be a playmate. Currently she is not very interested in the yard either and will stay with me when I drop her leash in the yard. This may change as we get to know her.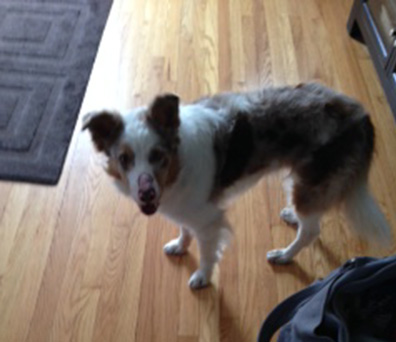 Lizzie is eager to go on walks, bounding to the door and pulling excitedly on the leash. She is learning the command "wait" by the door. Lizzie is conscious of the leash and we are working on heeling better. She responds well to correction since she is very eager for positive human attention. We have also been working with her on a harness, which she is responding well to. She does have a tendency to pull for certain cars and gets nervous on busy streets. We are able to anticipate this and verbally correct this behavior prior to it happening. If we miss the signs and she does pull, she is corrected easily, but this is a work in progress. She has gotten better and just needs socialization with different experiences. Lizzie does LOVE car rides and will regularly pull to our car to go anywhere. When in the car she just sits in the back and looks out the window totally content.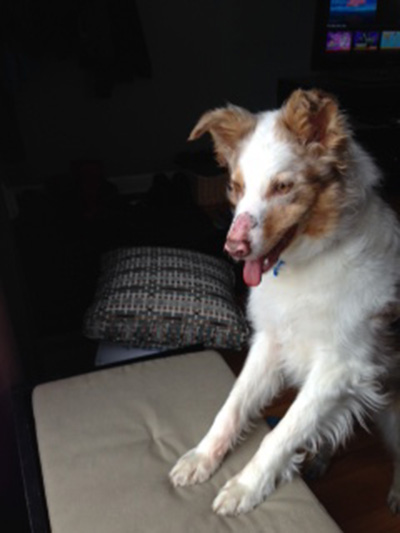 Lizzie knows sit, her name, come (in the house) and kennel up very well. She is learning down and is doing pretty well with stay and wait (by the door or for food). She is very smart and like I said eager for positive human attention. She likes treats, so that is another motivation. Currently she is not interested in toys or balls, but with her coming out of her shell we might see a change in that soon.
One of Lizzie's weaknesses is that she is not fully potty trained. She has had some accidents in our home and her crate. We think it is due to separation anxiety and this is improving as she is getting used to our home and routine. She is also learning to whine when in the cage and go to the door to communicate when she needs to go out. This is also improving as the snow melts since she is able to sniff more smells in the grass and increasing interest in the outside. This is another area where her love of positive praise helps motivate her to potty outside.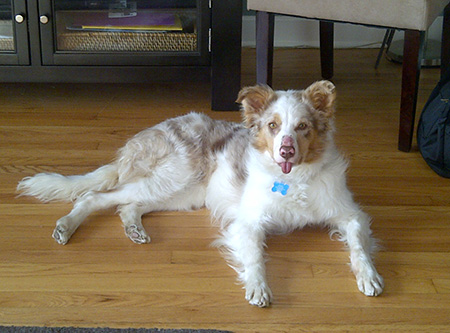 ---
Lizzie is a 2-3 year old red merle border collie. Pictures don't due justice to the beauty of her coat and her sweet face. She is a sweet and rather timid, but curious girl. She loves any human attention and cuddling on the couch. She has been on medication to clear up an infection and been a little groggy, so we are hoping to get a better picture of her now that the medication has ended.
As she is getting comfortable, we are seeing her energy level increase, but so far she is a low energy border collie. Lizzie is very quiet. We have not heard her make a peep except a slight whine when she did not want to go in her kennel or to get attention from humans. Lizzie motivated more by human attention than treats, but she will sit and stay before eating. She is becoming more treat motivated as we find some good treats. She knows sit and kennel up reliably. We are working her name, down and come. She automatically sits to be pet and lays down frequently when nervous. She has been in the yard once or twice on a long line and prefers to stay by the gate or humans. She is very loyal humans and likes to stay by us.
Lizzie walks well on a leash and does not pull. She walks well with our dog, Scout, but is not interested in playing with toys or Scout at all. She can co-exist with dogs, but she just wants human attention. She does enjoy relaxing on the couch or bed and looking out the window.
Lizzie is mostly potty trained and can make it for for 8 hours in the crate while we are at work and all night without a peep or potty break. In the past few days, she has had some accidents. I think it may be a behavioral thing, due to excitement when she hears/sees humans or possibly the Benadryl/medication side effects. She is always very excited to see humans.
---
Photos
---
Videos