Mackenzie
Gender: Female
Age: 4 Years
Height/Weight: 19" / 51 lbs
House-trained: Yes
Fenced yard required: Yes
Location: SE Michigan
Foster Home: Karin


Crate-trained: learning
Treat-motivated: Yes
Toy-motivated: learning
Likes Car Rides: Yes
Good with cats: Yes
Good with kids: Yes
Commands: Sit, down, kennel up, wait
---
October, 2014: Our sweet girl successfully passed her first day at home, while both of us worked, with flying colors! Yesterday she had the run of the house for 8 hours & it appears that she was the perfect angel:) I did not make a big deal out of me leaving (did say good-bye, though), nor did I announce my homecoming, but she was there to greet me at the door with a wagging tail. Oh & we finally heard her "talk"....she's a hoot! We are blessed.
---
MacKenzie was adopted in October, 2014. Doesn't she look content?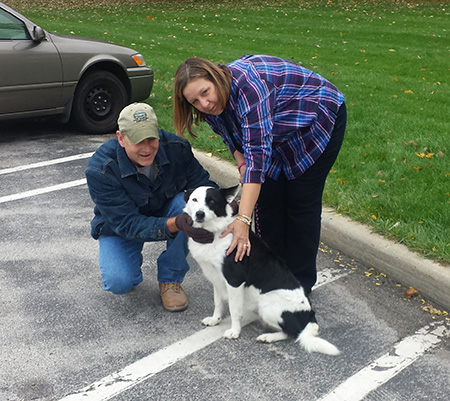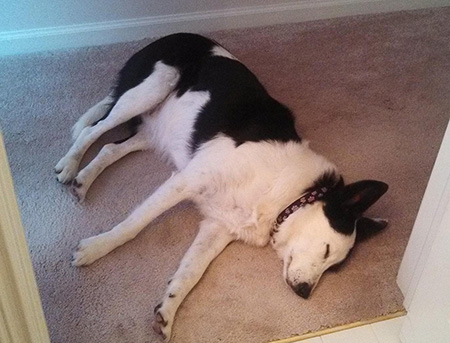 ---
Mackenzie is meeting new friends everyday with constant supervision. She is not fence fighting and actually greeting dogs as a normal dog. Her body language is very clear to all she comes into contact with so there are no incidents. You can certainly see that she is very guarded and Leary but can easily be redirected with a ball, especially if it squeaks! Her recalls are increasing in speed, and her sits are great. Her downs coming along well with lots of belly rubs. She has grown very fond of all kennel staff, and even approaches strangers with confidence. I'm very proud of her and her confidence, her true colors are showing through now, so time to really change her way of thinking. She's learning to trust first, and react to my cues rather than react to her environment. Keep up the prayers, she is responding...and thank you to all who hold her in their hearts!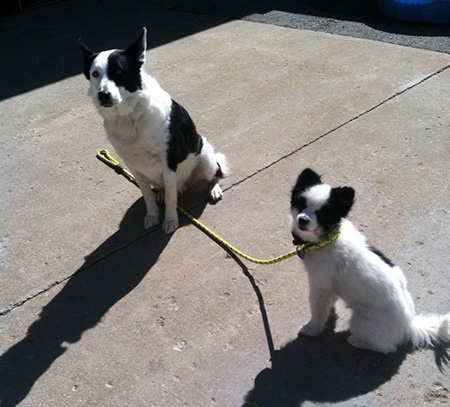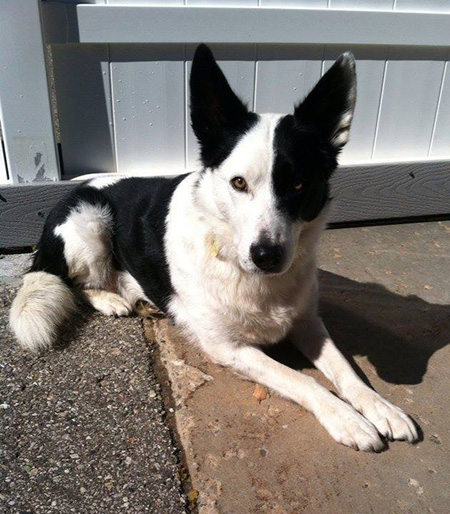 ---
We really feel we go above and beyond for our foster dogs. Mackenzie came into foster very shut down, leery of other dogs, and would take on the best defense is a good offense with other dogs. She made strides in her foster home, but plateaued, so we contacted a GLBCR adopter who is a dog trainer and opened her own doggie daycare, boarding, training and grooming facility in Boyne City, MI called: Dogs World North
Janet, has stepped up to continue to help Mackenzie trust the world, and will continue her daily training for the coming weeks.
We'd like to THANK Janet for helping Mackenzie blossom.
Mackenzie will remain available for adoption while in training and we'll update her profile as she continues on her journey.
---
---
Mackenzie is a lovely, medium energy girl with a pretty split face. She's just learning to enjoy life again after having her world turned upside down, but she's happy to be out of the shelter, for sure!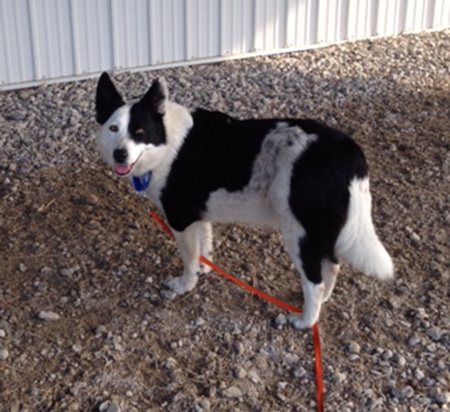 It takes Mackenzie a while to warm up to everyone - new people, new dogs, new places even, but once she does, she's a sweetheart. She loves taking walks through the neighborhood now that she's realized that her foster-mom will not let any other dogs come up and scare her (even though they might bark at her a little). And this is good because Mackenzie could use a bit of trimming up to get back into shape! She really loves food puzzles, they keep her brain going and she thinks they're great fun. She's starting to realize that toys are fun too, but hasn't quite got the concept of "retrieving" yet, but there's time!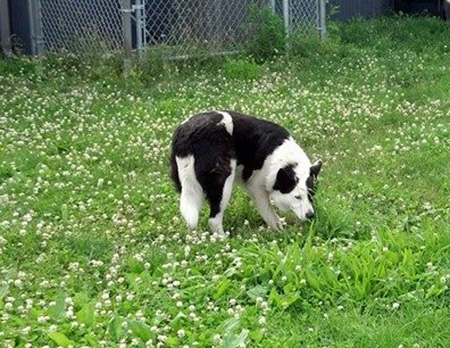 Mackenzie will need a dog-savvy home, for sure. She doesn't need to be an only dog, but any introductions with resident dogs may take a bit longer than usual. But once she's comfortable, she seems to like having another confidant dog around to show her the ropes, and give her confidence.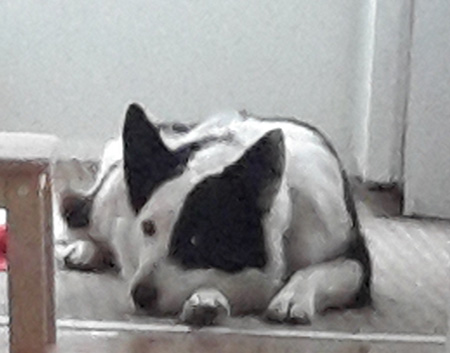 Do you think you could be the right home for this pretty face? Mackenzie sure hopes so!
---
---
Photos
---
Videos