Nala
Gender: Female
Age: 1 Year
Height/Weight: 22" / 40 lbs
House-trained: Yes
Fenced yard required: Yes
Location: SE Michigan
Foster Home: Kim


Crate-trained: Yes
Treat-motivated: YES!
Toy-motivated: Yes
Likes Car Rides: Yes
Good with cats: No
Good with kids: Older kids only
Commands: Sit, down, catch, go to your place
---
Nala has already finished her obedience and beginner agility classes. She'll now be involved in agility training at two clubs. Mark says she was bumped up to a more advanced agility class right away... Busy pup!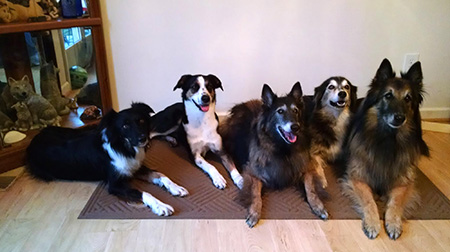 ---
Nala was adopted in June, 2014. Her foster mom writes: "Nala left for HOME with Mark and Marie Ewing and their dog Abby this afternoon. She gave Mark lots of kisses, zoomed around the yard with buddy Abby, and loved how many treats the Ewings had in the pockets. I suspect she will be very happy living with them, and I can't wait to see what she learns (she's enrolled in her first class already). Here is a group photo, and a shot of the family loading into the van for the trip back to Ohio."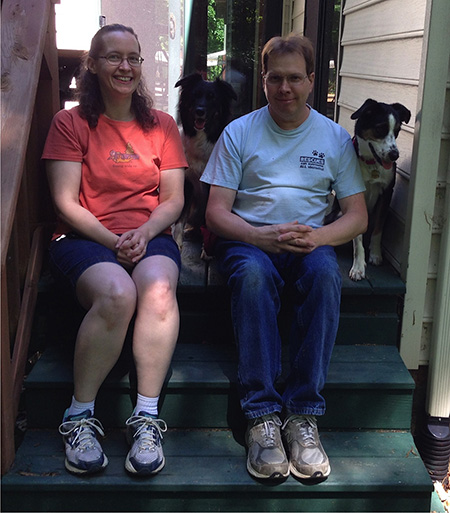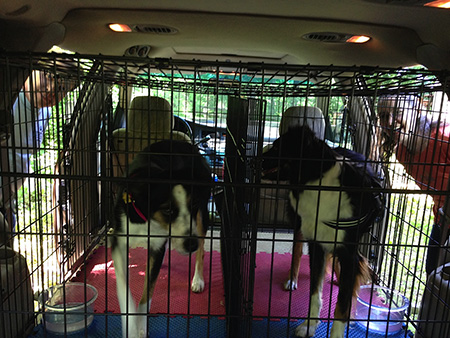 ""I am very proud of our newest family member. In I-Puppy class, she did: a shoot, ad miniature dog walk, a 4' A Frame, Full size tunnels, table and table downs, and a low teeter (about 8 inches); and she has never seen any of those before. What a great dog.
"She covered what most dogs take 7 weeks to learn. Are you sure she has not done this before? Actually I know she has not, as I had to work a bit with each of the obstacles. She learned as fast at the smartest BCs I have ever known."
---
So you've decided to adopt a Border Collie….

Good choice!
Border Collies are smart...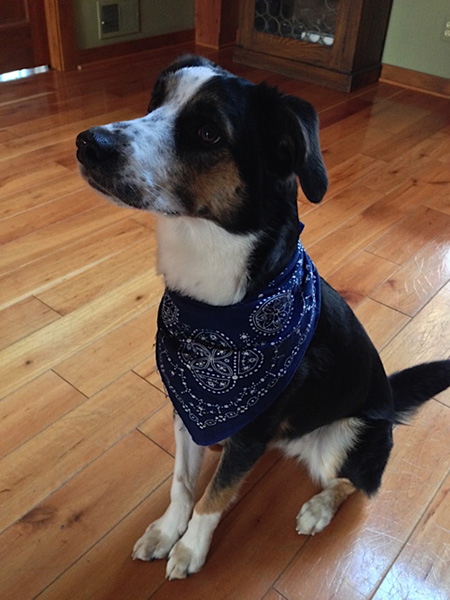 Like Nala!
Border Collies are athletic...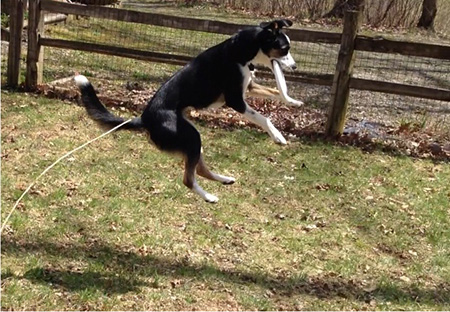 Just like Nala!
Border Collies are playful...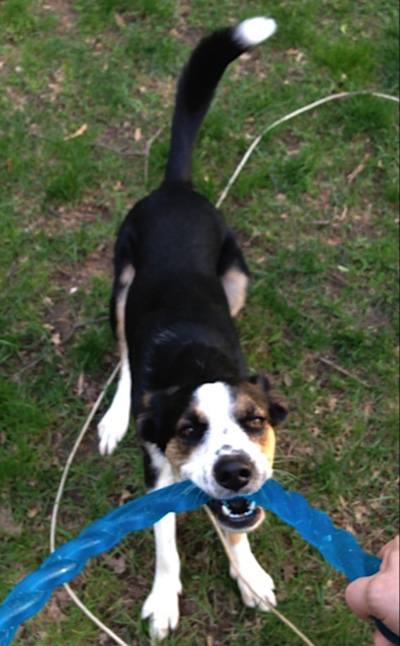 Guess who?
Border Collies are beautiful...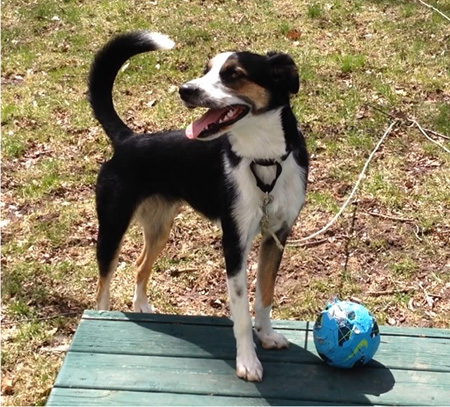 Strike a pose, Nala!
Border Collies are cuddly...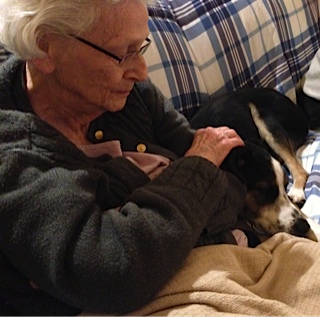 Thanks, Grandma!
Border Collies are busy...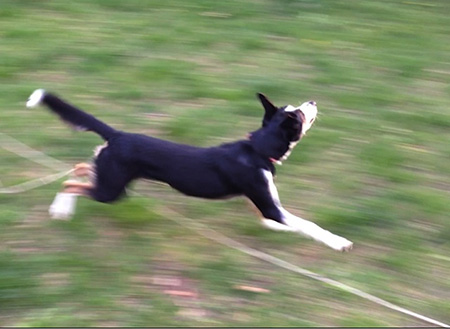 But not always...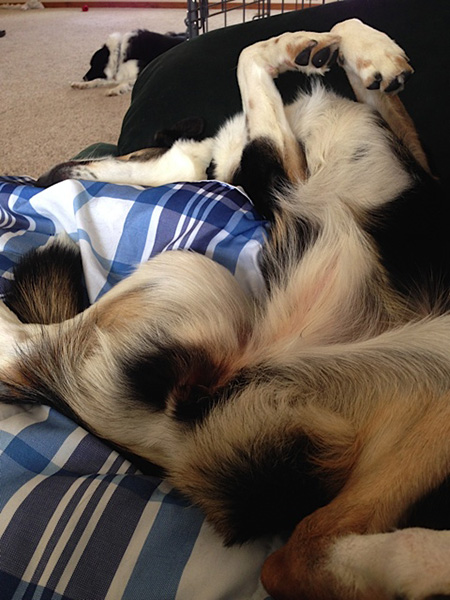 And now, a brief history lesson:
Since the breed's inception, Border Collies have been bred for their ability, not their appearance. Farmers didn't care what the dog looked like. All they cared about was whether or not the dog could get the job done. All purebred Border Collies can trace their linage back to a dog named Old Hemp, who lived from 1893 to 1901. Like Nala, Old Hemp was a tricolor.
Is Nala a purebred Border Collie? We don't know. She was relinquished to GLBCR as a mix, but we've seen a lot of purebred working dogs who look just like her. In fact, if you go to a herding trial, you're going to see a lot of more dogs that look like Nala and those who look like the traditional black and white rough coat.
The real question is - does it matter?
You're not showing conformation, or you wouldn't be considering a rescue dog. And you certainly aren't going to breed puppies, for which we thank you.
Nala is everything you'd want in a Border Collie. Except maybe fluffy. But that's cool too, because who needs all that dog hair?
You want a Border Collie for agility? Nala is fast and agile and willing to learn.
You want a Border Collie for Disc Dog Competition? Air Nala is ready to perform.
You want a Border Collie to be running companion? Nala is ready when you are.
You want a Border Collie to be your best friend? See above. Then meet Nala. You won't regret it.
---
The more Nala interacts with her person, the more capable and enjoyable she is as a pet. She has become increasingly invested in bonding with and working with her people. Her response time for commands can be excellent and she certainly knows what she's been taught. She is now working on walking nicely on leash. As with most energetic and smart dogs, her potential will be determined by her forever home's willingness to continue her training.

Nala doesn't seem bothered by rain, wind, or the rumble of distant thunder.
Nala is an energetic dog, and has puppy like moments of mischief. She makes us laugh!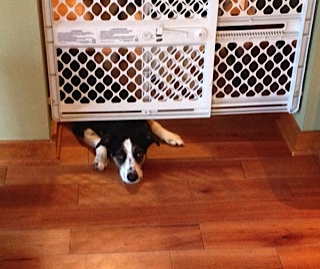 Nala has a soft, smooth, short tricolor coat. She does shed, but her coat requires less grooming than her some of her border collie friends!
New commands: touch, spin, ok.
---
Here are some great new photos of Nala - I bet you wish this girl was on your team!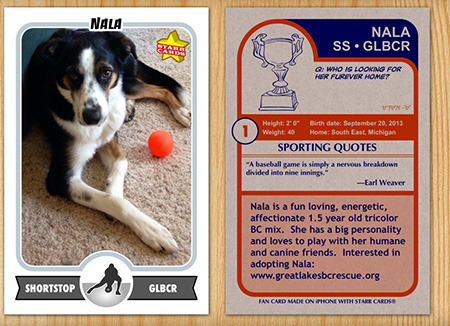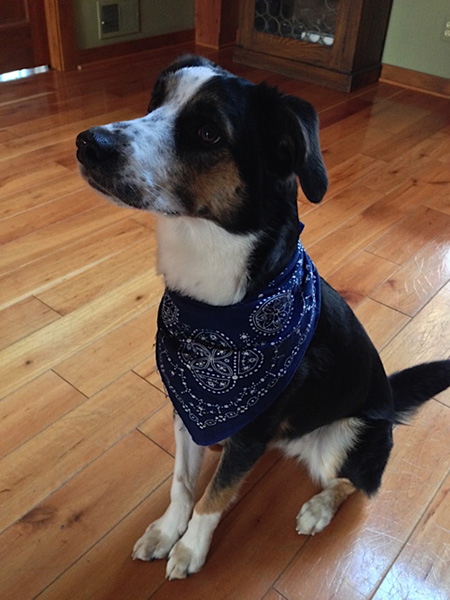 ---
Nala is a fun loving, energetic, affectionate 1.5 year old tricolor border collie mix with a smooth coat. She has a big personality and loves to play with her human and canine friends. Her dream home would have a fenced yard where she could safely turn on her afterburners. She bonds strongly with people of both genders, but seems to have a special fondness for men.
Her exuberant, seize-the-moment style is lots of fun; She enjoys bounding after and returning her toys (frisbee, ball, etc). She's always ready, REALLY READY for a game. She tosses her toys in the air to herself and careens around the room delighted. She loves chew toys including Nyalbones and elk antlers, and has recently learned the joy of tug.
Nala wants to explore everything and be everywhere with you. She'll work with you, put toys in your lap or cuddle with you while you watch television - just as long as she can be your buddy. She is always curious about what will happen next. She can't fathom a world without fun every single day. She's athletic and would be a good candidate for dog sports.
Nala is housebroken and settles nicely in a wire crate or kennel with her kong or treat. She also knows some basic commands including sit, down, go to your place, catch and is working on leave it and come. She picks up new commands quickly.
Nala responds exceptionally well to positive training methods. She's spooky smart - just put liver treats in your pocket and she'll show you. Actually, Nala never met a treat she didn't love, which means training rewards abound (cucumber, Nala?). Because of Nala's smarts she needs a consistent, calm and patient handler who can help her succeed. Unlike some border collies, Nala is not a sensitive dog. She can handle your fair requests and will sometimes attempt to negotiate with you if you don't appear firmly committed. She requires daily exercise for her body and also for her brain. She would benefit from a beginner obedience class, but is capable of much more.
Nala initially lacked indoor house manners (she never had the opportunity to learn) but has improved tremendously in her foster home. Luckily she's easily redirected to good behaviors, and once she understands your desire will spontaneously offer them for your approval. She's working on sitting at doorways, and sitting for greetings. She has learned to walk nicely on leash when not over excited. With appropriate guidance Nala will learn your house rules quickly. She's a good girl eager to do the right thing.
Nala is learning that car rides can be fun. She can be wary of new sounds or people but warms up quickly after investigation and encouragement. Nala isn't compatible with cats or unattended dirty socks; She may try to eat them. Her exuberance prevents her from being placed in a home with small children at this time.
The vet has declared Nala cute, healthy, and ready for her forever home!