Nash
Gender: Male
Age: 4 Years
Height/Weight: 21" / 37 lbs
House-trained: Yes
Fenced yard required: Yes
Location: Mid-Michigan
Foster Home: Jenny


Crate-trained: yes
Treat-motivated: Yes
Toy-motivated: Yes
Likes Car Rides: yes
Good with cats: No
Good with kids: 10 and older
Commands: sit, down, NO, potty, potty potty, leave it….UH UH, quiet
---
Nash was adopted in November, 2014. Here he is with his new family!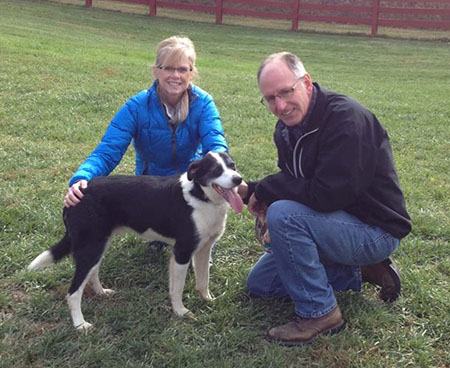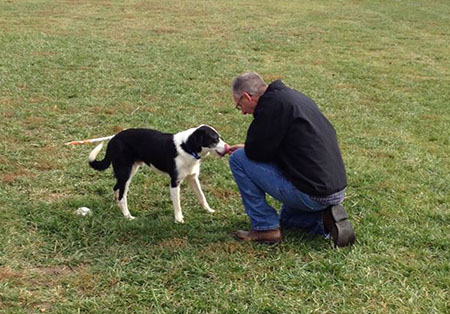 "Thank you again for saving Nash. He is so good. He slept most of the way home. We didn't stop as he was content. So 2 hrs to the lake will not be a problem. Has met the neighbors through the fence. Perfect. I did take your advice on the towel and it worked great. Not a problem on the main floor. Went to the basement and that was when he tried. Dozers scent is probably more prevalent there as I don't clean as much down there. Will give it a couple days. Also sent u a pic of him at my feet in the kitchen. He is now sprawled out touching me!"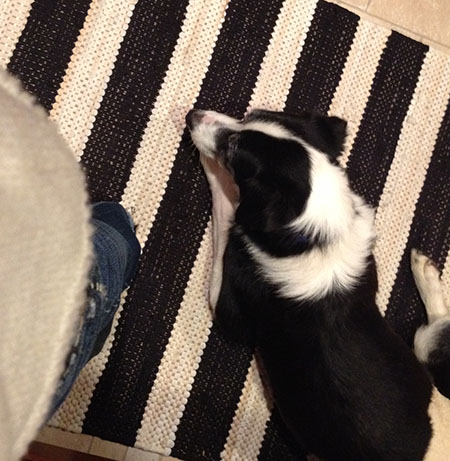 This dog has it made, and we couldn't be happier!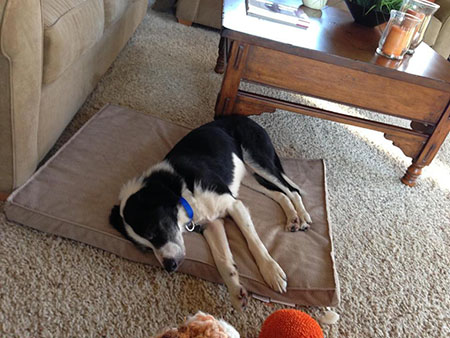 ---
My name is Nash. Let me tell you my story. I have no idea how I ended up in a shelter. I was rescued by Great Lakes Border Collie Rescue on 8-21-2014. Let me tell you about a day in my life.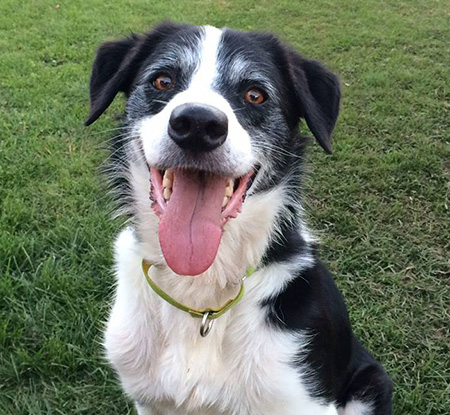 When we get up in the morning we all go outside to do our business, which I now understand what the word "potty" means and what "potty potty" means and I comply and do my business. We come back inside and my foster Mom, has her coffee while my foster siblings and I wait patiently for breakfast. After coffee, we go back outside to have a little playtime and then come back inside for breakfast. I do not gulp or rush while eating, and prefer a single protein base dog food that does not contain any fowl. I'm doing best and enjoying Diamond Naturals Lamb and Rice…..YUMMM! We then head back outside for another longer round of playtime, we play fetch with a ball. I'm learning that it's fun to bring the ball back to my foster Mom, because low and behold she throws it again. I also enjoy playing with a ball by myself. I bat and spin the ball up into my mouth. My foster Mom will interrupt me and I'm happy to let her throw the ball again, and again, and again. I also understand "leave it" because the ball will go up in the air for me to retrieve. These humans are so easy to train.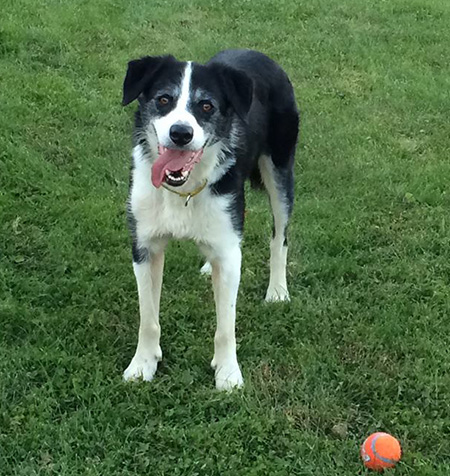 Now comes our afternoons, we are all chilling out, laying on our beds while foster Mom, does her chores. I don't really like the vacuum, but I do not charge or bark at it, but I love when she's finished with that chore. I'll whine when I have to go potty and do my potty dance. I also like to nap on my personal bed. Sometimes we have private training sessions. I get treats when I "sit", "down", and "look" at my foster Mom. I also know "kennel up" when she has to run errands, not sure what those are but sometimes I get a new toy. I enjoy toys, but if left with soft toys I do enjoy dismantling them so best not to leave me alone with soft toys for an extended time period. We then go outside again, I'm getting plenty of exercise here, so my muscle tone is increasing daily. I enjoy going for walks with my people too.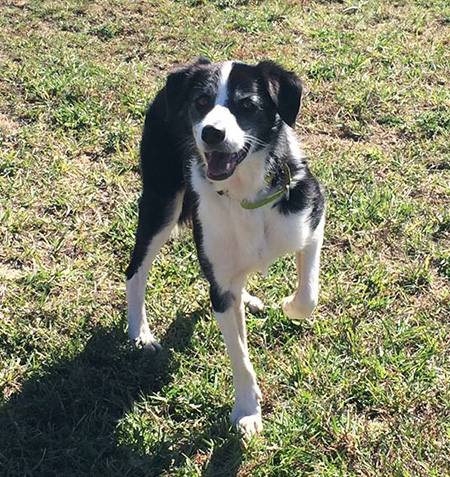 Dinner time, again I love to eat and do not rush. We repeat our routine of play and doing our business, it's pretty much the same as the morning. When my foster siblings go to bed, I get some free time with my foster parents. I enjoy some couch time(yes I'm allowed on the furniture here) but will comply if that is not what's allowed in my new home, I get loved on and like to bury my face into the person doing the petting. I sleep in my crate and I may snore, although I've never heard it. I easily sleep through the night dreaming of my forever home.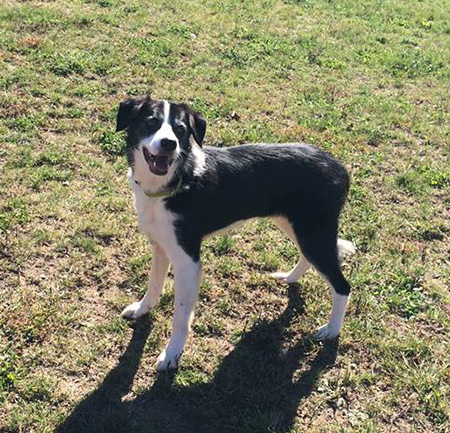 I've also been the vet's office a couple of times. They tell me I'm fully vetted, on heart worm preventative and a healthy 4 year old dog. I had a spa day and was a good boy for the groomers. I've also been to my foster homes local boarding facility and I had a good time there too.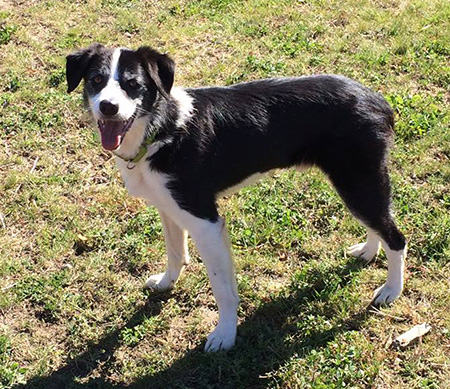 I do have some flaws, don't we all? I really like to chase indoor cats, so I should live in a home without cats. I would also do best with a fenced in yard, since I need some work on my interest in moving things. I engage in games of fetch with my foster siblings and I like to herd my foster brother. I can be redirected with a ball, so it's just a border collie stare and herding stance. If you don't have a fence and are dedicated to taking me out on a lead and staying with me, we can talk…..he he he.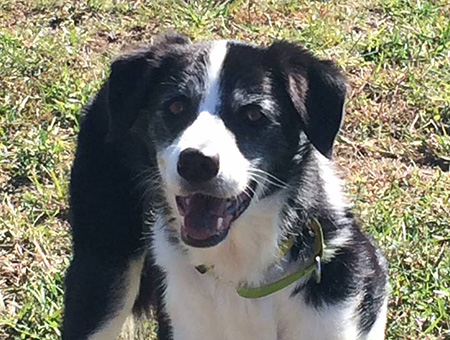 I have met children in the toddler age range 2-4 years and I took treats nicely but the amount of attention I was getting kinda made me nervous, so I would prefer to live with children a little older. I would enjoy going to school to sharpen my skill set and it would help me bond with my new family too. I enjoy being outside with my foster siblings, but I don't seek them out to play, I'd prefer to play with a human and my ball.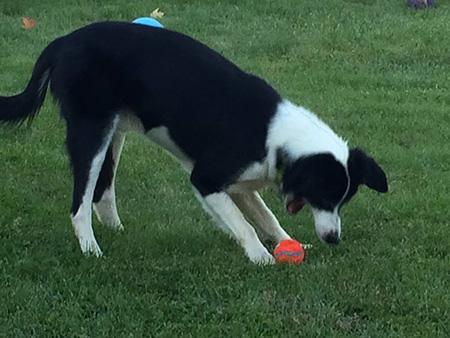 ---
Never judge a book by its cover....hmmm...well when my foster family saw my shelter picture and they thought they were picking up a senior dog. I had to laugh at them when I heard "oh my dog, he's a youngster." I like to have the distinguished gentleman look but I'm full of energy. I'm only 4 years old and love to run, play fetch, and chill with my toys inside the house. I have to tell my secret, I like to play keep away with the ball, but bring it back to the human once in a while, so they stick around, because I can't throw the ball myself. I have a very unique talent where I paw at the ball and shoot it across the yard, chase it, and paw at it again and flip it right up into my mouth. I'm very talented.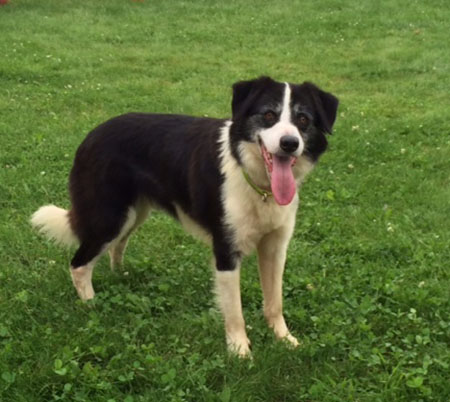 Ok, now I"ll discuss "things I"m learning"....they are called commands. Since being here I've learned to kennel up, FYI I prefer a cookie prior to entering. Come is actually one of my favorite commands, because the human showers me with praise and pets. I've learned to potty outside. I"m also getting a handle on sit and down. I enjoy herding my foster sister, but will run and play chase with her too. I get super excited when I meet new people, my tail goes round and round in full circles.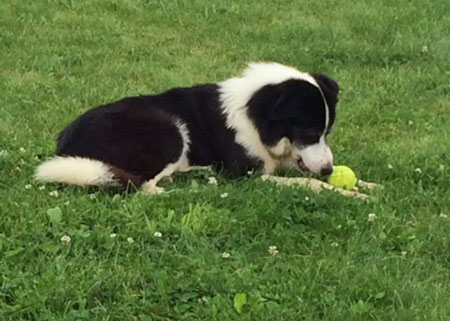 Trucks, cars and tractors get me really fired up, so I'll need a fenced in yard to keep me safe. I keep hearing my foster Mom, say leave it when I start this, so I'm guessing she'd like me to break that habit. I'm trying and food and toys motivate me to learn new things.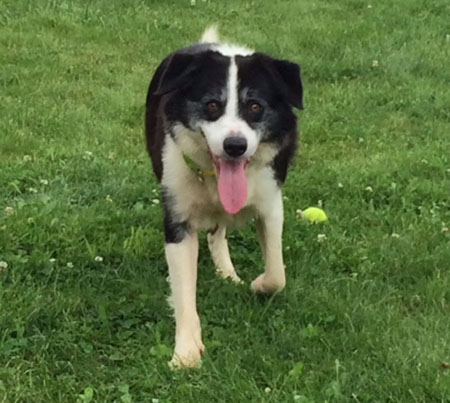 Watch me show off my mad ball skills:
---
---
Photos
---
Videos