Nelson
Gender: Male
Age: 9 Years
Height/Weight: 20" / 50 lbs
House-trained: Yes
Fenced yard required: Preferred
Location: NW Indiana
Foster Home: Barb H.


Crate-trained: Yes
Treat-motivated: Yes
Toy-motivated: Yes
Likes Car Rides: YES
Good with cats: tbd
Good with kids: older
Commands: Sit, down, come
---
Nelson was adopted in June, 2014. His foster mom writes: "When I got to the street Lisa lived on I wondered how I would find the house because all the mailboxes were at the beginning of the private street and not all the houses had numbers on them. So I was meandering around the curves when the "Welcome Nelson" sign popped out at me on the tree. I immediately teared up! It was so cute and unexpected.
"When we pulled up the drive Lisa was outside already and when I took Nelson out of the car he went up to her like he knew her. All wiggley and smiling. (I love it when the dog makes the first move.) We walked around outside for a little bit, then went inside to socialize while Nelson sniffed around. Then I left him there with her for about an hour while I went about a mile down the road to a lake and park so they could get to know each other without me being a distraction. When I returned, Nelson waited at the door with Lisa. It was obvious they connected and I went inside and we filled out the paperwork.
Lisa has since updated saying she loves him and he is doing great. You can see it in the pictures.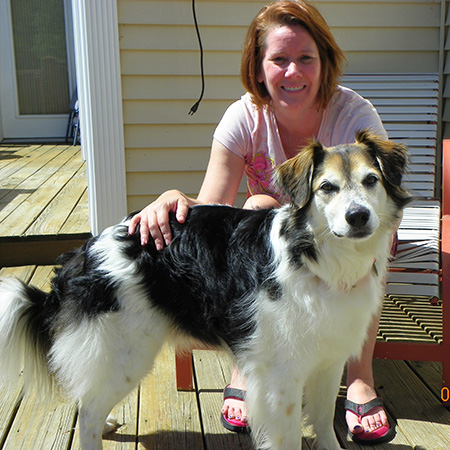 ---
Once a dog is taken in by GLBCR they are always a part of our family. Should circumstances change and you have to make the dreaded decision of what to do, we've got your back! They return into the fold. Such is the case for Nelson.
Through no fault of his own, Nelson was not able to make the move with his original family. He was adopted from us at 4 months old and has been with his family for 9 years. Needless to say this was not something they wanted to do.
Nelson has been here a week now and is fitting in just fine. He caught on to the routine with me and my 5 dogs in a matter of days and is doing well. He is an easy dog to work with. Mostly, he enjoys laying on my bed or the couch but is more than ready to do something else when you are. The weather isn't cooperating right now but short walks, playing in the yard with my Patterdale terrier, and going for rides in the car seem to be his favorites. He loves his Chuck-it but that is on hold until more snow melts.
When I am at work all day it is not necessary to crate him. A baby gate across the threshold of my spare bedroom is all that is necessary. He doesn't chew or damage anything.
He is a friendly fellow, visited dog parks, and would enjoy laying on the couch next to you watching a NASCAR race.
---
Photos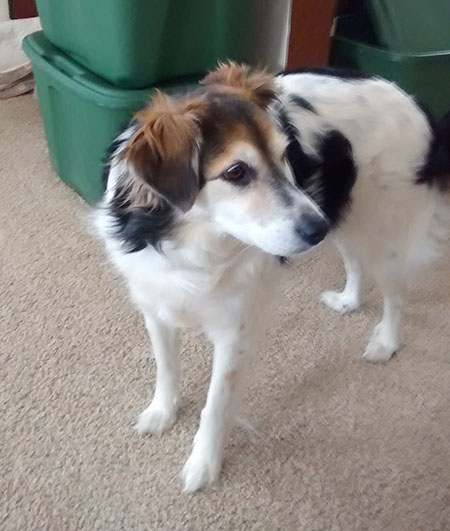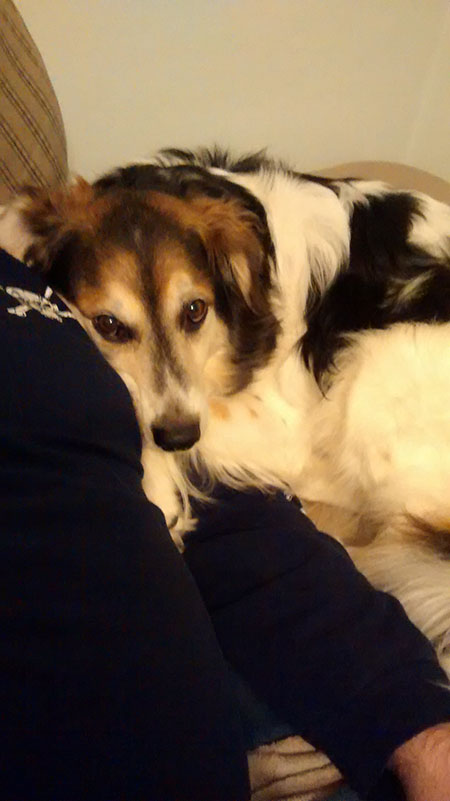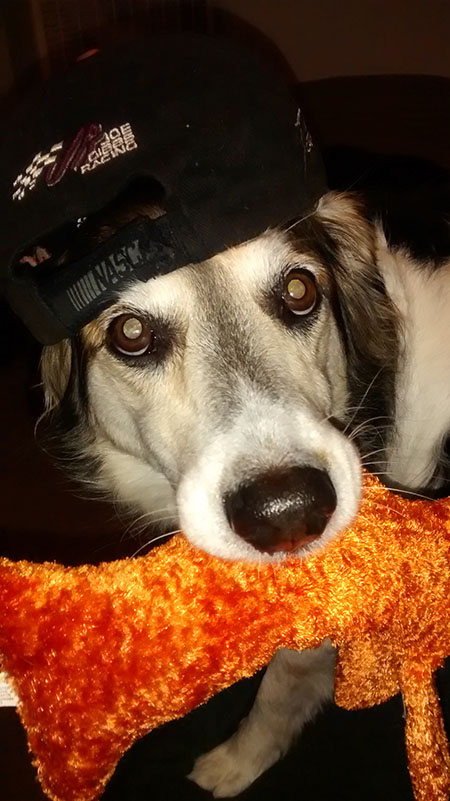 ---
Videos