Paige
Gender: Female
Age: 9 Months Old
Height/Weight:
House-trained: Yes
Fenced yard required: tbd
Location: Mid-Michigan
Foster Home: Debbie T.


Crate-trained:Yes
Treat-motivated:
Toy-motivated: No
Likes Car Rides: Yes
Good with cats:
Good with kids:
Commands:
---
July, 2014: Paige and I have been working on many things. One of them being walking/running on leash. She is doing better. I have a harness for her which helps tremendously. Walking she tends to get distracted easier but while running she definitely knows the task at hand and is focused. We reached our 2 mile goal today. Tired pup.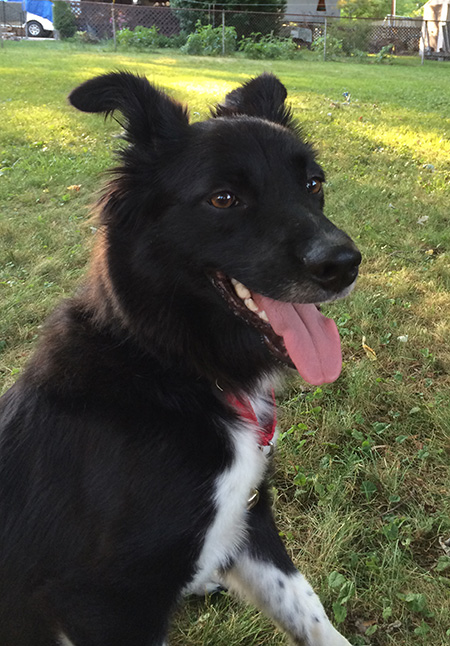 ---
July, 2014: "Paige is doing exceptionally well! She definitely knows who daddy is. She has taken a special liking to Heather as well. We have found that the thunder storms do seem to startle her but she's getting better. She still will not go anywhere near a squeaker but will play with any rope frisbee or ball she can get too. She currently has a squirrel trapped up in a tree in my backyard, I told her he doesn't want to play haha. She can catch a ball now and can catch a frisbee if Heather throws it but not me lol. She so far has wanted nothing to do with the lake but She went on her first boat ride yesterday and did great! Took some warming up to unsteadiness, but was very curious about what the water was all about. She is a great addition to the family! Here are some pictures!"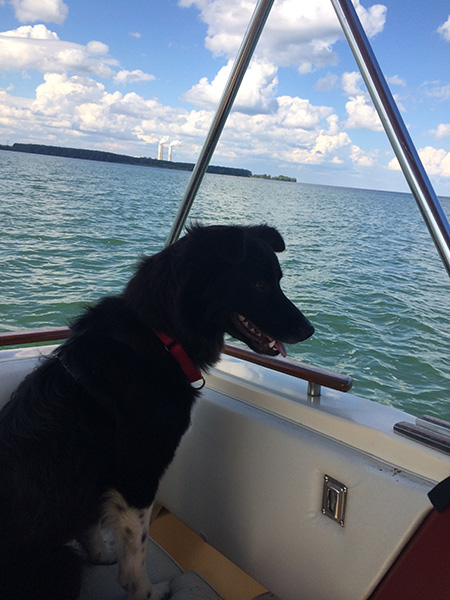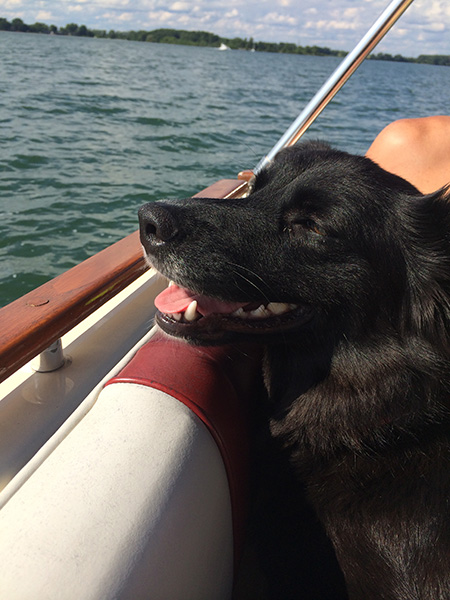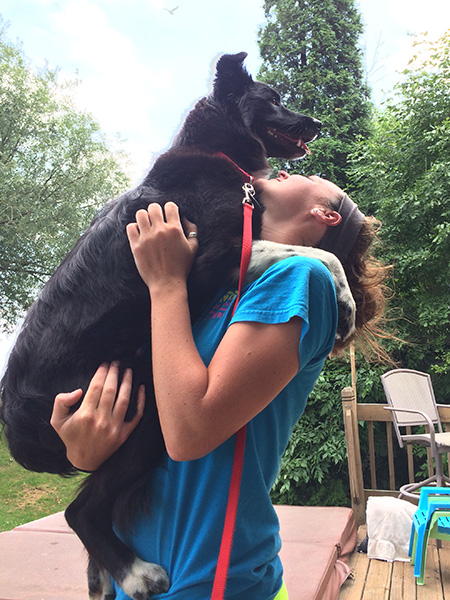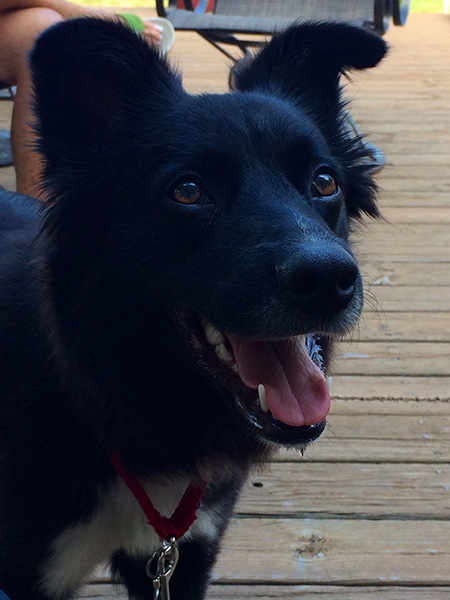 ---
Paige was adopted in June, 2014. Here she is with her new dad!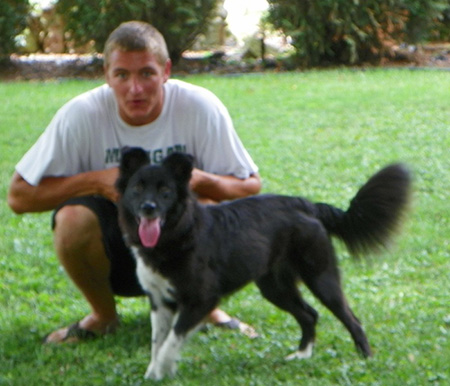 ---
Paige came to GLBCR from the Ohio area. She was abandoned by her owners and ended up in a shelter. She looks like she is 9 months to a year old. Paige has not had much education but she does know sit and will shake (sometimes). She is crate/housebroken and gets along with other dogs.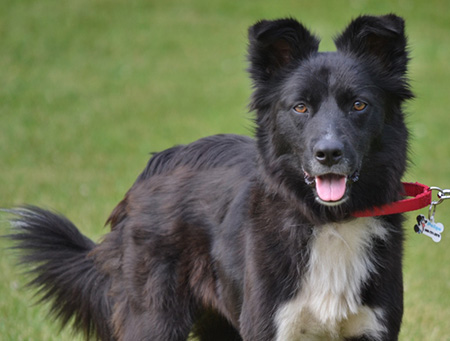 Paige has an outgoing personality and is very athletic. She quickly learned her new name, and has shown me she is very willing to learn. Because she seems to know so little, I would term her a "blank slate" girl. Her new owner should be able to shape her into a wonderful companion. Paige will need obedience classes. Working in a training class helps teach a dog to bond to a new owner, as well as teach her to pay attention even in distracting situations. Everyone at the veterinary clinic fell in love with her when she was there to be spayed.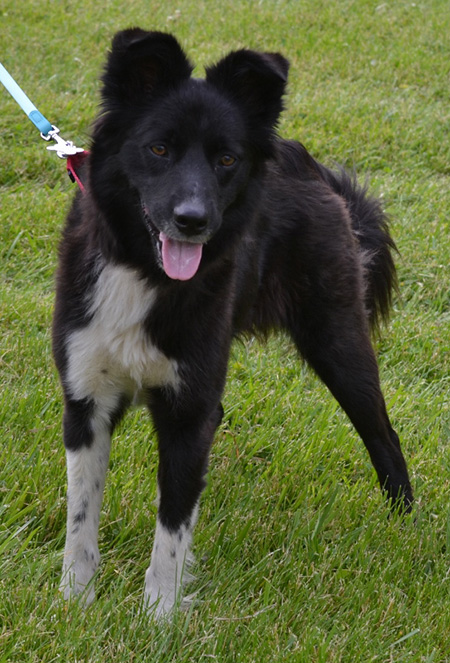 I've groomed out most of her dead undercoat along with all the extra ticks that hitched a ride with her (K-9 Advantix works so well!). She is a little thin and needs to add some meat to her bones. She is very loving and snuggly. Paige will sit with you on the couch or climb into your lap. She might even beat you to the seat. She doesn't seem to understand toys yet, but we have a variety available for her to choose from. Just this week she picked up a toy, threw it around, and surprised me as she brought it to me! She even ran after it again when I tossed it! She doesn't yet know how to give it up.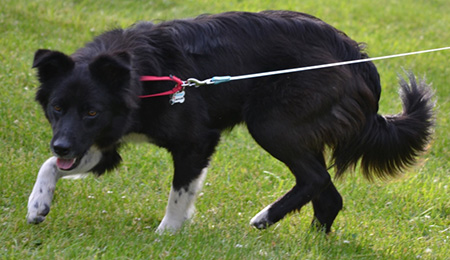 I find whatever education she may have had regarding normal sounds are sorely lacking. She will flinch and dash away when she hears an unexpected sound, but she recovers quickly and comes right back to investigate it. She did this when the ball she was playing with squeaked. Now she is very careful not to make THAT toy make a sound. Surprisingly, she is not cautious of thunder or lightening or any traffic sounds when she is in the car, and she loves to go for car rides.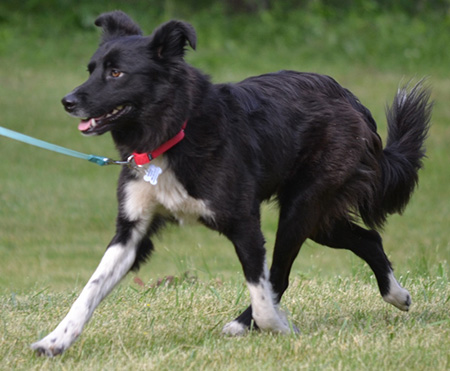 Paige is a bright beauty that will not be in GLBCR for long. She is quick to learn new things and loves her people. She will chase anything that runs so I don't think that non-dog savvy cats in the household will be a good match for her.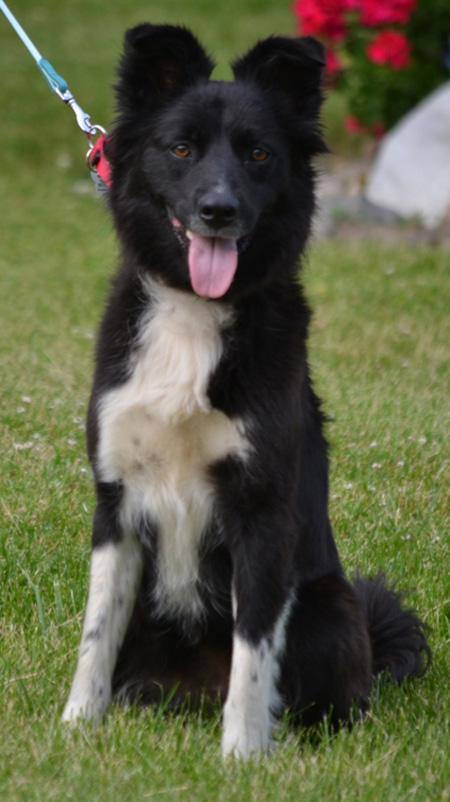 ---
---
Photos
---
Videos