Panda, now Roxie
Gender: Female
Age: 9 Weeks
Height/Weight: Wee Tiny
House-trained: learning
Fenced yard required: TBD
Location: Mid-Michigan
Foster Home: Becky


Crate-trained: learning
Treat-motivated:
Toy-motivated:
Likes Car Rides:
Good with cats:
Good with kids:
Commands:
---
October, 2014: Just wanted to tell you how much we adore our Roxie (formerly known as Panda)! She is adorable. The first night was little sleep but that was to be expected. The second night she went to bed no problem, slept all through the night and never peed in her crate. She has been in her crate 2 different times today and no accidents as well. She is playful, yet knows when to settle and Lola has put her in her place a few times but when Lola's ready to play she lets her know.
I've been working with down and stay with her already and she is doing great with it. She loves treats and lots of praise! Becky did a great job with sit and potty training. She's had a couple potty accidents but that is it. Becky was an excellent foster, she is used to so many different things and doesn't seem to have any quirks. She's doing all her BM's outside. I can't tell you how much we love her!
Thank you so much for bringing her to us!
---
Panda was adopted in October, 2014. Here she is with her new family!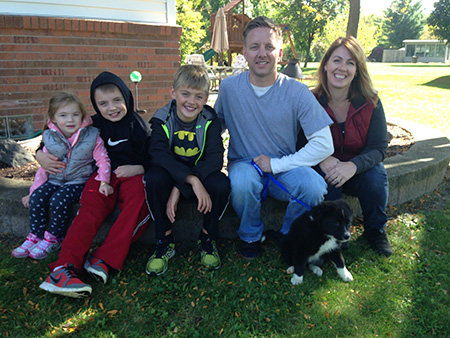 ---
She is really acting like a puppy now! Loves to play and run. Everything is still a work in process. She is pawing at the door to go out for bm but still has some pee accidents. Loves coming to work with me and playing with her Boston terrier friend Tootsie who is 6 months old. She is doing much better when she gets a little too worked up, tell her to settle or enough. She loves toys and bones to chew. Its fun to see her grow!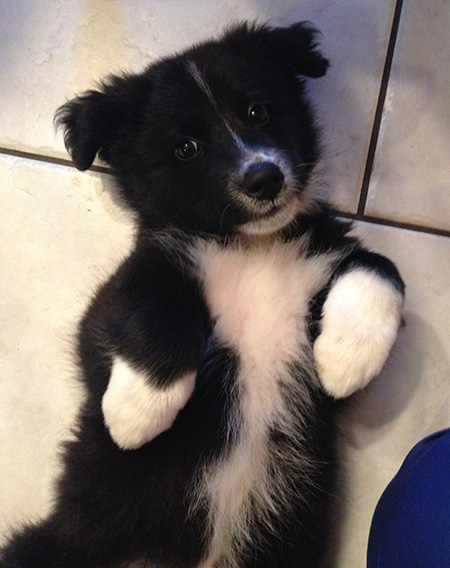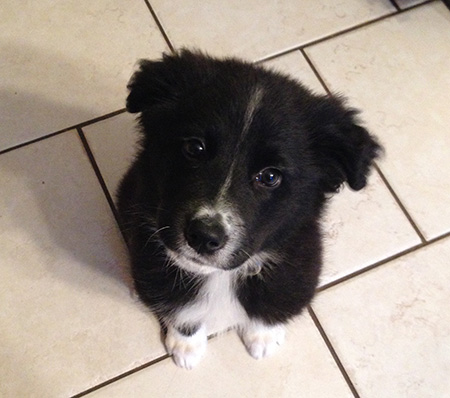 ---
We are keeping her name as Panda. My husband likes it, everyone we meet likes it and she responds to it very well. We have had her almost a week now and she is transitioning well. The first day all she did was CRY, even being around people all day (I took her to work with me). She should have been exhausted, you know a puppy, play hard, sleep hard. She could not get comfortable all day and would not sleep, poor girl. That first night she ended up cuddling up on the couch with my old man Pomeranian (which is not like him) and she fell asleep for a while. When we all went to bed, she went in her crate and cried for about 25 minutes. Day 2 went better, I think she was still catching up on sleep and getting used to all going on in a full day, she went right to bed that evening. She is crying less and less if left "by herself", which really is a gate blocking her off from the carpeted living room.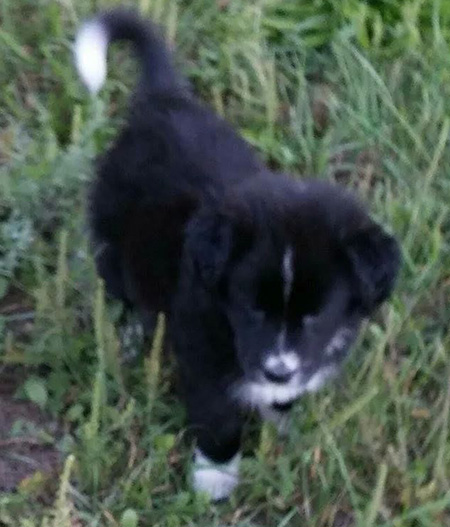 Potty training is in progress. You tell her to go potty when outside and she is pretty much right on. She is not letting me know yet when she needs to go out so there are accidents (I would expect nothing less). The vet guessed that she was about 8 weeks old, so now 9 weeks old. She was definitely taken from her mom and brothers and sisters too early, she can get sassy with you fast, but has already gotten better within the past few days.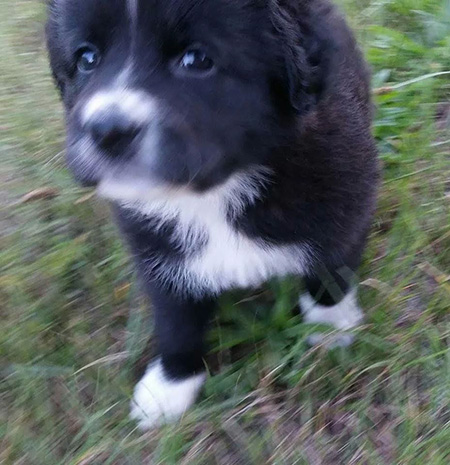 She is getting along great with my 2 dogs and is getting put in her place if she gets to be too much for them. I have cats and of course is curious. I also have a 12 week old kitten I am fostering right now and to see them run and play with each other is hilarious! The kitten rolls over and then Panda stands right over him, like yeah I'm in charge here.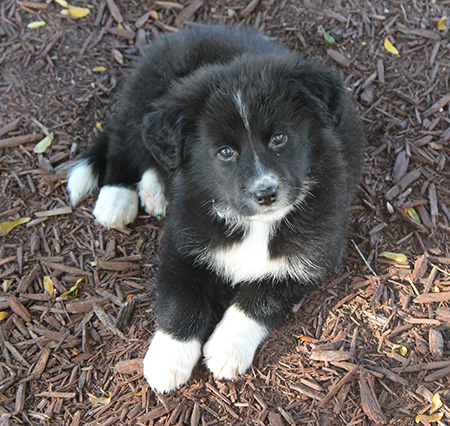 She is doing VERY well on walks, keeps up a good pace and walks behind you (right now anyways). She loves meeting everyone and other dogs! Crate training is progressing well, I have been feeding her in there to help make it seem like a wonderful place to be. She is not very food motivated though, doesn't like any special treats. So she gets lots of verbal praise. She is learning leave it (she likes to grab your pants and feet) which is going VERY well. She knows sit, most of the time too. Its been a fun little adventure so far!
---
Photos
---
Videos