Rowan
Gender: Male
Age: 3 Years
Height/Weight: 18" / 29 lbs
House-trained: Yes
Fenced yard required: tbd
Location: SE Michigan
Foster Home: Barbara


Crate-trained: Learning
Treat-motivated: Yes
Toy-motivated: tbd
Likes Car Rides: tbd
Good with cats: Yes
Good with kids: Yes
Commands:
---
July, 2014: "Just a quick update to let you know Rowan's doing great. Tomorrow night's the last of our 8-week basics course. He learns fast and did really well. We trained on leash manners, recall, long stays, etc. He's become a real pal-- we're so crazy about him. We've introduced him to swimming and bike riding and he's doing well w both. Getting very good w retrieving tennis balls as well. His best bud is Cisco, a 2-year old Aussie-- but he hasn't met a dog he doesn't like. Riding in the cars is the best! Attached was in the '50 Packard over the weekend.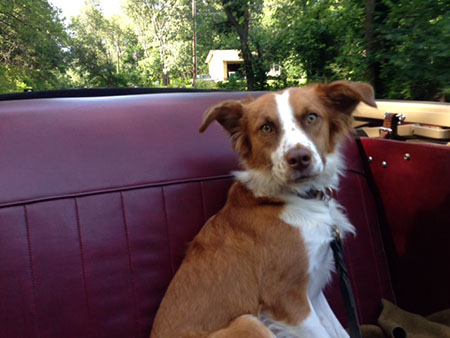 ---
May, 2014: "Briefly, Rowan is doing GREAT. He's adapted to his new life really well. What a personality he has! He sleeps in his crate in our bedroom at night and is very quiet. But, when he's let out in the morning, he stretches, then explodes with excitement! The porch is one of his favorite hangouts-- where he can watch the world below or just crash in the sun. We're working on Frisbee skills, but still need to improve his attention span. As you know, he tends to lose interest in a toy and move on to the next thing fairly quickly. Leash behavior is much better than it was and he's developing a great recall. We're not ready to try him off-leash yet, but will let him drag a lead in the park, as long as we're in a protected area. If the water ever warms up a little, we want to try him out in the Lake. My prediction is he'll be very wary at first. Rowan is such a cautious fellow. Anything new or out of place gets his attention and needs to be approached very carefully, lol!
"We're starting a basic obedience class next week, which should be good for all of us. Rowan does well with no distractions, but his brain froths when he's around other dogs. He loves the other dogs at my office! A great day is when Ella the Great Dane and he get to go a few rounds together. He's such a pal when we're in the office together-- he rarely lets me out of sight. Rowan loves to be physical too-- whether he's leaning against one of us getting a shoulder rub, or wrestling with me on the rug. I LOVE that! We've also been able to get him together with a couple of friends' dogs and he does great with them all. Rowan hasn't met a dog he doesn't like. We've talked about it and I expect will be looking for a companion for him in the not-to-distant future. Would like to wait a while though until we've got some more training on him and have established our routines a little better."
---
Rowan was adopted in April, 2014. Here he is with his new family.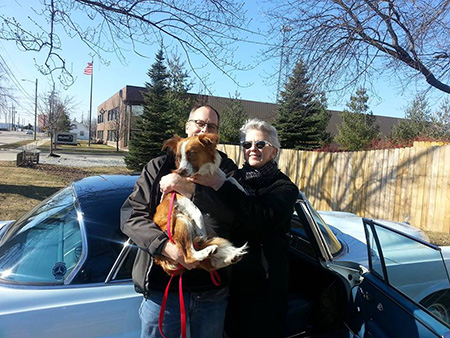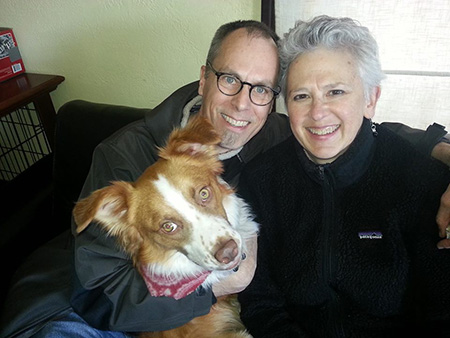 ---
Looking for a reliable catcher for your team?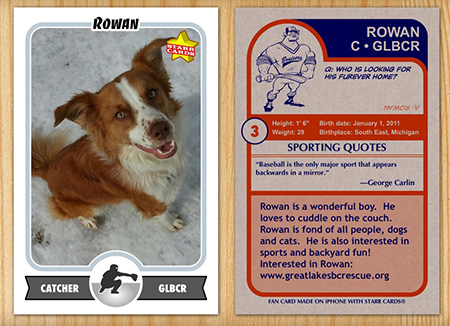 ---
Rowan is a wonderful dog. He's very quiet. We love having him in our home. Rowan was an owner surrender to a shelter. We don't know the details as to why he was surrendered, but we'd guess he was well loved. Rowan will follow you to the end of the earth. He loves his humans, and showers them with kisses. He loves to cuddle on the couch.
Rowan is a soft dog. If we raise our voice with him, it just breaks his heart and crushes his spirit. He responds favorably to a quiet, "no". Rowan didn't seem to know anything when he arrived, but he was very good at jumping all over us for attention. After a few short days in his new foster home, he has learned the best way to greet people is to "sit" at their feet. He's allowed to wiggle, but he will not receive pettings unless his fanny is on the floor. He has also learned "sit", "sit up" and "down". He's interested in toys, and he will pick them up. We've potty trained him quickly, another opportunity to brag about how quickly he learns. Soon, we will work on teaching Rowan the great game of fetch.
Rowan eats his kibble very slowly. He'll walk around the room while he's chewing, then go back to his bowl for the next bite. While he is eating, he will pick up his bowl and move it about a foot. I have no idea why he does this, but it's interesting. He doesn't have any food aggression. He thinks our other dogs need help eating their kibble, but they disagree. Rowan is treat motivated and loves to work for his treats.
Rowan is good with other dogs (both male and female). He's interested in our cats, but the cats are teaching him the ropes. He's been hissed at and received a few feline slaps across the face, but that's the only way the cats know how to train dogs. He's getting very good at respecting their space, but sometimes they are just SO interesting. If he tries to chase them, he calls off easily.
---
Photos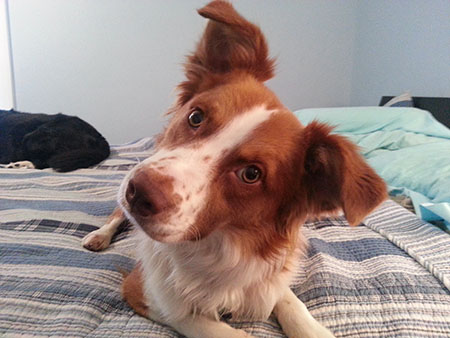 ---
Videos