Ryder
Gender: Male
Age: 9 Months
Height/Weight: tbd / 31 lbs
House-trained: Yes
Fenced yard required: No
Location: SE Michigan
Foster Home: Barbara


Crate-trained: learning
Treat-motivated: Yes
Toy-motivated: YES!
Likes Car Rides: No
Good with cats: No
Good with kids: Yes
Commands: Kennel-up, sit, come, leave it, drop it
---
Ryder was adopted in October, 2014. Here he is with his new family!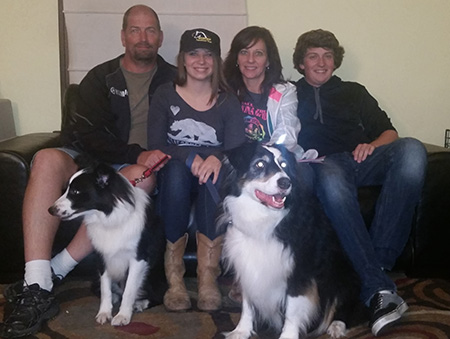 ---
Ryder has been showing us some herding instinct. When he gets excited while we are playing fetch with all the dogs outside, he's grabbed a few of our pant legs (the back of the ankle-pant leg). He has done this (4) times, in the span of (2) days. He hasn't done this behavior in about a week, but it's enough for me to think that Ryder should NOT be put in a home with kids under the age of 6. Over the last couple of days, I've tried to really amp Ryder up to see if he'd try to grab my pant leg again so that I could take advantage of an opportunity to verbally correct him. He hasn't done it again. I taught him the new command: Go Around. This asks him to run around behind me clockwise before I throw the frisbee or ball. At first, I was facing him to assure he couldn't grab my pant leg. We haven't seen the bad behavior since.
Ryder's confidence is increasing with every training session. He's really fun to work with and he's so eager to please his people. To date, Ryder has learned: sit, (lay) down, wait, come, circle (move in a circle counter clockwise), spin (move in a circle clock wise), go around, and *this is huge* he has learned how to play fetch!
We put Ryder in a kennel when we leave the house, but when he escaped it a few times we had to come up with an alternative solution until the kennel could be replaced. Therefore, we started putting him in an Xpen. Other than scooting the Xpen around a little, there weren't any issues. We have moved the old kennel upstairs for Ryder to sleep in at night (which he does beautifully) as his "night" kennel. We have a new kennel downstairs to leave him in while we are at work. He's not a fan of entering the kennel under his own power, so he gets a little shove of encouragement. There's always (2) kongs filled with frozen wet dog food, a dental bone, and another treat dispensing toy. Therefore, there's plenty of things in there to keep him interested and busy. He barks pretty good when I leave, but after I exit the house it stops, ending his protest. He'll jump right into the Xpen every single time I open it, so I'm not sure what the problem is with the "day" kennel. Could be some seperation anxiety issues developing.
Therefore, I believe his future home should have BC experience to help continue his successes, but more importantly to be able to handle and expel his energy. He'd be spectacular if he had a doggie pal. He just LOVES our puppy, Rue. He's been the best puppy-sitter for her. He's super gentle with her, then corrects her (appropriately) when she trys to get tough with her. Ryder and Rue can spend an hour playing bitey face. We have to let them outside for potty breaks alone, otherwise these two coconuts will just play play play and not potty.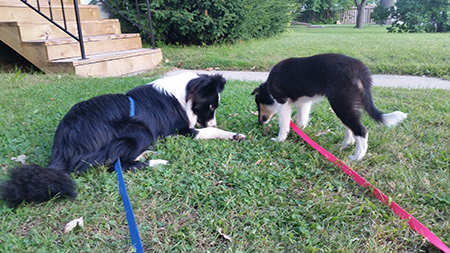 ...again, Ryder has the most fantastic off switch while he is inside. He's a professional couch buddy.
---
Here's the 411 on Ryder:
Ryder is a 9 month old male border collie. Since arriving in rescue, Ryder has had only one potty accident inside, therefore we are labeling him housebroke. He has been a submissive dog with our resident dogs. He's the epitome of what most would describe when they discuss the good attributes of a 9 month old BC. He's a little guy at only 31#'s, so far. He'll probably top out at around 35#'s. There's few minor issues which are ironing themselves out as Ryder continues to gain confidence at a rapid pace in his foster home. Those issues were doorways, kennel training, cars, sounds, etc. Also, he's a soft dog who doesn't like it when people raise their voices.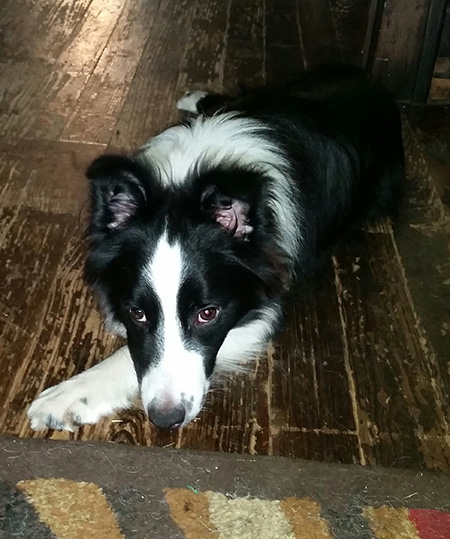 After settling into his foster home, the light bulb has suddenly turned "on" and everything isn't new to Ryder anymore. He's not a lazy dog at all, and has a FABULOUS off switch indoors with really good house manners. In fact, he has taken on the roll of " professional couch snuggle buddy". When his foster family is too busy for couch time, Ryder will take himself upstairs to lay in the hallway for his quiet alone time.
Ryder has (3) minor issues:
1. Kennel training: When he arrived, he was put in our old kennel. He escaped out of this old kennel every single time he was in it. Once he freed himself, he didn't destroy anything but did put a couple teeth marks on a couple of end tables (we didn't like them anyway). He's also completely housebroke, hasn't had a single accident inside my home. The old kennel was moved into his foster parent's bedroom for him to sleep in during the night. Ryder sleeps in this old kennel every night without an attempt to escape. The old kennel was replaced with a new, sturdy kennel (for use while we are at work) and he hasn't escaped since. He has also been left in an Xpen which has also worked well. Ryder has scooted the Xpen across the room more than once.
2. Car rides: We named him Ryder before we knew about his problem with riding in a car. He has barfed during car rides more than once. Therefore, we need to take him for a few short car rides and maybe he'll stop getting car sick.
3. Cats: Ryder has shown a little too much interested in our cats, therefore he'd probably do best in a cat-free home.
Outside, he has WONDERFUL recall. When called, Ryder comes running hard and sometimes doesn't stop in time. Sometimes, he will hit our legs a little as if his breaks aren't working properly. He's been really good with our resident dogs (males and females). He is a little motion sensitive and gets excited when the pack starts running and chasing each other. He will circle the pack, but doesn't do any nipping. When another dog gets in his face he present a VERY deliberate and slow moving "look away" (which is awesome).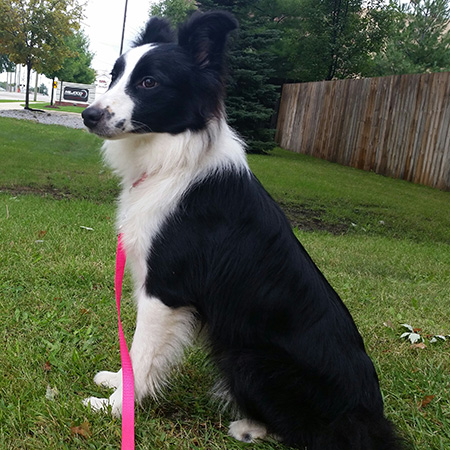 Ryder is a super quick learner and is gaining confidence as each day passes – learning to "dog". He constantly looks his foster mom square in the eye, waiting for her next command. He's started to play fetch and he's really enjoying it. His eyes really light up as if he's saying, "YES! Let's play!" He's also starting to select toys out of the toy box when he gets bored. We believe he'd be a great dog for someone who wants to do agility, fetch a ball/Frisbee, etc. With agility, he'd need someone with patience to help him get thru some of his initial *slight* hesitation, but he's no longer hesitant once he's learned the skill. He is highly food motivated and desperately wants to show me what a good dog he is. That being said, in the wrong hands he'd be likely to develop some unwanted behaviors. Therefore, Ryder needs a home where he will be well exercised and therefore less likely to develop those unwanted behaviors.
---
---
Photos
---
Videos