Tag
Gender: Male
Age: 3 Years Old
Height/Weight: tbd / 42 lbs
House-trained: Yes
Fenced yard required:
Location: SE Michigan
Foster Home: Barbara


Crate-trained:
Treat-motivated:
Toy-motivated:
Likes Car Rides: Yes
Good with cats: No
Good with kids:
Commands:
---
December, 2014: "Yup, they love each other!"
---
July, 2014: Look who fell asleep on his Frisbee!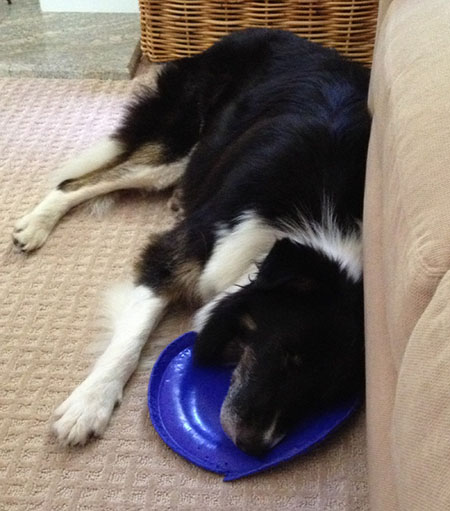 ---
Tag was adopted in June, 2014. How's this for a happy dog?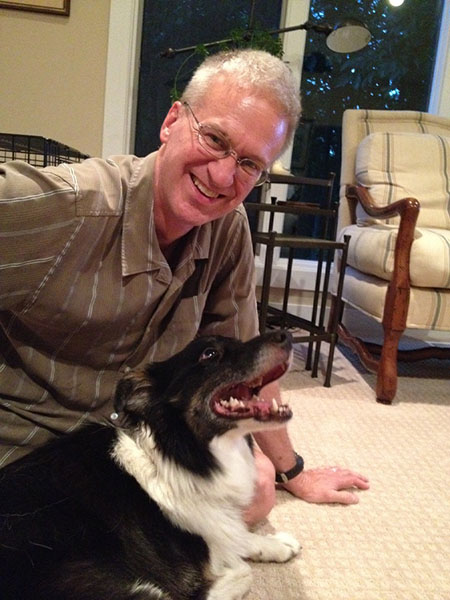 ---
Tag came from a shelter in Kentucky. He is quiet in the house and really wants to be leaning on us (hard) and consistently asking us for attention. He loves a good rub down/scratch down. He seems to always be sitting at our feet with his head in our lap. Tag is learning the crate is his quiet place. He is crate trained.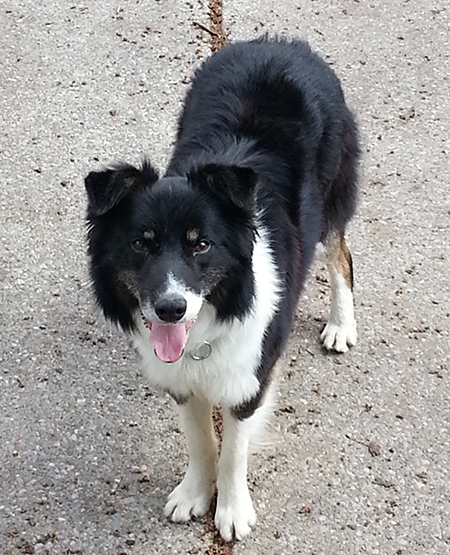 Let's talk about Tag's relationship with cats: I think Tag would do best in a home without cats. They are far too interesting and tempting for Tag. Although Tag does control his prey instinct, he seems to have difficult controlling his herd instinct. He wants to herd them, almost constantly. He stares at them until we tell him to stop. He will call of easily. He really doesn't want to touch the cats, because if they react toward him in any way he will run in the other direction like a coward. For example: Last night, my cat Mojo was done with Tag staring at him. Mojo went on the offensive and kept running toward Tag (which made Tag ran away). All Tag wanted to do was get away from the cat. After a couple of episodes, I had to call the cat off of Tag. Then Mojo sat in the other room and stared at Tag.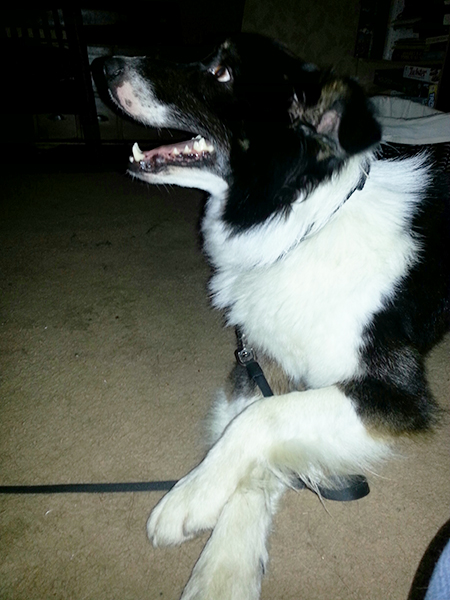 Tag will get antsy when he needs to go potty. Tag has not come to us to "tell" us he needs to potty, but when we see him at the back door we've taken him outside immediately.
Tag was bathed on his first night in our home because he smelled horrible. He was great in the bath. He needed to be lifted and put into the tub. He laid down in the tub during his bath and seemed to be a little overwhelmed. He just laid their frozen and allowed us to scrub him all over. He was taken to the groomer two weeks later, and was acting a bit shy and timid. He was very cooperative with the groomer. No problems.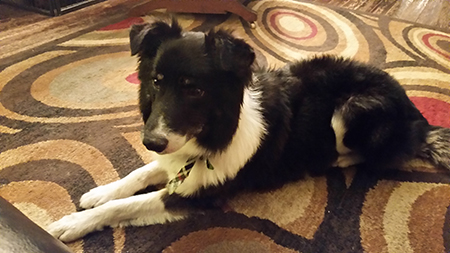 Tag is generally a very quiet guy. I have only heard him bark when he's in his kennel. When there is excitement happening outside his kennel, he will bark. He always settles down quickly. Tag acts shy and distant when presented with visitors and strangers. He's a work in progress, so the jury is still out. He is very interested in his foster family.
Walking on a leash is something very new for Tag. He's learning quickly. He's pretty good at it, but all he really wants to do is touch my leg with his face during our entire walk. It's a little annoying, but isn't horrible. He doesn't pull at all. He's learning.
Tag knows to go to the box for toys and will play by himself. Tag loves a toy that he can pull on – like a rope. He also loves to tear the yellow flesh off a tennis ball. Tag hasn't learned to play fetch yet, but I see potential there.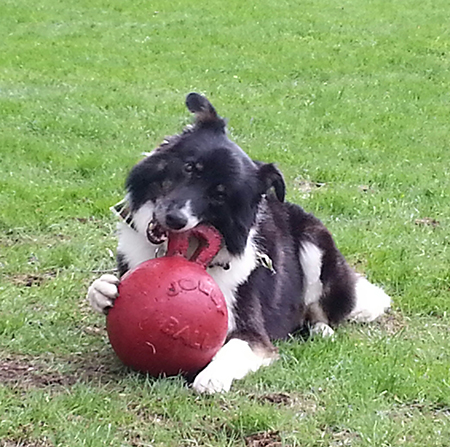 COMMANDS:
"off"-to get off of the furniture, any furniture
"upstairs", "downstairs" – I'm not sure if he has learned this command, or if he just follows my pack. I ask my dogs to use the stairs before me to prevent them from tripping me in either direction.
"in the car" –to ask him to load up into the car
"kennel up" –he is still a bit reluctant at first. He will go in immediately if he knows he is getting a treat. He's doing great about being crated.
"no" –when he's doing something inappropriate, and "uh-uh" when he needs a gentle reminder that he's doing something unwanted
"leave it" –when I want him to stop a behavior like sniffing the cats, or barking at a stranger, etc.
"drop it" –when I want him to give me what's in his mouth. Tag needs to work on this command. He doesn't like to give up something he has in his mouth.
"come" or "here" or "come here Tag"– when we play fetch I encourage him to come to me
---
---
Photos
---
Videos