Ticket
Gender: Male
Age: 4-6 Years
Height/Weight: 17" /26 lbs
Housebroken: Yes
Fenced yard required: YES!
Location: Mid-Michigan
Foster Home: Patty


Crate-trained: so-so
Treat-motivated: If convenient
Toy-motivated: no
Likes Car Rides: yes
Good with cats: yes
Good with kids: yes
Commands: Sit, down, shake, spin, dance
---
Ticket was adopted in February, 2014.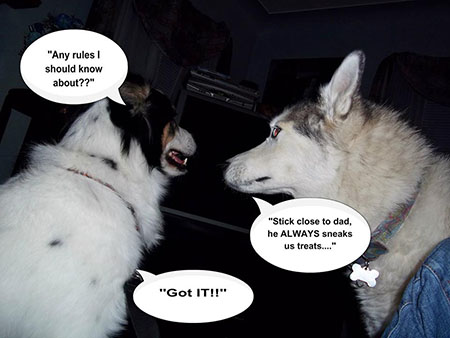 ---
Ticket and his foster mom joined us at the GLBCR Reunion Picnic. Looks like he had a pretty good time!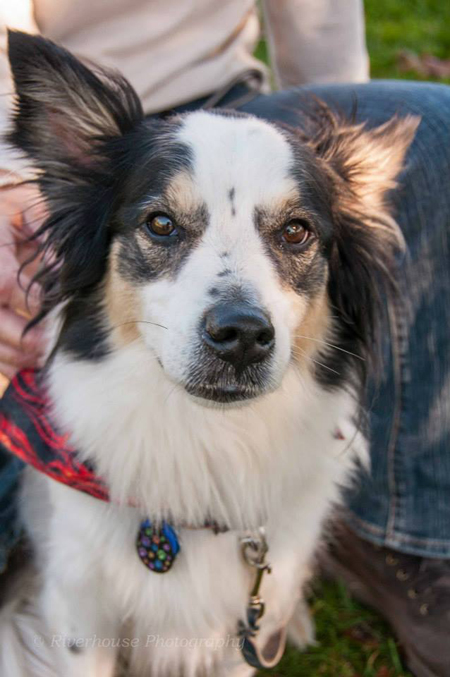 He even took time out of his busy schedule to have his portrait taken by Express Yourself Photography!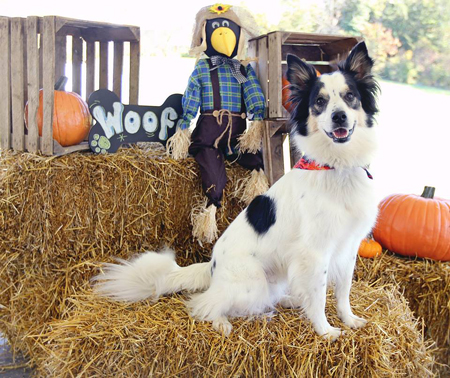 ---
Ticket is probably the happiest dogz I've ever had the pleasure of meeting. He loves everybody from food dispensing toddlers to kitties. He'll stand on his back legs and dance for you. It's really too bad he missed the window of opportunity for a career in Search and Rescue. He would have excelled. Nothing stands in the way of what Ticket wants! Neither furniture nor counter tops nor back-seat auto barriers shall stand in his way, he will conquer all with a proud smile on his face. Ticket showed up on someone's porch one day. Being the little charmer he is, she tried to keep him. His exuberance was too much for her and he ended up in the County shelter. Ticket could possibly be mixed with Eskie or Spitz because he holds his lovely tail over his back, and his build is a little more compact like theirs. He's definitely half Border Collie. Ticket gets all excited when he sees his leash, he loves walkies. Pulls at first but soon settles in for the walk. Ticket could fit anywhere his new family has a sense of humor, the willingness to invest the time in an obedience class and wants a sweet, lovable little dog. Such a snuggler. He could really care less about toys. He does not have the intensity of a purebred Border Collie. It's just that Nordic dog half that loves to run....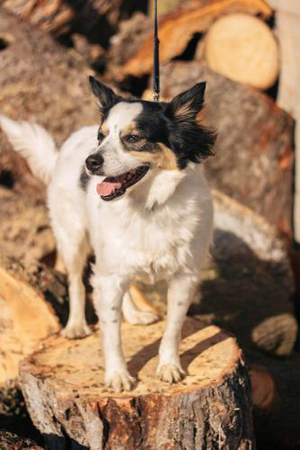 Someone has clearly taught Ticket the fun game of 'catch me if you can. This is why it's essential he has a fenced yard. He could really care less about treats or toys which makes it hard to try to redirect his attention. That's another reason I feel he's mixed with a Nordic breed. The need to run. He *loves* being outside and doesn't always want to come in when it's time. So far I have to trick him to put him in the house when it's time. He really needs a commitment to an Obedience Class. Nobody has ever really set boundaries for him. Ticket is such an awesome little guy. Are you up to bringing out the best in him? He's just the nicest boy, he so deserves a family that will spoil him rotten. He'll eat it up. Ask yourself first if it's just his cuteness you like or his personality. He needs a firm, no-nonsense home. Ticket will so reward you.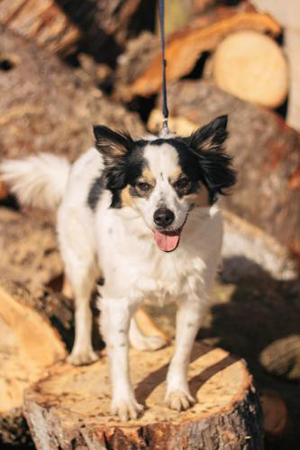 ---
Photos
---
Videos