Zed, now Killian
Gender: Male
Age:
Height/Weight:
House-trained:
Fenced yard required:
Location:
Foster Home: Kathy P


Crate-trained:
Treat-motivated:
Toy-motivated:
Likes Car Rides:
Good with cats:
Good with kids:
Commands:
---
Here is Killian playing with GLBCR foster dog Reade.
---
June, 2014: We received the following note from Killian's "Grandma:" "This is Killian (aka Zed) that was a foster failure for my daughter Elyse. He is such a great little guy and I am enjoying having him in the house as much as she is. He is a little mouthy (but so is she, just in a different way, lol) but is otherwise a great joy and gets along with everyone (even Ash isn't as bothered by him as he initially was). Killian has met kids, been to the dog park, met cats, and has been great with all. He's just a happy go lucky pup. He and Elyse started agility classes this morning and our instructor was very happy with his potential."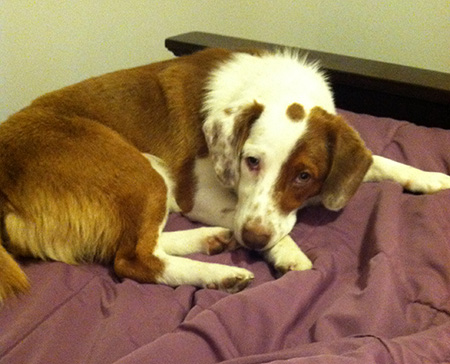 ---
Don't recognize Zed? That's because he was adopted almost immediately to someone in the GLBCR family. Zed has a wonderful new home and is now known as Killian.
---
Photos
---
Videos