Zinc
Gender: Male
Age: 2 Years
Height/Weight: na / 33 lbs
House-trained: Learning
Fenced yard required: Yes
Location: SE Michigan
Foster Home: Chris and Don


Crate-trained: Yes
Treat-motivated: No
Toy-motivated: No
Likes Car Rides: tbd
Good with cats: tbd
Good with kids: no
Commands:
---
November, 2014: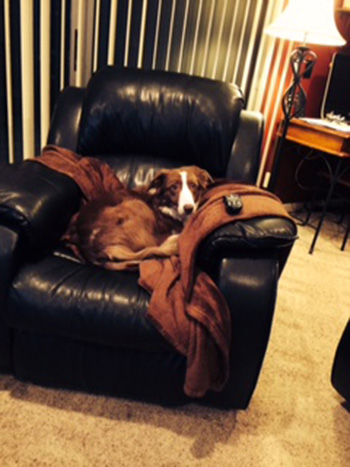 Peek-a-Boo!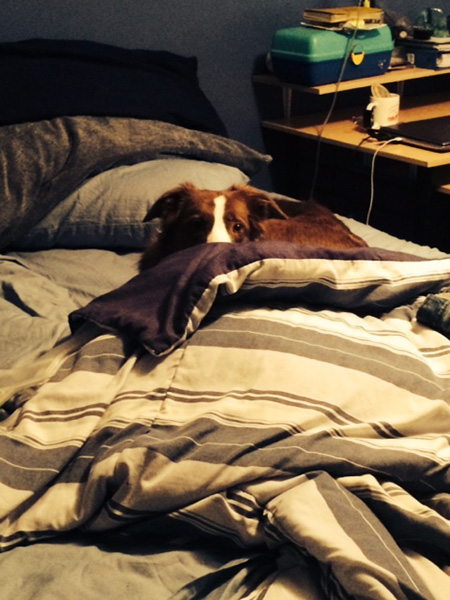 ---
We are happy to announce that Zinc's foster home has become his forever family. Zinc was adopted in November, 2014 by the wonderful GLBCR who nursed him back to health and helped him learn how to be a real dog. The picture below was taken last May at the Frankenmuth Dog Bowl -- some things are just meant to be!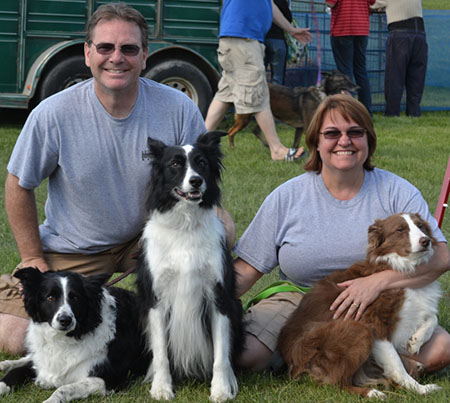 Here he is, learning the value of a comfy couch from his role model, Quiz.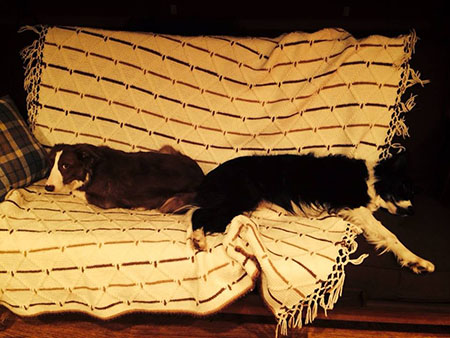 ---
The Facts About Zinc.
Zinc is a big flight risk. He has escaped at least three times that we are aware of. Not only will he need a securely fenced in yard - physical not invisible - he will have to be closely supervised while in the yard. For his safety, he should not be left out in the yard for any length of time without being closely monitored and it should be adult supervision. This is for his safety because if given the opportunity, he will run away. I'm not sure that he will ever be a dog that could be kept off leash either.
He has slowly come out of his shell and greets those people he knows with a wag of the tail. He seems to be a little less frightened and is attempting to engage with humans a bit more than before. He is still cautious but seems like he would like to try to be brave.
He is still frightened/ nervous to go outside in the daylight. We have placed a leash on him and walked him to the door to go outside. Without the leash, he runs away from the door. But if its dark outside, he goes out without a problem. We are continuing to work with him on this.
He seems to have forgotten some of his housetrained habits. Prior to leaving foster care, he started to sporadically soil in the house. He wasn't giving any signal that he needed to go out and wasn't holding it for any length of time. He needs to be monitored for signals to realize that he needs to go outside. He has had some success with puppy pads but more training will be necessary. I would call him a work in progress and not housebroken at this point in time.
With the help of his canine foster family, he is learning how to be a dog. The positive changes that we have seen in his confidence we attribute to his modeling the behavior of the resident dogs in his foster homes. He prefers the company of other canines even more than humans! We think a dog buddy for him will help him continue to learn how to dog.
He is starting to engage in some play with his canine foster family and has picked up a toy or two but is not quite sure what to do with them. He has come a long way from when he was rescued and we are very proud of the progress he has made.
---
Our boy Zinc had a big weekend. I don't want to start any wild rumors or anything, but on Saturday night, it is entirely possible I caught him PLAYING WITH A TOY! I know, right? Just like a real dog!
Then, Sunday morning, I finally managed a confirmed sighting of Zinc PLAYING WITH LADDY. Until now, it had mostly been Laddy playing with Zinc, and Zinc with a little "BAD TOUCH!" thought bubble over his head. But nope – it's official. Zinc was playing back. Just like a real dog!
Sadly, there is no photographic evidence of this miracle. Zinc froze when I picked up the camera, and Laddy lit out for parts unknown (because the camera will steal his soul). But I was there. I saw it.
But wait – that's not all. We did a little visiting Sunday afternoon. Zinc tagged along on a trip to Chris and Don's house (his original and official fosters). And Zinc actually visited. There was actual tail wagging and friendly greetings and he was very happy to see the people who saved his life back in February. Just like a real dog!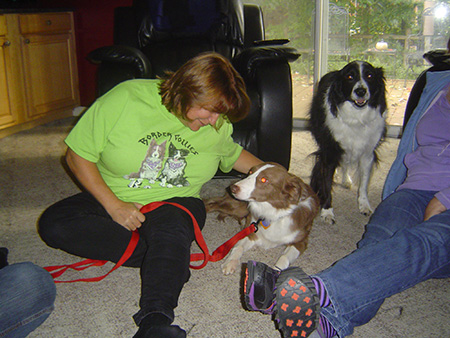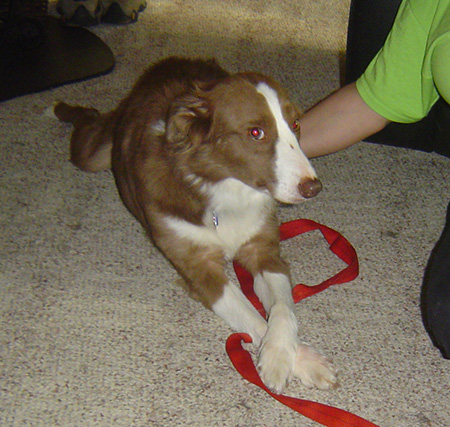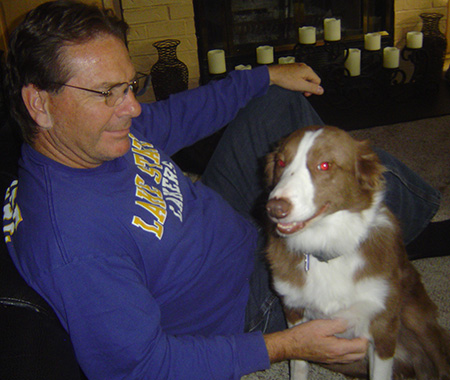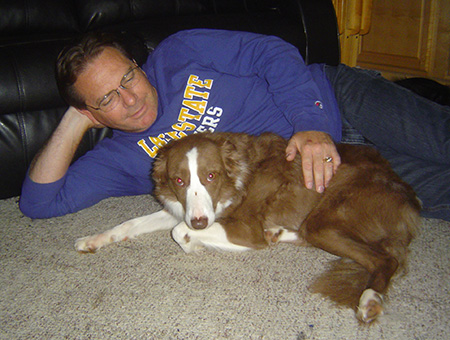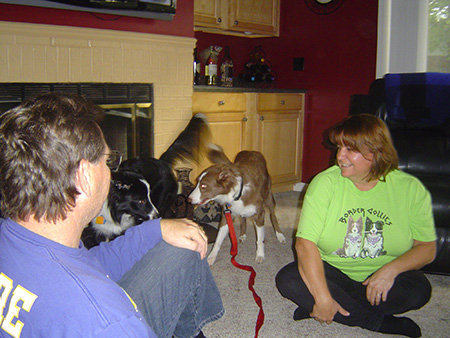 Responding to a "play" overture from Action Jaxson!
---
Zinc is back with GLBCR through no fault of his own. He returns to us a little braver and more willing to socialize, though he still has a ways to go before he really feels safe. Sure, he's still the Little Red Hiding Dude, but he walks a little taller and wags his tail a whole lot more. One of the other GLBCR volunteers came over a few days ago to drop something off, and was able to pet him, even though he hadn't seen her since late May. And in what is perhaps an even bigger miracle, I swear I caught him playing a little rudimentary Bitey-Face with Laddy yesterday. So he's coming around.
We believe Zinc has never been part of a family, and is still learning that everyone is not out to get him. He clearly wants to belong (he's laying at my feet as I write this) and all he needs is a patient home that will give him the time he needs to blossom.
---
Some red boy has had a long day. Car ride, swimming in the lake. Rest well deserved. Now lap time with mom.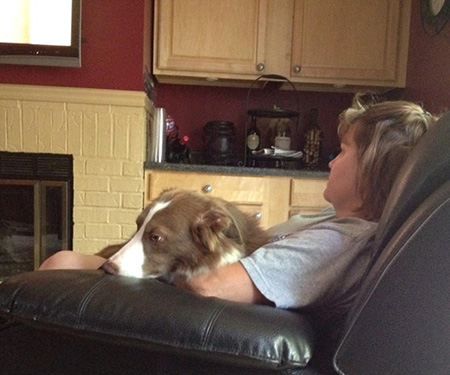 His foster mom reports: "Little Red Hiding Dude waded in the water on leash. He was just deep enough to do a bit of paddling. We lifted him down into the water from a high sea wall."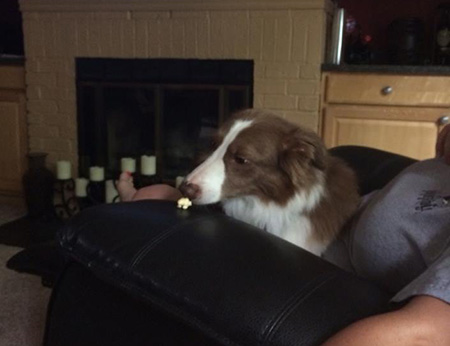 And what's the reward for good, brave boys? Buttered popcorn!
---
We have seen some progress with Zinc. He spent a good deal of time with us outside for the garage sale we had over the past 2 weekends - in the ever popular pet gazebo and on leash. He was very curious about the people that came and went giving a sniff or 2 and not cowering away. He met a couple of new dogs and happily wagged his tail. He is beginning to want to be out and about in the house instead of staying in his crate. He wants to know where everyone is and tries to place himself somewhere he can see us without being too close.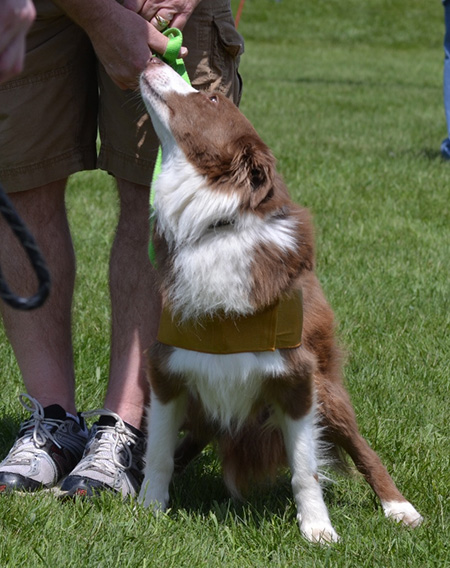 He will not go down the stairs into our basement, but I don't think the stairs are the problem. He has no trouble managing the deck stairs or the steps into our camping trailer. He knows his name and will come when called. He still keeps about an arms length away when he comes but its a big improvement. He spends a lot of time in the yard along the fence line. He likes creeping around in the shrubs and in my flower garden but has not done any digging.
He is fine with other dogs and I don't believe that he would bother a cat. He doesn't seem to have a prey drive - birds and squirrels frequent our yard regularly and he doesn't pay any attention to them. He rides great in the car - crated or not. He either lies on the seat or the floor of the car and doesn't make a peep.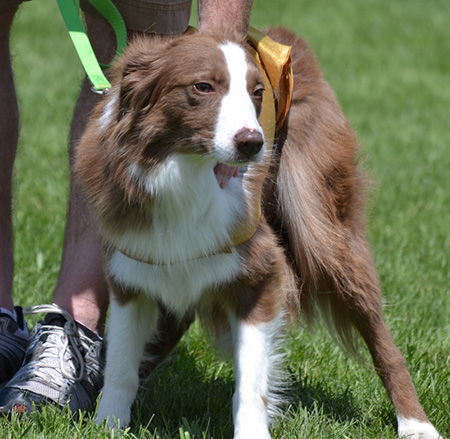 We have had him since February and I think we've heard him bark less than 10 times. He has a deep distinctive bark and he just does it once - definitely an attention getter. While he still does not engage with our dogs, he does find comfort from having them around - it seems to calm him. I think if his future home had a canine companion he wouldn't mind that, but its not mandatory. I really do think he would do best in a home with an actual fence. He seems to like having a physical perimeter - outside as well as inside the home.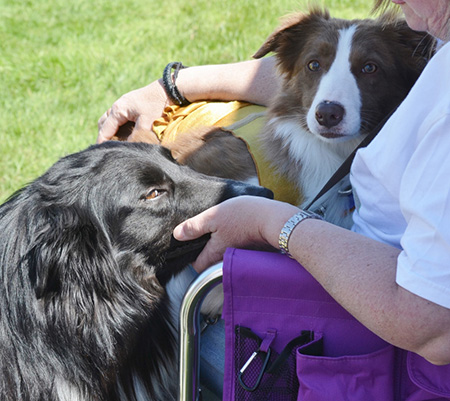 He is fast and agile and could physically do canine sports once he gains confidence. He can settle nicely inside the house but we are beginning to see the pent up energy that he has. He has no problem taking long walks and Don has jogged a little with him as well. He needs to bond with his own family and begin to trust and gain some confidence with someone who will be committed to him and who will have plenty of patience as he finds his way.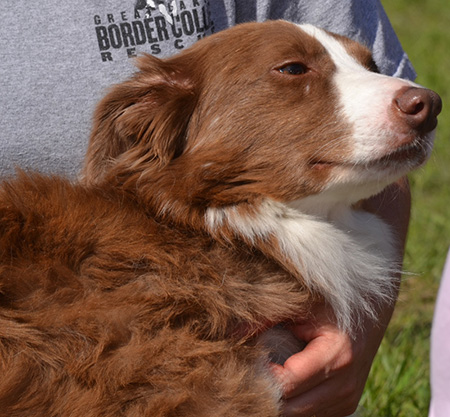 ---
Zinc is due back at the vet's office on 5/19 as a re-check from his heartworm treatment and to be monitored for the day. We hope that he will be given the all clear so that we can begin working with him - exercise and training.
Zinc came to us with many medical issues to address: severely underweight @ a mere 24lbs, a large, deep scalped area on his back - thought to be from getting caught under a fence or from when he was captured in the live trap, being heartworm positive, and he was unaltered. The medical issues seem to be behind him (provided the vet gives the ok) so we are hoping to soon find his personality.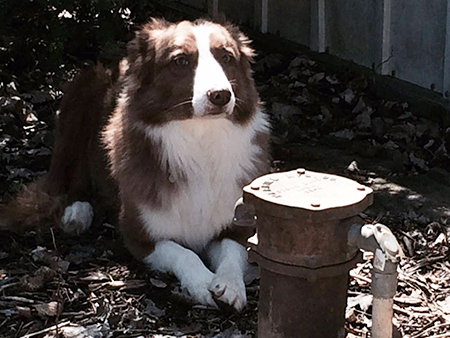 From the moment he arrived, he has been pretty much confined to his crate - first as his choice and then for medical reasons. He continues to feel safe there or in a corner of the room where he can see what is happening but choosing not to participate. He does not interact with our 2 BCs: he is not bothered when they are near him, allows the sniffing ritual, but does not engage. He also shows no interest whatsoever in any type of toy. He also doesn't seek out attention from humans.
He will tolerate petting: this requires him to be brought by leash and placed near or in a lap. He only seems to somewhat tolerate it - he shows nothing to indicate that he enjoys it. He is quite the puzzle. We have tried different approaches with him but have erred on the side of caution due to his delicate condition after the heartworm treatment.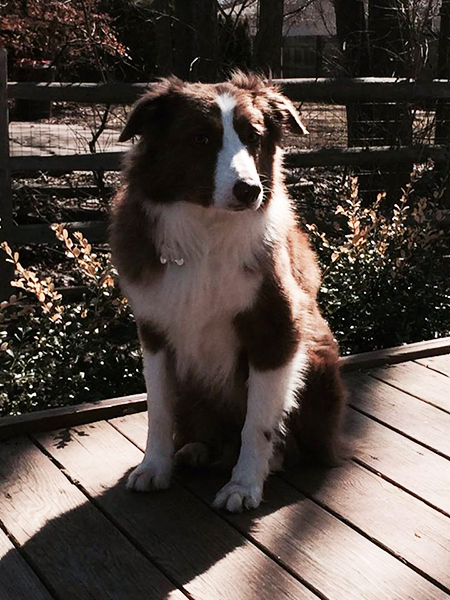 He is very quiet in his crate - really all the time. He seems to be about 80% housebroken but has had accidents - we just have him on a routine with our dogs. Without careful monitoring, he will soil in the house. He walks well on a leash once he gets comfortable about where he is going. He gains confidence with structure and familiarity. He rides well in a car - crated or not.
He will require time and patience with a new family and will require much more than just a loving home. He will need someone who is familiar and skilled with working with dogs with the kind of issues he has. He exhibits fear and distrust with just about everything. He seems to be more confident in the company of our dogs, but he probably would not be a canine playmate. We would be wary of placing him in a home with young children.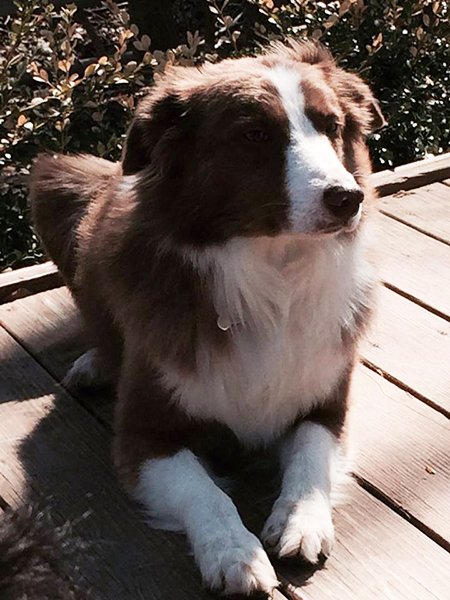 We would recommend his home have a fenced in area - he is as fast as lightning and as slippery as a greased pig! He has honed his escape skills for sure! He does not challenge our fence but if the gate is open, he realizes it quickly.
---
Sometimes, in rescue, things just come together. As if they were meant to be.
Take Zinc.
At eight o'clock on a Sunday morning in February, the GLBCR team received the following email:
"This dog went missing on January 28th and was caught in a live trap on February 12, several miles from his home, and taken to animal control. His owners were notified and have since surrendered him to the shelter. He is very shy and timid, has had a rough start, his owners said she had found him in a ditch with a bag of food. He needs someone who can teach him not all humans are going to abandon him."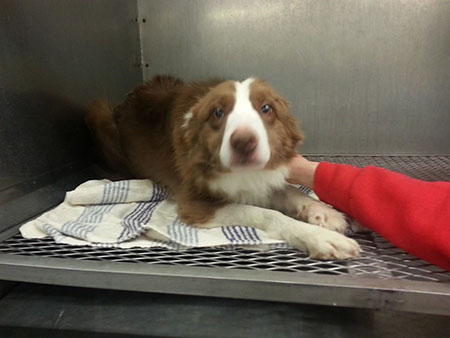 The shelter wasn't open, but someone cared enough about the little red dog to try and network him on her own time. "Can you help?"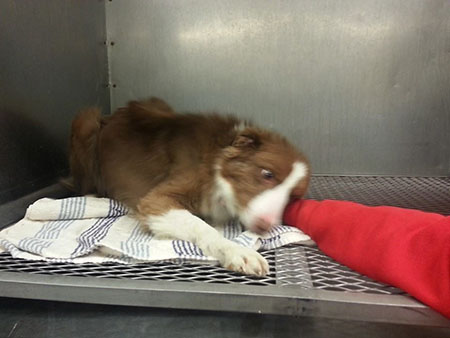 We were full – no surprise there. It is an unfortunate fact of rescue that there is no shortage of dogs. We already had more than our share of special needs dogs: Auntie Avery and her mobility issues, Lakeston (hearing-impaired), and Kota the Tripod. But there was something about the picture of the sad, scared little red dog that touched our hearts. Not only did we need to find space for him, we needed a foster home that was experienced in handling timid, shut-down dogs.
A plea went out to the group – "Can you help?" And the GLBCR volunteers stepped up. One foster family offered to double up. Another offered to end her well-earned break. A third offered to come out of retirement, and that's where he ultimately landed, in the home of two-long term volunteers with a known weakness for little red dogs.
"Yes, we will take him," we told the shelter worker, and by three in the afternoon, the little red dog was safe with GLBCR. But his freedom ride was only the beginning.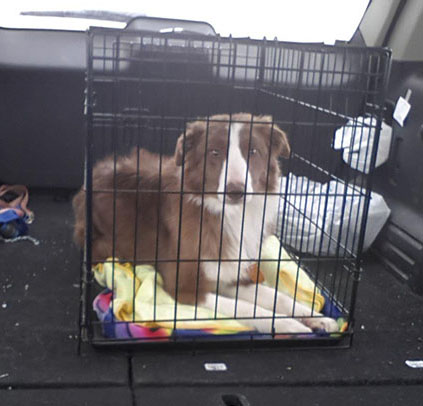 The little red dog was named "Zinc," by his foster brother, a geology student. Prior to winding up at the shelter, little Zinc had been on the loose during the worst winter Michigan has seen in years. There were multiple sightings, but he wouldn't come to anyone, so animal control had to use a live trap to capture him. Once he was in his foster home, all he would do was cower in his crate and could not be comforted. He showed no interest in the people, no interest in the other dogs, and no interest in toys. He did have a healthy appetite, and hand-feeding immediately became part of his socialization. He was also very interested in the comfy beds his foster home provided.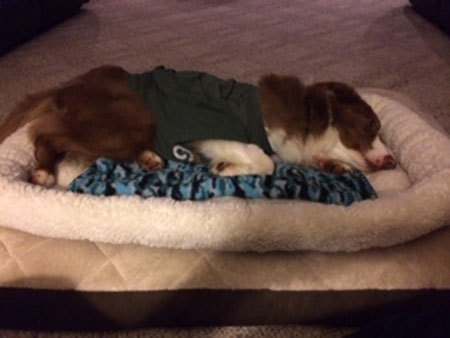 A trip to the vet the next day brought even more bad news for Zinc. He was extremely underweight, probably from being on his own for so long during the cold temperatures. He had a large wound on his back that would require twice-daily tending, a challenge for a dog who did not want to be touched. He had an ear infection. And, worst of all, he was heartworm positive.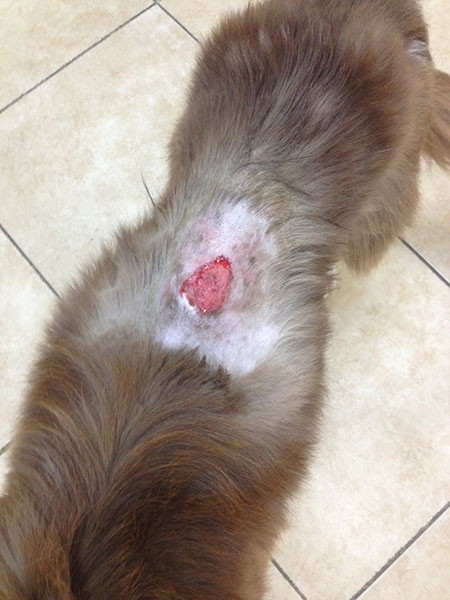 It was clear Zinc was going to be with us for a long time.
First step will be to get his wound healed, and put some weight on him so he can safely be neutered. Then we'll deal with the heartworm infestation. His foster family settled in for the long haul.
But despite everything, there is hope. Scared as he is, little Zinc clearly wants to be someone's dog. He may not want to be petted, at least not yet, but he sure wants to be part of the pack. While he foster family took a pre-planned vacation, Zinc stayed with another GLBCR volunteer, and while he had the run of the house, he always chose to be within five feet of the volunteer. His wound was cleaned twice a day, and he received ear drops once a day and, as unhappy has he was, he remained a perfect gentleman. Maybe that's why Auntie Avery developed such a crush on him.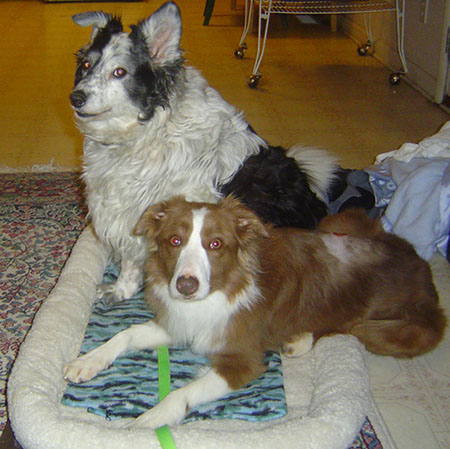 There's a real dog in there somewhere. We're sure of it. It's just going to take a little time. So that's Zinc's story. It will be a good long time before he's available for adoption – possibly sometime this summer. We want to make sure he's healed, and make sure he's ready to meet the world. Rest assured that he is in good hands, and we will do our best to turn the scared little red dog into a real Border Collie.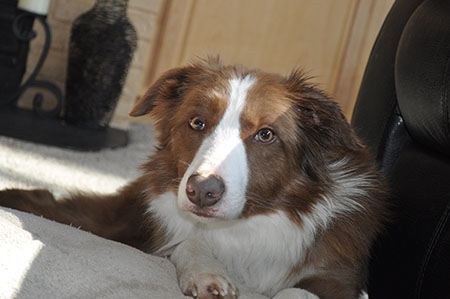 ---
---
Photos
---
Videos