Zoomie, now Loki
Gender: Male
Age: 1,5 Years
Height/Weight: na / 33 lbs
House-trained: Yes
Fenced yard required: tbd
Location: SE Michigan
Foster Home: Barbara R.


Crate-trained: Yes
Treat-motivated: tbd
Toy-motivated: tbd
Likes Car Rides: Yes
Good with cats: tbd
Good with kids: tbd
Commands: learning
---
Zoomie was adopted in September, 2014 and is now known as Loki. Here he is with his new family!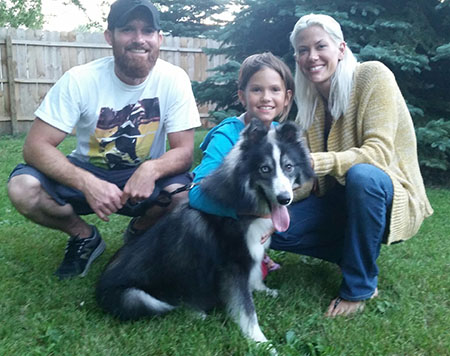 ---
Please note that we have had a great deal of interest in Zoomie, and have several pre-approved applicants lined up to meet him
---
Zoomie is a 1.5 year old, male Border Collie mixed with Keeshond/Samoyed/Aussie? Your guess is as good as ours, but that's our best guess. Knowing which breeds he's mixed with is hard to tell with this guy, but we've considered many different breeds as we watched his movements and studied his behavior. Only a DNA test would know his breed mixture for sure, and our goal is focused on making sure he is well vetted, measuring his energy level, and understanding his behaviour so that he can be matched with the right family. One thing for certain, he is absolutely gorgeous! Yes, in his photo you are seeing one blue eye and one brown eye. He currently weighs only 33#'s, and needs to put some weight on.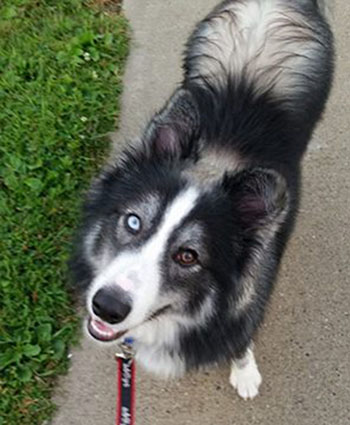 Zoomie was a big furry mess when he entered GLBCR. He has SO much fur!!! I took him to the groomer a few days after he arrived. He did well with the groomer, but it was a little overwhelming and probably a little scary. We're certain he was never brushed/groomed before. He was incredibly patient with the groomer. The amount of fur that came off this dog during this grooming session was SHOCKING! SHOCKING! I watched him start to *get a little overwhelmed* and that was when the groomer started to talk to him to reassure him what a good boy he was. He responded well because he was taken to a groomer who understands the importance of making each grooming session a good session for the dog! I've brushed Zoomie out a couple of times. He tolerates it, and just needs more practice. New owners will need to commit to a weekly brushing regimen for this boy. This will be mandatory. Hiring a groomer who is experienced and focused on making the experience "good for the dog" vs. "groomed perfectly to satisfy the customer" would help keep Zoomie's coat maintained and beautiful.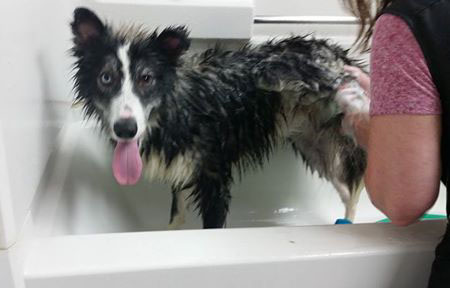 There isn't a mean bone in Zoomie's body. He's very submissive to all people and dogs. He's a carefree, fun, loving, clown of a dog who's been a breeze to foster. Zoomie loves people's feet and it's fair to say he probably has a little foot fetish. He will rub our feet with his head and lick them. He gets corrected when he tries to mouth our feet (only using his mouth to touch us-not biting at all). He will lay at our feet with the hopes we will use our feet (which we comply) to pet him. He's very sweet about this. Zoomie is still learning how to play with other dogs. He will grab the tails of our resident dogs when he gets excited. I can tell that he wants to play with the other dogs, but just isn't sure "how" to do it.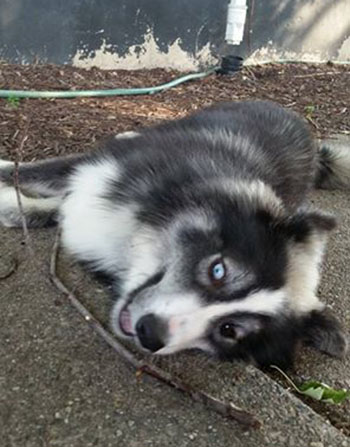 Zoomie is fairly underweight. He's in the process of packing on the pounds. His pictures make him look as if he's at a good weight, but you can feel all his bones when you pet him. Zoomie hasn't really shown us his "full speed" potential. So far, he's wicked fast. There's a LOT of power in that engine. I'm sure we will see more as he continues to gain weight and build up his muscles. He's super cute to watch as he "prances" around the yard. I think he's trying to make his fur bounce as he walks (think of that beautiful 1980's feathered hair that would bounce with every step). He's a bouncy walker.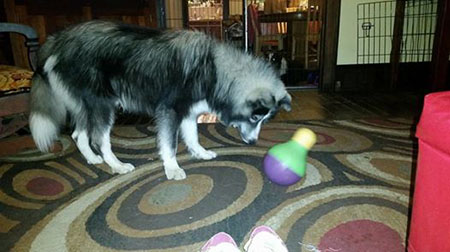 CAR RIDES: I've taken Zoomie for a couple of car rides. He has not learned to "load up". This is the command to have him jump into the car. He's jumped in once or twice, but he's been lifted the other times. He rides well behind the pet barrier inside my car. He doesn't really roam around a lot, and he's quiet (no barking, no obsessing). I would say he enjoys his car rides because he appears to be confident. We work on NOT allowing him to jump out of the car until I give the command "OK".
CRATE TRAINING: Zoomie isn't crated at night. During our first night with him, he was crated downstairs. He made a big fuss about it. I gave in and let him into the bedroom. He didn't make a single peep, laid down immediately and went to sleep. He was perfect. Zoomie is crated during the day while we are at work. This is mandatory for my home. We leave Zoomie's crate open when we are home. Zoomie walks into it often during the evenings while we are home. If he's not playing (or scattering) with his toys, he can be found laying down inside his kennel. I really love this about him!
---
---
Photos
---
Videos