Bingley
Gender: Male
Age: 2 Years
Height/Weight: 22" / 40 lbs.
House-trained: learning
Fenced yard required: Yes
Location: SE Michigan
Foster Home: Tammy


Crate-trained: Yes
Treat-motivated: Yes
Toy-motivated: No
Likes Car Rides: No
Good with cats: Yes
Good with kids: Yes
Commands: Sit, Down
---
Bingley was adopted in January, 2015, joining 2014 adoptee Rainy Daze in his new home. Here he is, right in the middle of his new family!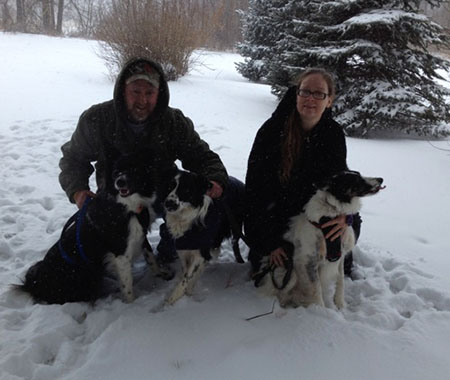 ---
Tiny steps over long days equal great distances traveled. So is the walk for Bingley.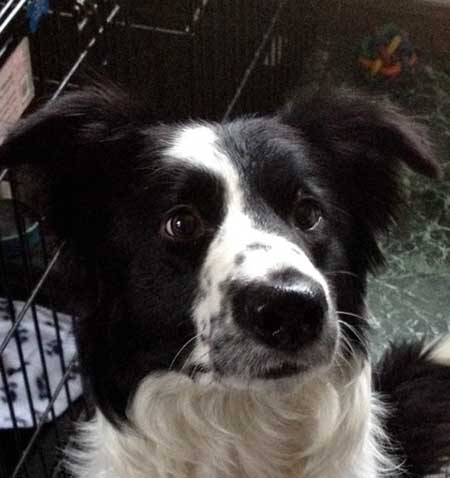 While at "dog camp" he has learned a great many things. One of his favorites is play time with his buddies. He is learning to play very appropriately with other dogs here and learning to respect their boundaries. He has proved to be a very quick study! He loves to wrestle around with his foster brother Blue and play bitey-face. He has learned to dance and play bough with his foster sister too.
He has met, and appropriately greeted, other dogs of various sizes. He has done well with every dog he has met. He is not really an "in your face" kind of dog lover. I am still cautious with introductions from other dogs just to set him up for success.
While house training is still a slower process than I would like, he has made some strides here as well. We have started to use a belly band to reduce his urination attempts in the house. This has helped him a lot in the past two weeks or so that we have used it. He does not like to mess in his pants. He does not fight wearing it and he stands right up and lets me put it on him. To be brutally honest, the belly band is much more comfort for me than useful for him. If I am to be able to watch him constantly, he is easy to read when he has to go outside. Just as one would watch a puppy. I simply cannot have eyes on him 24/7 and I want to foster a lifestyle of success for him.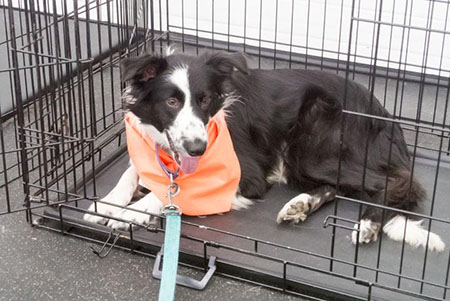 Bingley still is not a fan of the car. Once you get him in there he will settle down on the floor mats and try to disappear. Good luck with that old boy, good luck with that! I have been taking him on short rides as much as possible, but he has a distance to go before I would venture to say that he "likes" car rides.
The bath tub is another story all together. Bingley LOVES his bath time. He seems to think it is his spa time or something! His inner diva just shines in the tub...
I have given Bingley a treat ball puzzle to try to engage him in play. He has figured out how to get the cookies out and he likes it! I hope to increase his drive for food slightly so that I am able to use it as a lure for more challenging things with him. As for now, his food motivation is minimal. He loves his food, he just won't work for it when stressed.
What Bingley needs most in his furever home is a patient, confident leader. A nice solid schedule would be most helpful too. He is a boy about his schedule and has a hard time deviating from what he has grown accustomed to . Bingley is a very soft dog, very timid. This will most likely not change for him. Quiet calm leadership is essential for his capacity to learn and progress. He does not respond at all when stressed or scared. He simply shuts down and dives for his crate. We are working daily on this. He has come miles, but still has a marathon ahead of him. His furever home will have a clear understanding of the time and dedication needed to help him achieve his best.
Bingley is not your average walking/running buddy. He is not a fan of moving objects. He has no inclination to chase, rather to evade at all costs. He is a master at slipping his collars, so safety is of upmost concern for him. A fenced yard will be a requirement for his safety.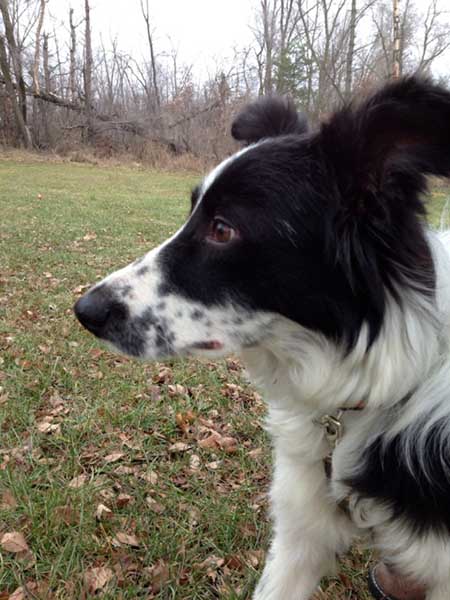 Bingley is just beginning a course of medication to see if we might be able to have some success in helping this super sweet shy guy come safely out of his shell. To view the world as his oyster, not as his big scary place. Only time will tell if this is to be effective for him. Along with daily exercises and gentle pushing of his boundaries, I am hopeful that he can overcome his fears and grow. A nicer dog you will have a hard time finding. We just need to convince him of that!
Look for updates as Bingley progresses here at "dog camp" with his buddies to help him along.
---
Bingley's Big Adventure
In the interests of broadening his horizons, young Mr. Bingley is spending a few weeks in one of our other foster homes where he is being exposed to kids, cats, and rambunctious dogs. It's been a very good experience for him, and while he hasn't completely come out of his shell, he's made great strides in learning how to be a real dog.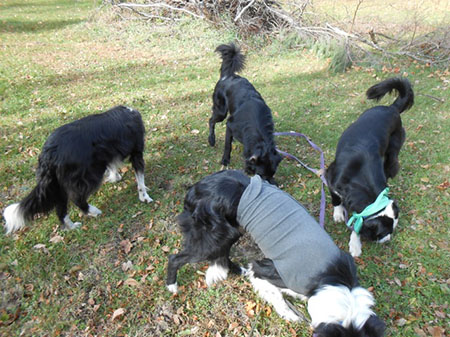 Bingley seems fine with other dogs, though he is still learning the ropes. A canine companion might be nice, but truly not a necessity for him. He enjoys playing, but settles quietly with his people just as easily. I would say that if there is another dog, it needs to be very tolerant of an adult dog who doesn't always pick up on canine social cues. He is fine (but interested) in dog-savvy cats, and sought attention from the children.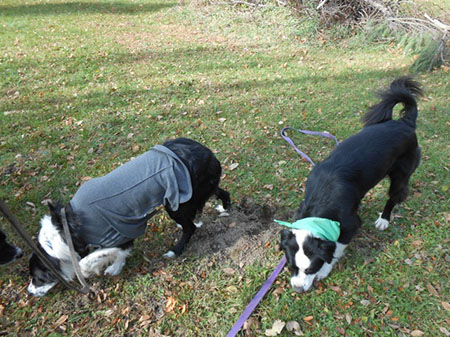 Bingley is crate-trained, and his food motivation is limited, on his terms. He will not try new things for a treat, even cheese or chicken. He is working a little for praise. Still needs a tremendous amount of expectation when asked to do something he would prefer to avoid. He is still no lover of the outside or car rides. I think this can (and will) change for him as he gains confidence. he will need positive, consistent exposure to both in order for this to happen.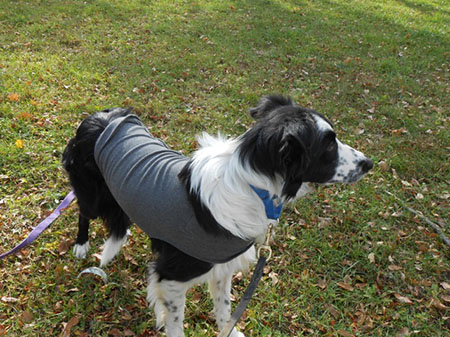 Bingley will need a home that is not afraid to push his boundaries and hold him accountable. No coddling allowed for this boy. :) He needs some pretty strong encouragement to experience new things and he is beginning to recover from his startled times much quicker each and every time he is scared. Noises will still make him start, but rather than bolting now, he will slightly drop and look in the direction of the noise. Once seeing no threat he quickly stands back up and carries on with his business.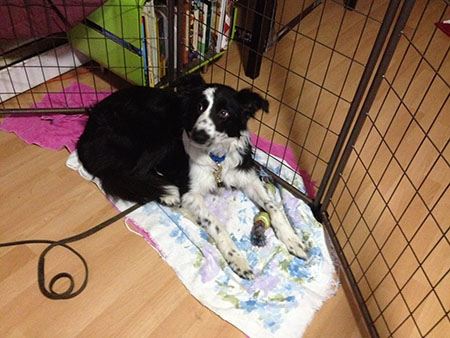 ---
Bingley has been making great progress inside and is starting to show that love for learning that is typical of BCs. He has picked up "sit" and "down" pretty well now and continues to be more curious about his surroundings each day. You can tell that he is very eager to try things, but still has a lot of fear so he will need someone who will be there with him to help conquer his fears as he learns more of what it's like to be a real dog. For example, all the sights and sounds of the outdoors are still pretty frightening for him, so his potty training is progressing more slowly than normal. We think that he would do great with another canine companion who can help "show him the ropes."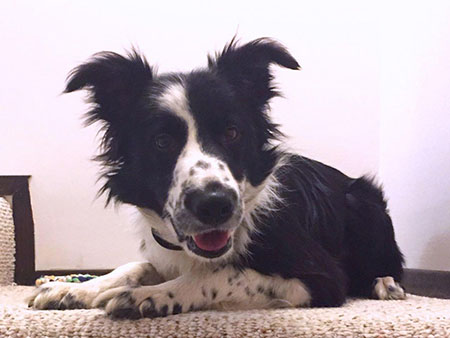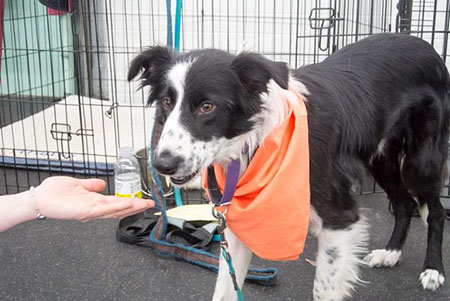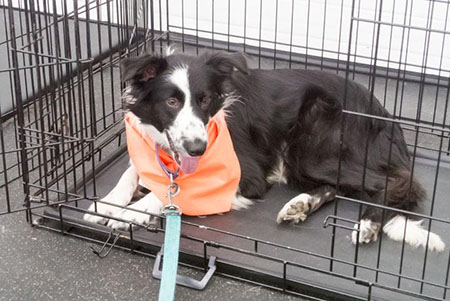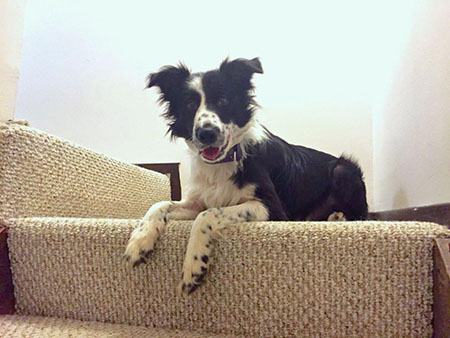 ---
Bingley came to us scared and in desperate need of medication and some quality food. The first couple weeks were pretty hard on him, but they were still a lot better than what he had before. Every once in a while, you'd see a glimmer of hope in his eye. We know the best medication for Bingley will be time.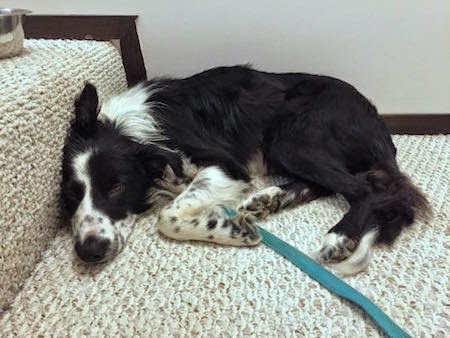 Now that he's been eating better and all of his medical conditions taken care of, his coat has improved greatly and he can focus on learning how to be a dog. He's still very scared of everything, but slowly expanding his horizons.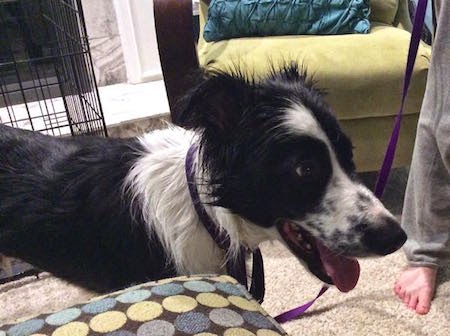 He lets our resident dog say "Hello" for brief greetings and takes food from our hand when he's feeling brave.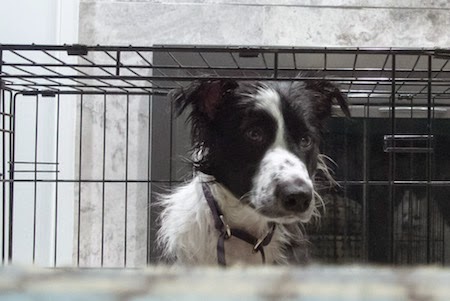 We look forward to seeing him gain confidence and know there's a sweet dog in there somewhere who just wants to be loved.
---
---
Photos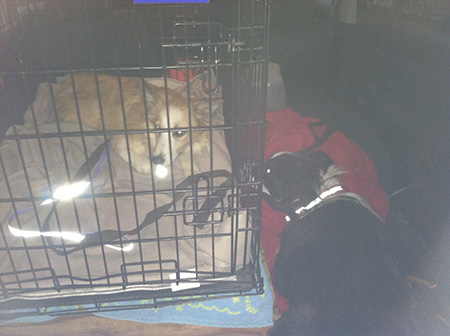 Freedom Ride, with Kit, also fostered by GLBCR!
---
Videos