Bonny
Gender: Female
Age: 2-5 years
Height/Weight: wee / 29 lbs
House-trained: Yes
Fenced yard required: Yes
Location: Mid-Michigan
Foster Home: Tammy


Crate-trained: Yes
Treat-motivated: Yes
Toy-motivated: Yes
Likes Car Rides: YES
Good with cats: Yes
Good with kids: 10+ due to high drive
Commands: sit, down, off, leave it, kennel up, NO. Recall to a whistle.
---
Bonny was adopted in August, 2015. Here she is with her new family!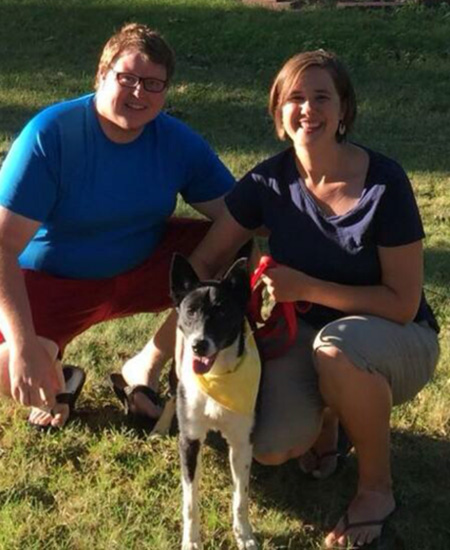 ---
Want to see Miss Bonny in action? Check out her videos!
Showing off her newly acquired "fetch" skills.
Playing with her foster brother (and GLBCR alum) Blue
Getting the hang of Fetch!
---
Bonny has settled into the routine here and is becoming quite a nice little dog to foster. She has loads of energy to play (and she loves to play!), but when she comes back in the house she knows how to relax and enjoy life. She has a really nice off switch and she is content to settle on her dog bed and chew on a bone while her people are busy.
She has "almost" mastered the kennel up command. She would have it down if she would just want to go in the crate. Once in her crate for her yummy food or treats, she settles in nicely without complaint.
As far as commands, Bonny is an open book. We have been working on several in our daily routine, Learning her name has been a huge step for her. She alerts to a whistle and then will come running to me, but she really does not respond to her name much. She will sit on command and she will lay down and show her belly when you ask her to "down". Kind of cute, but not exactly what we are looking for in that command... Her obedience will be an an act to continue in her forever home. She is willing to please and she bonds deeply with her people. Obedience class will be great fun with this dog! Her potential is high.
Bonny adores kids. I have put an age limit on her bio as a guide, she is excitable and she likes to jump on people. She also has a tendency to chomp on her ball/toy when she plays. That is where my concern for young children comes from. Not at all from aggression. She does not show a mean bone in her body and she has just melted into every person to walk through my doors.
She is a dream rider in the car, settling nicely in the back seat or just gazing out the window to watch the world zoom by. She loves her trips to the farm store where she gets cookies and tons of attention. She is a looker and she tends to draw in a crowd wherever she goes! I think it might be the gigantic ears on her little bitty head... Or it might be the oh-so-sad eyes that she gives you when she wants to be petted...
Bonny is just beginning to try to engage in play with the resident dogs. Though they are twice her size, she will give them a little noise when they first go outside to try to entice one of them to play with her. Hasn't worked yet, but she is making the attempts. This is a new thing for her. She loves to run in the back yard with the big dogs and she is gaining speed and endurance as her body starts to pack on some desperately needed weight and muscle mass.
She is an athletic little dog, but she would fit into almost any home as she settles so nicely. She will need daily exercise and mental stimulation as she has so much energy wrapped up in that tiny little body of hers. A run or hike a day, or maybe a good dose of fetch or frisbee makes her heart sing.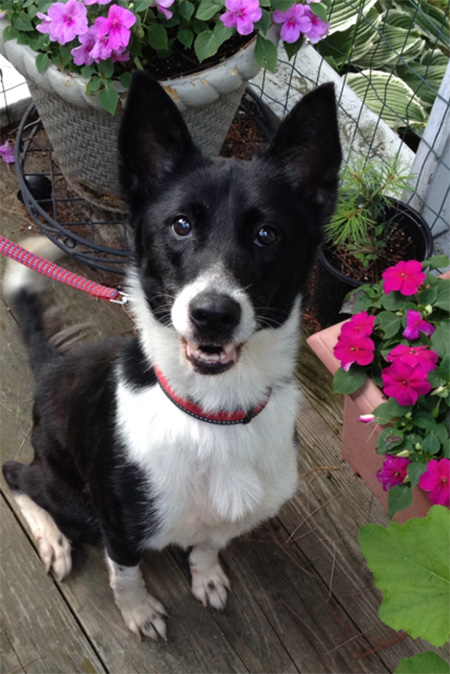 Are you ready for a little music in your life, maybe she can make your heart sing too???
---
Bonny is very much a high drive girl who loves her ball. She is learning the game of fetch and loving every minute of it. Her release command is getting stronger and she has made the connection that if she drops the ball it will fly again. She is a little snappy with grabbing at the ball/toy, so a home with real small children will not be a good match for her. An athletic home is preferred as she has a ton of energy and she loves to dig when not given the stimulation her tightly wound body demands.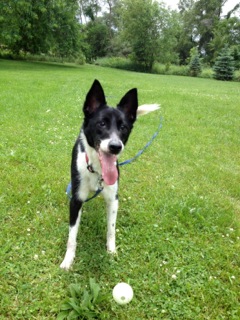 On the flip side, she is an absolute gem of a snuggle dog and she adores people of all ages. She is wonderful with my young people and just throws herself on the floor for their affections. She would rather be rubbed on the belly than anything else in the world when the kids are around.
---
Sugar and spice and all that is nice, that is what Bonny is made of! This wee little sprite of a girl is wonderful! She is happy to be out of the shelter and back into a home where she belongs. Shelter staff reported that she was scared of everything and was kept in a room in the back. I am happy to report that I have seen nothing of the sort since she has been with me. She is lively and loves to be right with me.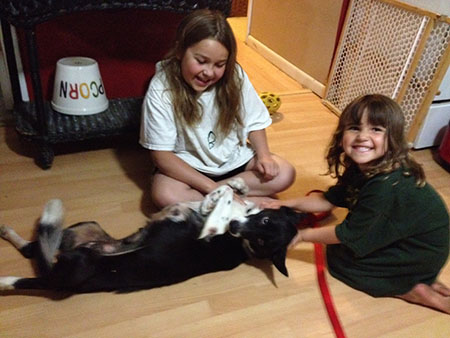 She has a little work to do before she will be ready for adoption, but she is up for the task. Our first order of business is to add some weight to her tiny little body. She is really a fan of this task, as it means she gets to eat an extra meal during the day. Nothing better than a mid-night snack to help pack on some desperately needed weight.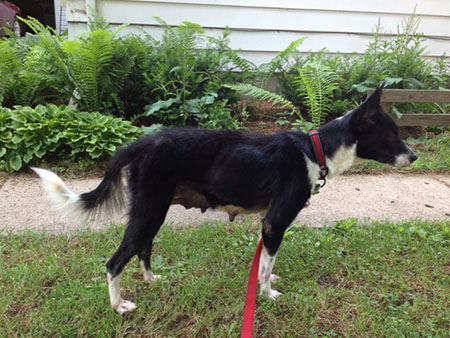 The second task is to be spayed. Bonny will not be available until after her spay surgery in early July.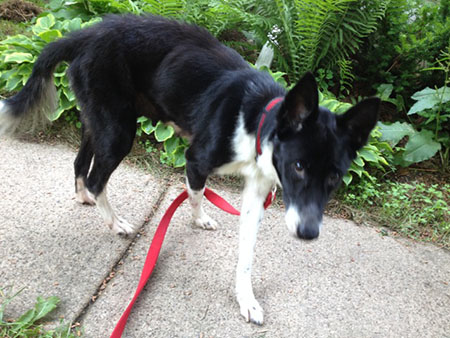 More on Bonny as we get to know her and discover just how much activity this girl needs and how much drive she exhibits.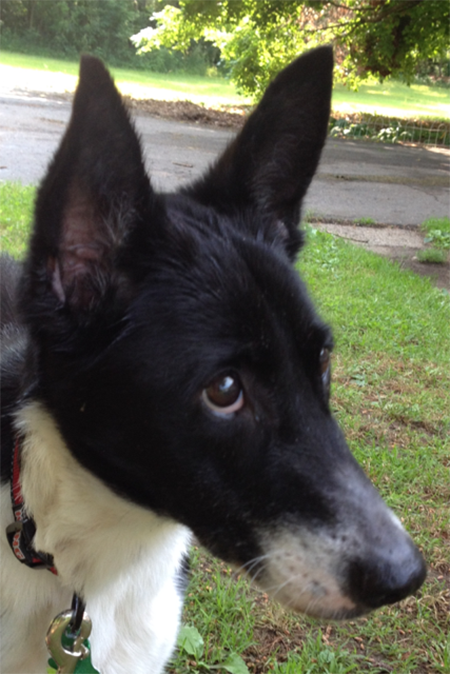 ---
---
Photos
---
Videos