Clara
Gender: Female
Age: 8 Years
Height/Weight: 18.5" / 31 lbs
House-trained: Yes
Fenced yard required: tbd
Location: SE Michigan
Foster Home: Jeff and Hillary


Crate-trained: Yes
Treat-motivated: When hungry
Toy-motivated: Yes
Likes Car Rides: Yes
Good with cats: tbd
Good with kids: 12+
Commands: sit, come, "out," inside.
---
Pupdate June 14, 2015: "Clara has settled in very nicely and we're pretty sure she thinks she owns the place. But that's OK! We just love her and she has really become Cheryl's little shadow. What a great dog. We've walked, played fetch the ball, and today she caught the frisbee repeatedly. So much fun. We bought her a bed which she loves, it's in the living room during the day and she loves to lay in it. At night we move it to the bedroom but she has started an "Occupy Ed's Side Of The Bed" movement of her own so I have to nudge her over when I go to bed, some nights less successfully than others, lol. We also got a crate, harness and some toys. She has already brought us so much joy and our friends and especially grandkids love her too.
"We know we made the right choice and she has really helped heal our hearts just by being herself. We are so happy to have her. Thank you again for everything. We hope your next foster dog is as great as this one."
---
Clara was adopted in June, 2015. Here she is with her new family!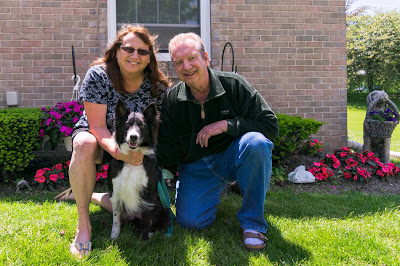 ---
Clara is a sweet BC who loves life and everybody she meets. She is always ready to play a game in the back yard but has a great "off-switch" and loves to cuddle with her people too. And when we say cuddle, she really has no sense of personal space; she WILL climb into your lap regardless of what you're doing. While she is very quiet, she loves using her paws and is very expressive. So far she's only barked a few times since we got her and even then it's more of a quiet "woof."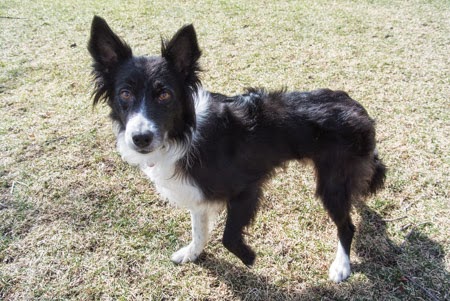 Clara waits for her person to throw a toy.
She also loves playing tug, but has very little self control. We're working on teaching her to sit for rewards, as well as other basic commands like "down" and hand-touches. She enjoys learning new things, especially when they make exciting toys and yummy treats appear.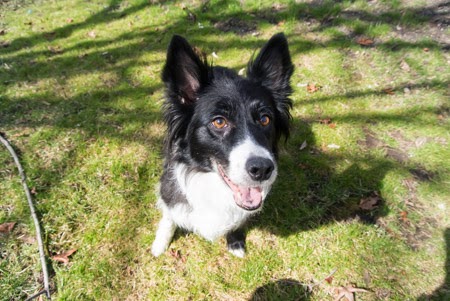 Clara is learning patience and that sitting bring good things.
The front yard is a little scary for her and she pulls quite a bit on walks, but she'll hop right in the car and settles quickly. We don't think car rides are her favorite thing, but as long as she's near her people, she's happy. At night, she reluctantly goes into her kennel, but once there she also settles very quickly and doesn't whine or complain. We're going to start adding more value to being in the crate and know she'll learn to enjoy it.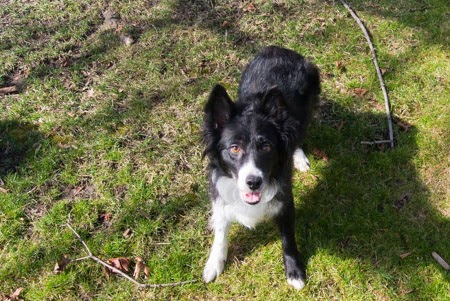 Clara is always ready to chase a ball or toy. The dirtier the better.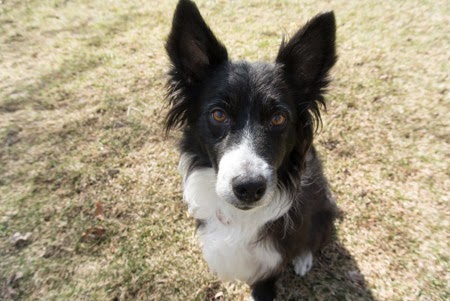 Clara loves being near her person.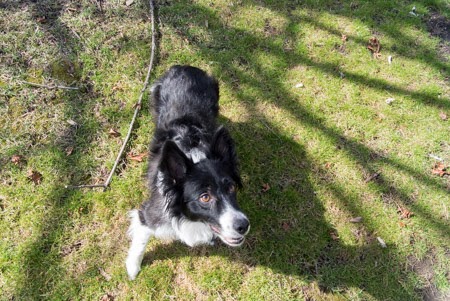 Clara is always ready to play outside.
---
---
Photos
---
Videos