Cocoa
Gender: Female
Age: 8 Years
Height/Weight: na / 34 lbs
House-trained: Yes
Fenced yard required: tbd
Location: SE Michigan
Foster Home: Jeff and Hillary, Pam and Roberta


Crate-trained: Yes
Treat-motivated: Yes
Toy-motivated: Yes
Likes Car Rides: Yes
Good with cats: No
Good with kids: 7+
Commands: Sit, Kennel
---
Cocoa was adopted in September, 2015. Here she is with her new human!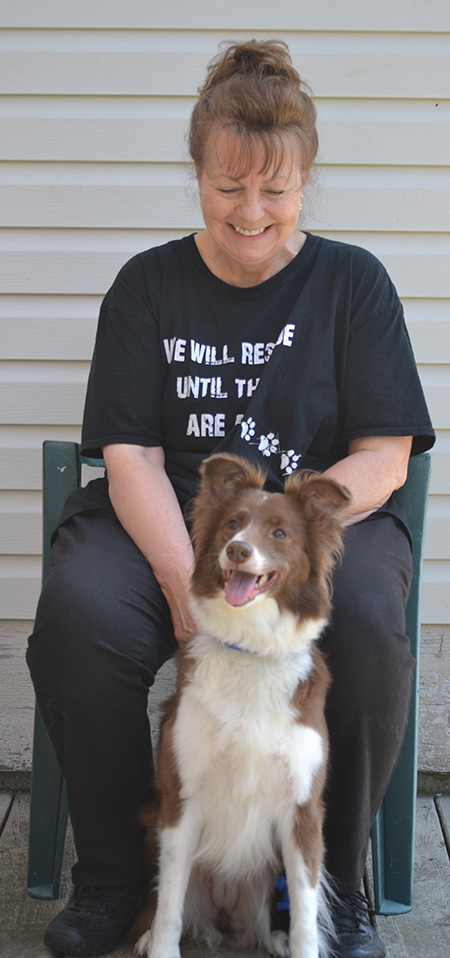 ---
Although she is approaching middle age, Cocoa is healthy and full of energy. She loves to run around the yard and is a great jumper (she easily clears any baby gates in her way without a running start), but she also enjoys chilling inside with her people.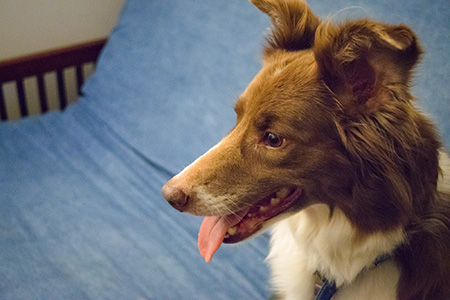 All Cocoa wants is for a person to play with. She uses her hands all the time and will bring you whatever she deems "fit to throw." If you don't agree with her, then she goes about proving you wrong by demonstrating various acceptable ways of throwing the object. She especially loves frisbees and does pretty well at catching them in the air as long as she can track them, but really anything she can chase is fun. This dog would love a chance to learn agility, flyball, or some other fun dog sport.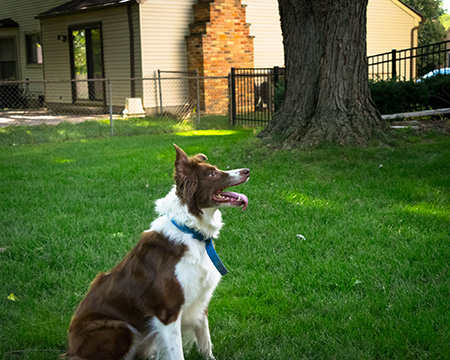 She also enjoys full-contact cuddling and is always ready to offer a paw. Cocoa also loves her training time and going on walks. There is always something exciting to sniff on a walk so she is still learning not to pull the whole way. She continues to improve her sit and learn the value of the crate. She has pretty good recall, but we are still investigating to see if she knows other commands. Like most BCs, we think she will soak up new commands and desired behaviors with consistent guidance and firm boundaries.
Cocoa is a good house guest; she doesn't show any destructive tendencies and after a few barks of protest, settles quietly in her crate by herself for the night.
We don't yet know how Cocoa does with kids, but so far we see no reason why she wouldn't do well in a home with dog-savvy kids. She is fearful of other dogs, however, especially indoors, so we believe she should be placed in a home where she is the only pet.
---
Cocoa is staying at our house and is slowly getting used to her new surroundings. Because she was just spayed, she spends most of her day in her crate so she doesn't hurt herself. We keep her cone off when we can keep tabs on her because nobody in the house likes it. I'm sure once she's fully healed, she'll enjoy playing more outside, but for now it's just some short games of ball, walks, and plenty of tricks. She's eager to please, but she gives up pretty quickly (usually by sniffing). She's very creative and has already offered a bunch of different tricks.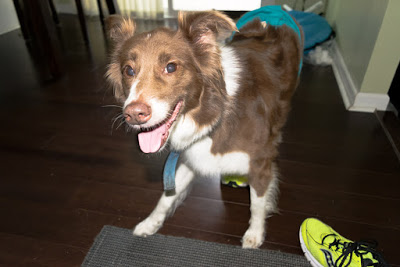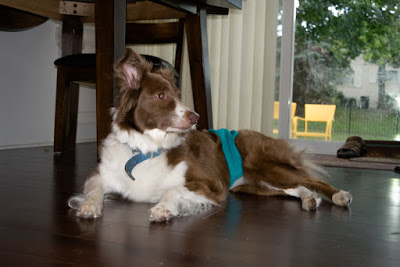 She doesn't seem to be aggressive towards people and is very affectionate (i.e. she's a kisser). She's said hello to everybody who's come over nicely and slept well in her crate alone last night. She's barks for a bit at first when we leave, but seems to calm down within a few minutes.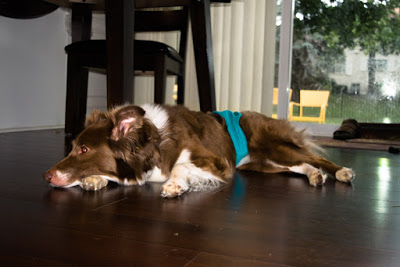 ---
---
Photos
---
Videos