Dharma
Gender: Female
Age: 1-2 Years
Height/Weight: 16" / 35 lbs
House-trained: see below
Fenced yard required:tbd
Location: Mid-Michigan
Foster Home: Tammy


Crate-trained:
Treat-motivated: Yes
Toy-motivated: Yes
Likes Car Rides: Yes
Good with cats: Yes
Good with kids: Yes
Commands: come, sit, down, kennel up, NO.
---
Check out Dharma's new video!
---
Dharma has only been with me for a week now and it has been a busy one for her! She has met many new fuzzy friends and some two legged friends of the small variety too. Her initial greeting skills were somewhat lacking, but with each and every exposure she is improving. This will need to be continued in her furever home. Socialization is very important and Dharma is on the more shy side of the BC scale.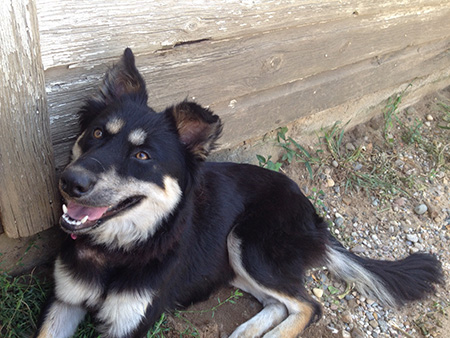 While she might come off as a very daring and goofy girl, she is lacks confidence in herself and she will need a home that can foster a sense of self with her. She does have trouble with voiding her bladder when she is frightened. This is not a huge deal, it just means that we need to move slow with her and help her to understand that we humans are not going to hurt her. She is a very nice dog and she wants nothing more than to please her people.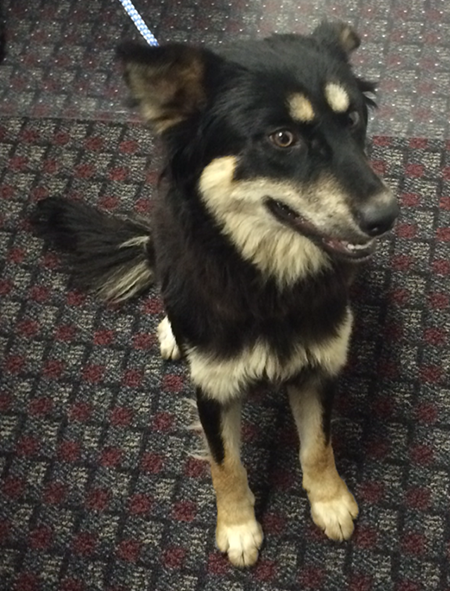 She struggles with a little neck shyness. We work on this daily by hooking her leash on and off her collar while giving lots of yummy treats, petting around her neck and collar, taking the collar off and putting it back on and using positive reinforcement throughout the entire process. I have seen a lot of improvement so far and expect this will be another thing that her furever family will need to be aware of. She will need a confident leader that can rule with compassion and expectation.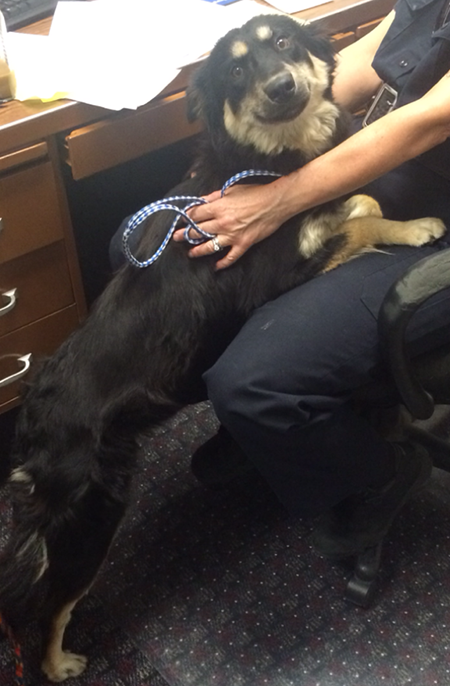 She has a captivating smile on her face that begs you to wonder what she is up to. Most times she just makes me giggle with her antics. She is a very funny dog to watch in play. If excavation is among your top 10 unwanted behaviors in a dog, better keep looking. Dharma LOVES to dig. A great solution and outlet for this is to fill a kiddy pool with water and toys and watch her go to town in sheer bliss, or to fill a little sandbox and let her dig for buried treasures that way.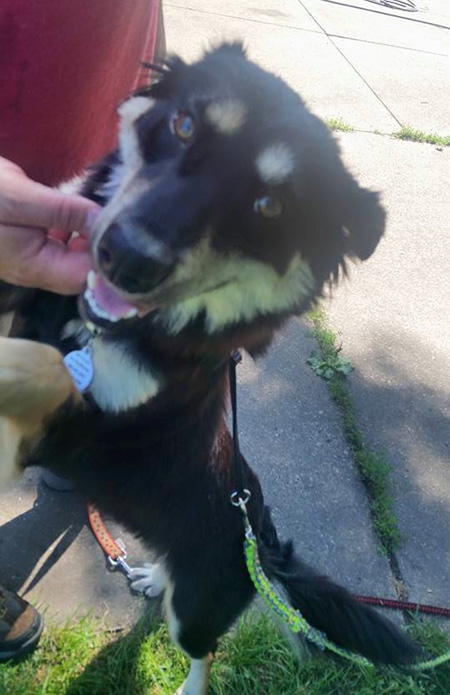 Dharma is a vocal girl and she has several different vocalizations that I have been able to determine. She will bark to alert (I like this behavior in a dog, especially when they quit when asked to quiet). We are working on that and she seems to understand the cues. When she first came into foster she would make a lot of noise in protest of her crate. That has improved dramatically in the past week and she will now settle down with a simple "quiet" cue. If she does not, then a squirt gun will be your best friend. She has a whole vocabulary when she plays with the other dogs. She growls in greeting them each and every time they go outside to play, like she is trying to goad them into playing with her. She yips, sings and barks all in play. She understands clearly when a dog is telling her to back off and she has respected each time I have seen it happen. She gives the older dogs not interested in play plenty of space and will romp around with the younger dogs until they are all exhausted with their tongues hanging low.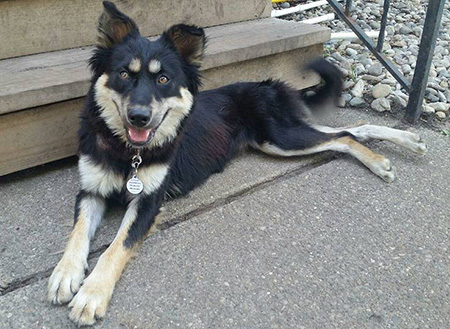 She has met kitties and small dogs and has been fine with them. Again, the initial greeting skills are lacking any grace and she comes on like gangbusters, once she has figured out what they are, she is all fine and dandy. I think the problem is that she comes on so strong she scares them. She has responded beautifully to my verbal corrections in regards to the cat and I have no concerns with her behavior towards the cat.
Dharma loves people of all ages. She has met kids of all ages and love them all. She gives very gentle kisses and takes treats like a lady, ever from tiny fingers. (Dogs and kids always need to be supervised when together!)
So far I have been able to determine that she does know the "sit, down and come" commands. We have taught her "kennel up" and she clearly understands "no". She is a quick study and a very willing student. She would enjoy some sort of doggy sport should her furever family decide that is something they want to pursue. She is quick and agile.
Dharma is quite a nice well-rounded girl. Her spirit is sweet and she has the sweetest face to show it all off. Her coat is improving daily and becoming soft and supple. The crispy, dried up, sunburned hairs are falling out and growing back is a beautiful medium length coat. She will be a breeze to groom.
---
---
Photos
---
Videos