Dixie Rose
Gender: Female
Age: 4 Years
Height/Weight:18" / 25 lbs
House-trained: Yes
Fenced yard required: tbd
Location: Mid-Michigan
Foster Home: Debbie T.


Crate-trained: Yes
Treat-motivated: Yes
Toy-motivated: Yes
Likes Car Rides: Good
Good with cats: Yes
Good with kids: 12+
Commands: Sit, Crate, Here, No
---
Dixie Rose is a big girl in a very little package at about 16 – 18" at the shoulder and just 25#. She came to GLBCR from the Oakland County Animal Shelter. She was an owner surrender but the details of why are not explained. While in the shelter, she was spayed, brought up to date on all vaccinations, heartworm tested negative, and was given wormer. When she reached foster care she had another stool test and was found to be negative. On her shelter paperwork it stated that she has had seizures. Dixie was in the shelter for over a month, and no one at the shelter reported seeing any seizures, nor has she had any seizures while in foster care. She is beautifully housebroken, plays only with dog toys, and likes to "help" me get ready for work. Dixie knows sit, but she does not choose to do it all the time. She knows her name, but again on her terms. She understands "kennel" but hates it. She will go in for a treat. She will also shake. She is great with cats!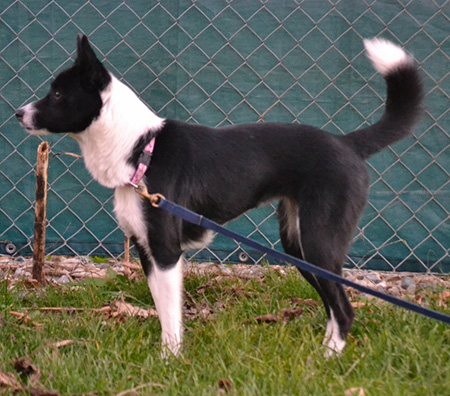 Dixie Rose is a larger than life dog – a Personality Plus girl! She is very busy, but has an off switch and a very loving side when she is not competing with another dog for your attention. She believes she is in control, and I've had to show her that the human is in charge. With her strong personality, I don't know if she believes me yet. Her mind is very active and she is easily distracted. Remember the song in the Sound of Music: "Maria" – "How do you solve a problem like Maria? A fibbertijibbet, a will-o-wisp, a clown."? Well, that describes this girl to a "T!"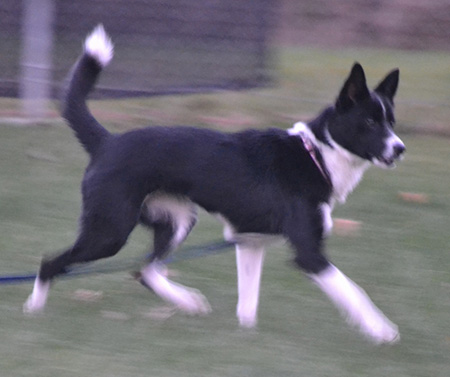 Because she is so distracted by everything, we have been working on her focus and recall. She is very toy and food motivated. She does very well when she is the only dog in the house or outside with me. She seems to like playing ball outside, but she tends to play by herself. She only brings it to me when she is ready. Inside it is the same thing. Squeaky toys are fun, and she will play tug and fetch only on her terms. She plays very well with my young male submissive foster boy. She play bows, plays chase games, and definitely uses herding moves. She is very fast and a quick thinker on her feet. She will stand her ground and is pushy with my own female, and acts like she wants the top spot. My girl will not allow that, so I do not have them together unsupervised.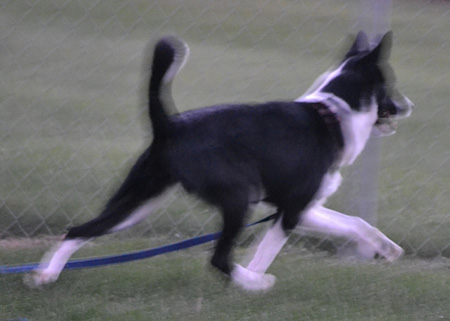 What Dixie Rose needs in her forever home:
• Family that has dog experience
• Formal Obedience Training – REQUIRED! At least one class, but more will be valuable!
• Agility or Dog Sports Training
• Household Manners Training
• Active outdoors – like hiking, long walks, frequent energetic play sessions
• Active indoors games to keep her busy and focused.
• Because of her herding activity young children may be a problem for her, but teenagers should be fine.
• Family that will not allow her to be the boss and will keep control of this behavior
• Patience and Persistence - once this girl bonds with her family she will be an outstanding sports dog and active partner.
I am certain she was owner-surrendered to the shelter because her previous owner let this little whirlwind walk all over them. We will NOT let that happen again! Once Dixie Rose connects with her family, it will be a strong bond. Many will not be able to fulfill this challenge. Will you?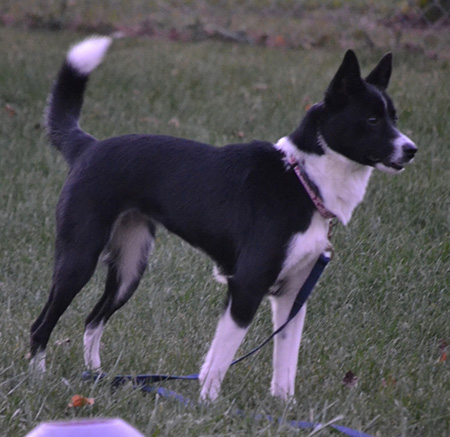 ---
---
Photos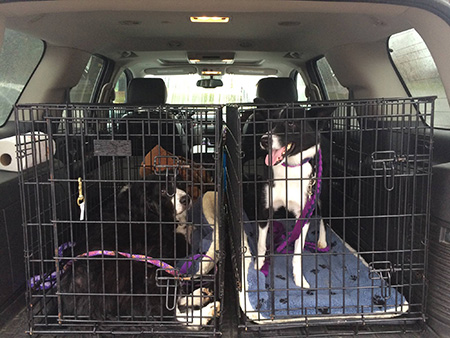 Batman and Dixie Rose share a Freedom Ride!
---
Videos