Juni
Gender: Female
Age: 10 Months
Height/Weight: 17.5" / 30 lbs
House-trained: Yes
Fenced yard required: No
Location: SE Michigan
Foster Home: GLBCR


Crate-trained: Yes
Treat-motivated: Yes
Toy-motivated: Yes
Likes Car Rides: Yes
Good with cats: YES
Good with kids: Yes
Commands: sit, down, kennel up, come, paws up, and always learning more
---
Juni is a tiny little 9 month old female pure bred Border Collie. She's 18" tall and weighs 30#'s. Ideally, we'd like to see her lose a few pounds while at the same time build some muscle mass while in foster. She's not fat, but she's not fit either. We're working with her to ensure she's getting adequate amounts of exercise. Juni is kennel trained and 100% house trained, in fact she's never had a single accident in her foster home. She sleeps thru the night quietly but is ready to get up as soon as her humans start to stir in the morning.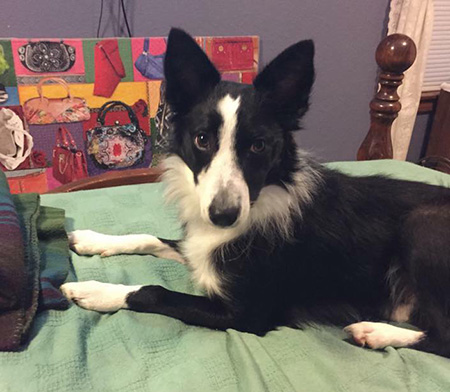 When you first meet Juni, she will smile at you. Not many dogs do this, but Juni is absolutely not showing her teeth as a sign of aggression - she really is smiling. While she is smiling, her tail is wagging 100 miles per minute and her entire body is wiggling with anticipation for you to pet her and say "hello" right back. She's learning to keep all 4 paws on the ground as the best way to receive her "hello" pettings.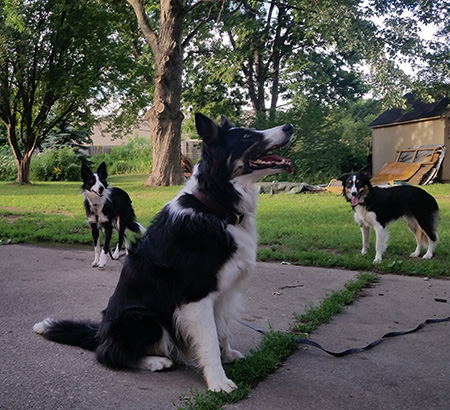 Once your able to pet her, you'll feel her hair is very coarse and brittle. Once she's been fed a quality dog food for about a month or so, this fur will change and become more soft and shiny. There are some areas where her fur is thinning. We believe this will also be amended by simply feeding her a quality dog food.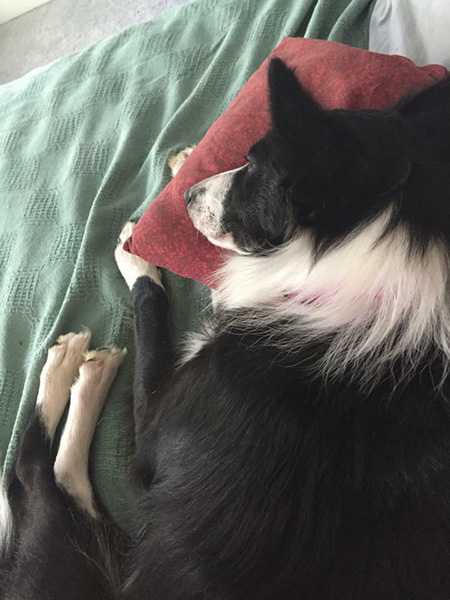 Juni loves to run and play with our pack of resident dogs. While she runs with our dogs, she is showing us that she's a little herdy. She doesn't nip our pack, but does have some cool spin moves and is trying to control the direction they are running. Juni has no problems grabbing the frisbee or tennis ball when she gets to it before the rest of the pack and will bring it right back to us. She hasn't caught a frisbee yet, but will track them in the air and run them down. She hasn't learned to catch them....yet! Juni is currently being trained to do some simple commands like: sit, down, paws up, circle, etc. Her list of tricks will continue to grow as each day passes because she's a quick learner.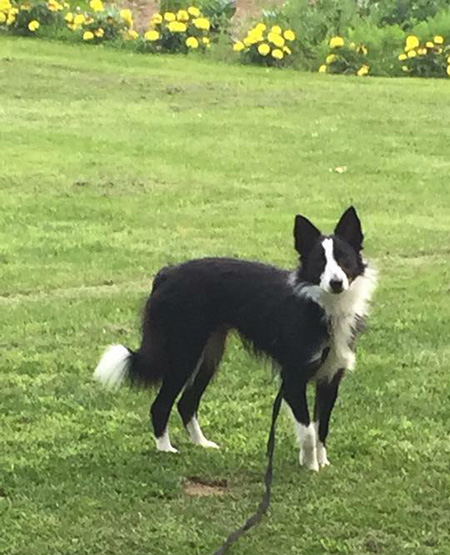 Juni also loves her people. She loves to be close and asks for lots of pettings. She really loves to be scratched in that sweet spot at the bottom of her back...that's her favorite. For those moments when we're not petting her, she is very content to play with a ball all by herself. She'll literally toss it in the air to make it bounce, then fetch it herself and start all over. It's adorable to watch. She also has a small tire that she LOVES to play with too.
Juni is a very cute little border collie. She's filled with love and affection. She's absolutely lovely and has been a dream to foster.
---
---
Photos
---
Videos