Kolby
Gender: Male
Age: 1 Year
Height/Weight: 20" / 35 lbs
House-trained: Yes
Fenced yard required: Yes
Location: Central Wisconsin
Foster Home: GLBCR


Crate-trained: Yes
Treat-motivated: Yes
Toy-motivated: Yes
Likes Car Rides: Yes
Good with cats: OK
Good with kids: 10+
Commands: Sit, Down, Shake, Kennel
---
Kolby is a drop dead gorgeous blue merle with one blue eye and one half blue/half brown eye. Kolby is going to need an experience border collie/herding dog home. Kolby can by shy in new situations and will bark at strangers. People don't stay strangers for long, though, as he quickly warms up to them especially when treats are involved. He is a cuddlier and will crawl in your lap if you let him. He is still very much a puppy and will remind you of that by occasionally chewing an inappropriate item. He has shown some resource guarding with toys, but will trade you for treats or another toy. Kolby is going to need direction so continued obedience training is recommended. He is a quick study and loves to learn new things. He will need outlets for his energy and would probably enjoy any number of dog sports.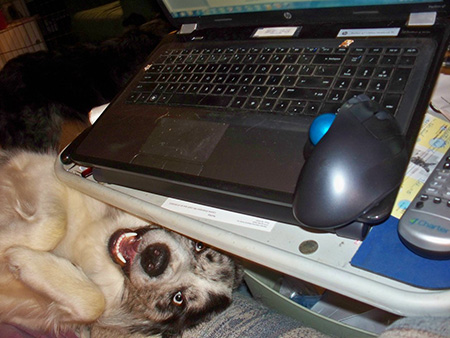 He is crate trained and rides well in the car. He does have some separation anxiety and will bark when left alone at home or in the car. Length of time he can be crated during the day is unknown as I work from home and in his first family, the wife was a stay at home mom. I have been crating him at night in my bedroom and he is very good. Older children are recommended as he has a lot of puppy energy. He plays well with other dogs and likes to herd his foster brother while playing ball in the yard. He is good with dog savvy cats—he will chase but respects them when they put him in his place. Small animals are not recommended as he is very interested in them but not in a good way.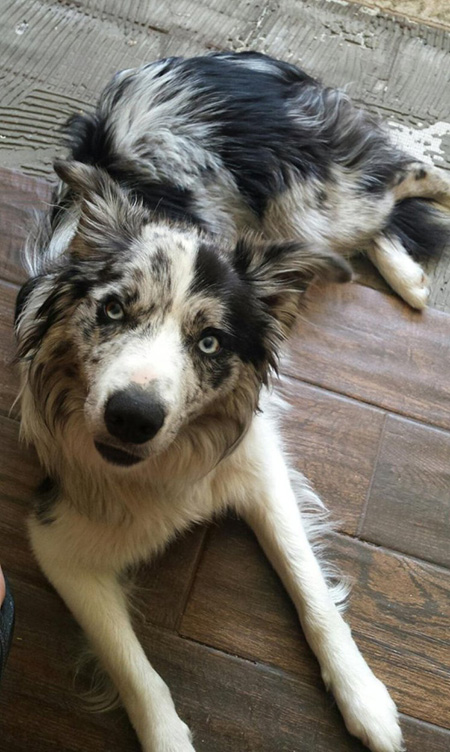 One of Kolby's bigger issues is that he is very uncomfortable at the vet. He is very wary of stethoscopes in particular but I borrowed one from a friend and we have been working on getting him desensitized to it. He has learned to wear a muzzle for safety's sake as he has snapped when being restrained for procedures. I doubt he will ever be a dream patient but with continued work, I think he'll be able to relax enough to allow exams without too much fuss.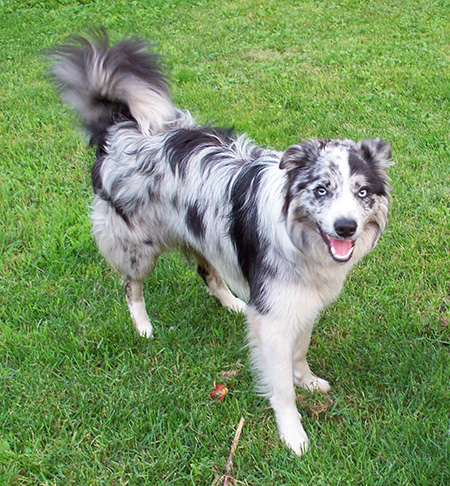 Kolby does have a heart murmur and had x-rays and an echocardiogram done at the UW Vet School clinic in Madison. He has a small ventricular defect which doesn't require any medication or restrictions on his activity at this time. The cardiologist did recommend that he have yearly x-rays to make sure his heart isn't becoming enlarged as that is a real possibility in the future.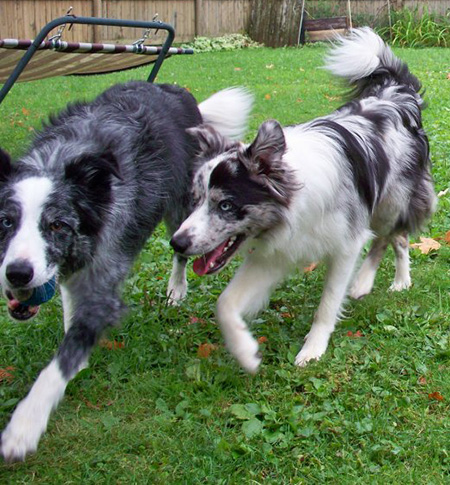 Kolby (right) with foster brother, Hurley.
---
---
Photos
---
Videos