Lola
Gender: Female
Age: 2 Years
Height/Weight: 21Ē / 35 lb
House-trained: Yes
Fenced yard required: tbd
Location: Mid-Michigan
Foster Home: Sandy


Crate-trained: Yes
Treat-motivated: Yes
Toy-motivated: No
Likes Car Rides: Yes
Good with cats: Yes
Good with kids: tbd
Commands: Sit and stay; learning lay
---
Lola was adopted in September, 2015. Here she is with her new family!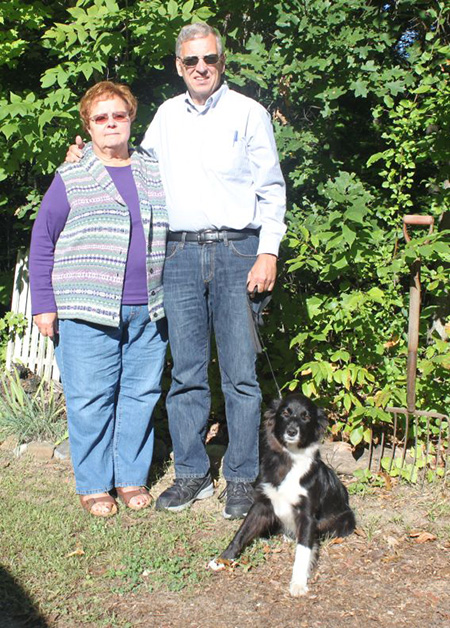 ---
Lola seems to be quite low key for a Border Collie. She is very calm, especially when indoors. She follows me around until I sit down. Then she likes to be a foot warmer. She is not a barker. I have only heard her bark once so far. She does whine when left alone. Lola is definitely a people dog. She has been very friendly to everyone I have introduced her to. I have not had her around kids though, so I donít know how she would act around them. She was fine with the veterinary staff. She did growl when a staff member approached her rear end when she couldnít see them coming. I had them approach her from front to back and she was fine with that.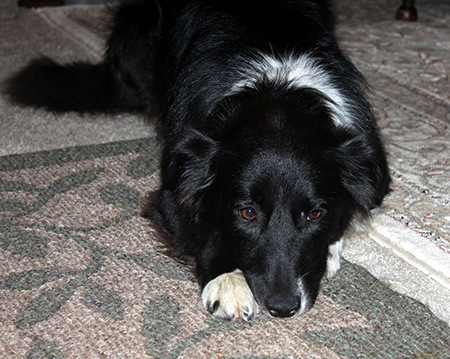 Lola really balked at going into her kennel when she first got here, but she is going in on her own now if I lead her to it. She sleeps in her kennel all night without any disturbances and sometimes goes in it by herself to take a nap. Lola is housetrained. She hasn't had any accidents in the house. Lola is not food aggressive at all. She takes food out of our hands very gently. She has a good appetite.
Lola has been on several rides in my van. I have to lift her into the van, but she seems to be fine riding. She looks around for awhile and then lies down and relaxes. I have not had her out for more than a thirty-mile-long ride. Lola walks nice on the leash. She pulls when she first gets outside, but she settles in after that. She loves to go on the walk/bike trail.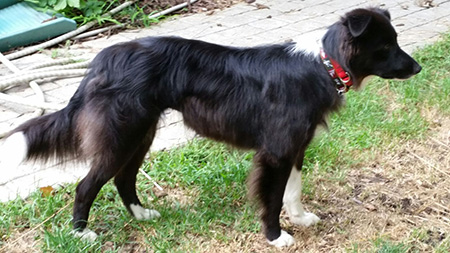 Lola knows the commands sit and stay. She will sit and stay at the door until I give her the okay to go out. She knows the lie down command, but is reluctant to do so. Once she is lying down, she will stay for quite awhile. She remains in the stay position for long periods in the doorway of the kitchen while I am cooking or eating.
Lola watched my dog catch the frisbee for a couple days. On the third day, she started catching it on her own. She catches quite a few of them and even gets air while doing so. She would need to be taught to bring them back to you.
Lola gets along fine with my dog. She stares intently at the male dog next door through the fence. I donít know if this is in an aggressive way or just because they are divided by the fence. She did give another personís male dog that intense stare. She might be an issue with male dogs.
Lola is leery of my cat, but not afraid. She gives her a respectable amount of space if their paths cross. The only problem I see with Lola is the way she puts her paws on people. She doesn't really jump up on anyone. She just uses her paws on you, even in a sitting position. We are working on that. Lola might have anxiety issues when left alone. I do not think she would do good in a home where she is left alone for extended periods everyday. I think Lola would make a good therapy dog. She loves people and is very calm, loving and low key.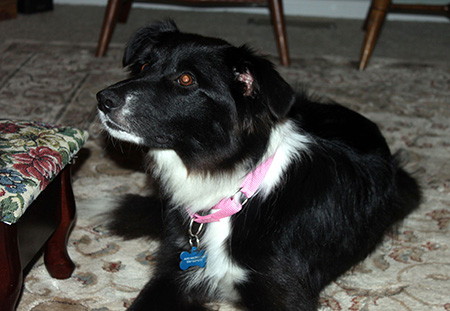 ---
---
Photos
---
Videos