Maximus
Gender: Male
Age: 9 Years
Height/Weight: tall / 62 lbs
House-trained: Yes
Fenced yard required: No
Location: SE Michigan
Foster Home: Wil and Theresa


Crate-trained: Yes
Treat-motivated: Yes
Toy-motivated: No
Likes Car Rides: OK
Good with cats: No
Good with kids: tbd
Commands:
---
Maximus was adopted in September, 2015. Here his is with his new human!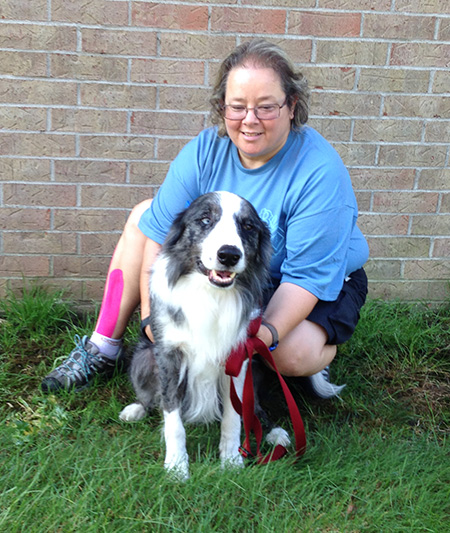 ---
Who's the star of our new YouTube channel - Max is!
---
Want to see handsome Maximus in action? Check out his new videos!
Max has settled into being a well behaved house dog. He still lays down in his crate now and then but has been sleeping on the bedroom floor in the evening. He loves to be near his people. He is learning wait, shake, leave it and knows sit, down and come. He loves riding in the car and is beginning to show interest in playing with the resident dogs. Max has been running alongside a bike and has been practicing his focus while doing so. His coat is changing and starting to look incredible due to high quality food and egg supplements. His once bushy tail is starting to show the border color feathers and he is getting softer each week.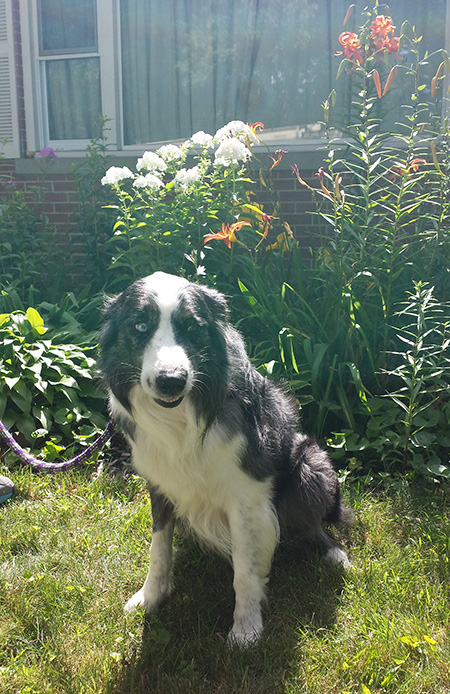 ---
Max has been spending his days, since his exercise restriction was lifted, exploring doggie games. He has taken an interest in watching our resident dogs play fetch and has started enthusiastically running along side them and barking. He has not yet fetched or tugged on his own but I am hoping that he will figure it out soon enough. Max loves to run with the other dogs at the dog park and has learned to be social with the other dogs. Because Max has not quite yet figured out how to play appropriately, I think it would be wise to avoid a home with young children. When he gets excited, he still occasionally jumps up on us and has nipped at our clothing. We are continuing to work on decreasing this type of 'play' and teach him a more appropriate way to show his excitement but this has been his default setting for nine years and may not totally redress while in foster. This will need to be monitored in his forever home.
He has made nice progress on the wait command and rarely tries to bolt out the door. He waits patiently in his kennel with a reminder to 'wait' until he is called out. He has also been working on wait , sit, down, and shake at mealtime and during training sessions. He is eager to please when there is food on the line. :)
Max has made progress with the smooth floors at our house but still is uneasy with new changes in surface material. He has been walking on leash better and running alongside a bike. He does much better but still will pull occasionally if a squirrel or cat catch his eye.
Max has settled in very nicely and no longer is reliant upon the crate. He does still like to go in there and often can be found curled up for a nap, either in his crate or in a small space somewhere in the house. He is a very happy dog and loves being near anyone doing anything. The boy has been a pleasure to foster and will make someone a dog of a lifetime.
---
Maximus just wants to be your BESTEST FRIEND in the whole wide world! He is a Velcro dog that enjoys doing things with his human. He is a great assistant. He fills the role of Assistant Gardner, Carpenters Helper, and Sous Grilling Chef. He has low energy requirements but is absolutely down for being as active as you. Hikes and walks are some of his favorite things as are car rides. In the evening, he spends most of the night either chewing a toy or with his head in your lap getting some ear scratchings. He is very eager to please and is a quick learner. He calls off really easy and gives you a look like "Sorry man, I did not know that I was not allowed to do that." Max hates slippery floors so we had to lay runner rugs all over our hard woods. Silly Boy.
There are things to be aware of with Maximus (Max, Maxerdoodles, Big Maxie). These are all very manageable issues but things that his adopters need to be aware of because if he has problems they will more than likely come from one of these behaviors. He is not an escape artist, he could totally jump our fence but has not challenged it at all, but he is an escape opportunist . By that we mean, he bolts through gates or doors when they are left open too long. He then takes off for a little adventure. He has great recall normally but this escape activity was learned in his past life so when you call him after he first escapes he looks at you, then takes off like he stole something. He got caught digging a couple of times but called off easily. He is an alleged car chaser, although we have not seen this as our fence is well back from the road but we have seen him be bike/lawn mower/quad runner/vacuum reactive. He loves chasing squirrels although he has not caught one while at our house.
Max really needs to learn some real dog games. We are trying to get him to play fetch and tug. When he wants to play he kind jumps up and nips at your sleeves. This has always gotten a serious correction and he has been better about this but all best beware. He loves toys but does not play with them in a traditional manner. He likes to empty the toy box piece by piece into his kennel and bury them in his blankets. It is very cute although his foster brothers are not fond of this tactic.
All that being said, Max is a very very easy dog that is an absolute pleasure to be around.
---
Big Max is a bit of a gentle giant.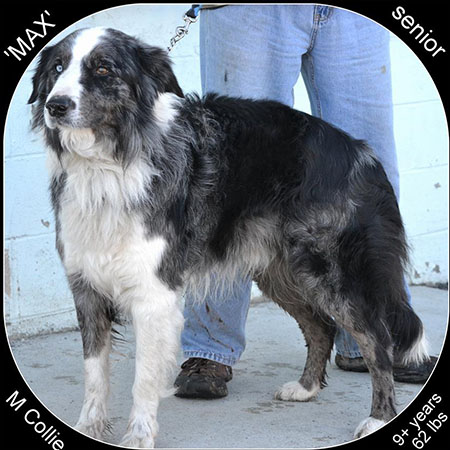 He has beautiful merle coloring with heterochromic eyes.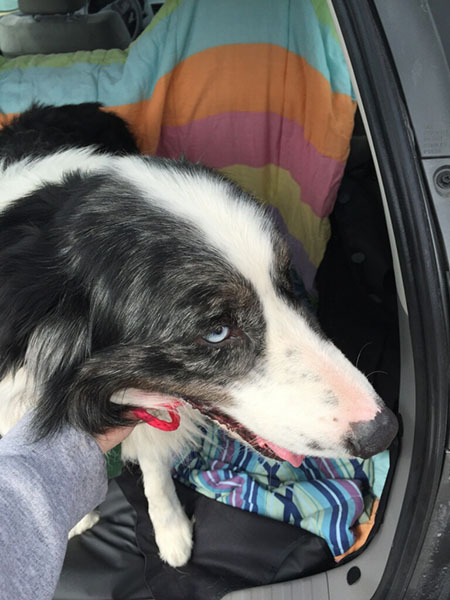 He loves people and looks forward to his future.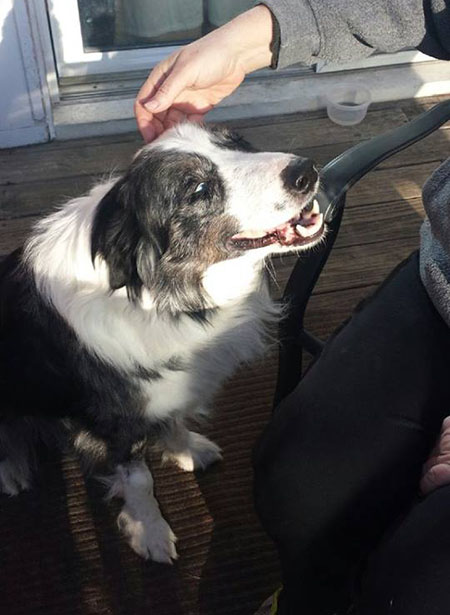 He is heartworm positive so he has to lay low for a while. We'll let you know as soon as he is available for his forever home.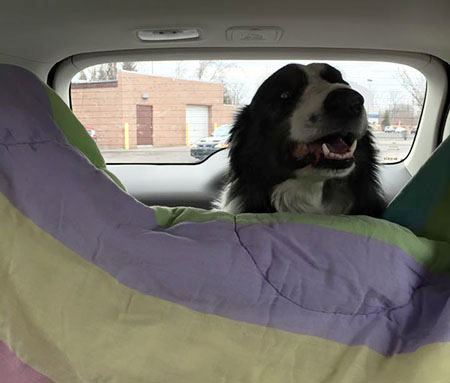 FREEDOM RIDE!
---
---
Photos
---
Videos