Miggy
Gender: Male
Age: 1 Year
Height/Weight: tbd
House-trained: Yes
Fenced yard required: tbd
Location: SE Michigan
Foster Home: Barbara R.


Crate-trained: tbd
Treat-motivated: tbd
Toy-motivated: tbd
Likes Car Rides: tbd
Good with cats: No
Good with kids: tbd
Commands:
---
Miggy was adopted in July, 2015 and is now known as Ragnar. Here he is with his new humans!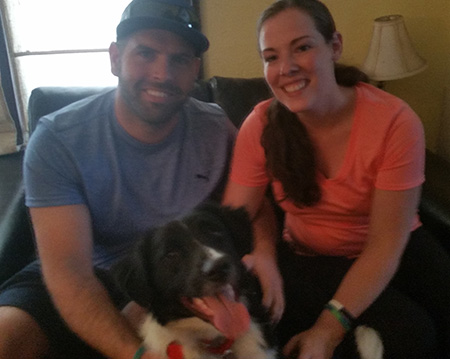 ---
Border Collies are known for their intelligence and their high drive. They'll work all day for no more reward than the pleasure of your company and a grudging, "That'll do." Border Collies excel at agility, at flyball, and at obedience. They will monitor the comings and goings of your household and bring you spit-covered tennis balls that you've never seen before.
And then there's Miggy.
Miggy (named after the Detroit Tiger's first baseman Miguel Cabrera) may just be the rare "decorative" Border Collie. Or maybe he's just a black and white Heinz 57 that happened to fall into our rescue. That happens a lot. For an over-worked shelter volunteer, all black and white dogs are Border Collie mixes.
Miggy tries very hard, and is SUPER friendly. We're estimating him to be about one year old. He has large paws and a poor coat, something that should improve with probiotics and high quality puppy food. His coat, that is. He will just have to grow into his feet.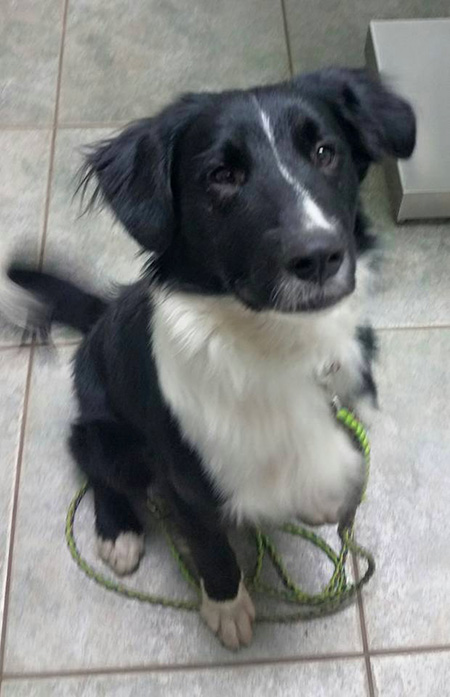 Miggy is learning to not jump on us and to STAY off the furniture (this will take time). He arrived completely potty trained and has had no accidents since he arrived!!! He's not exactly thrilled with his kennel, but he's not bad. He has a nice off-switch in the evenings, and at bedtime, Miggy goes into his kennel easily and is quiet all night. In his new home, I believe he would be ready to sleep in a doggy bed on the floor.
Miggy is still working on his pack manners. He started off meek and quiet with our pack, but is now a bit of a butthead with our dogs and won't "back off" when they tell him to. Plus, he won't stop pestering my dogs either. Rue will correct him 10 times in a row and he keeps coming back for more. Zane and Lucky just avoid him altogether. Chrissy has landed (6) REALLY good corrections and Miggy just doesn't understand that he needs to stop. Therefore, I would prefer him to be the only dog in the house because I think he needs 100% of the attention from his people in order to set him up for success. *Please note, he's not a mean dog at all...there's not a mean bone in his body.
NO CATS! He will not leave my cats alone even after they've slapped him, hissed at him and spit on him. He's not mean to them at all, but I think he's missing some valuable IQ points in that category.
Miggy would be quite pleased to enjoy a nice walk and some 1-on-1 time with his new owner either working on his trick training, or playing fetch, or something fun. He likes to work for treats and seems to really enjoy the 1-on-1 time with his handler. His new owners MUST commit to obedience classes. I'm pretty sure Miggy has never had ANY rules and was basically allowed to run amuck before he came to our house. He is mouthy like a puppy and uses his mouth like a hand, but corrects with a "un-uh" and has never hurt any of us. For this reason, we are recommending a home with no children under the age of six.
---
---
Photos
---
Videos