Murphy
Gender: Male
Age: 9 Months
Height/Weight: 19.5" / 30 lbs
House-trained: No
Fenced yard required: tbd
Location: Mid-Michigan
Foster Home: Pam and Roberta


Crate-trained: Yes
Treat-motivated: tbd
Toy-motivated: tbd
Likes Car Rides: Crated
Good with cats: tbd
Good with kids: tbd
Commands: Murphy, go potty, go poop, kennel up
---
Murphy was adopted in May, 2015. Here he is with his new family!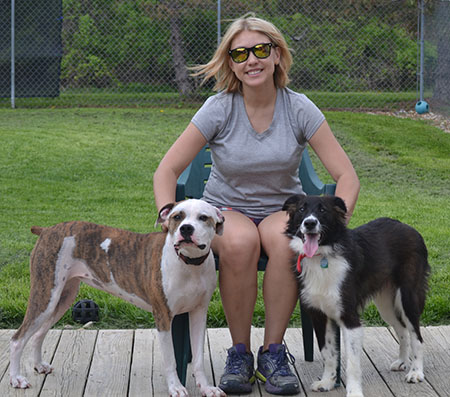 ---
You would think a stray dog would have been able to survive with a little more meat on his bones than what Murphy had when he arrived at the shelter with his "brother". After all, they could have scrounged for garbage, road kill, or even hunted a bit. At 23.7#, Murphy's BMI was a solid ONE. With his lankiness and his height of about 19.5", he should weigh in at least at 35#, if not 40#. Because of his coat, his boney body is difficult to see. However, Murphy's ribs are easily felt as he is stroked, and the point of his pelvis (towards the end of his spine) protrudes quite far. Speaking of his spine, each vertebra can also be easily felt. Murphy has a nice bone structure, which makes him look like he is all legs.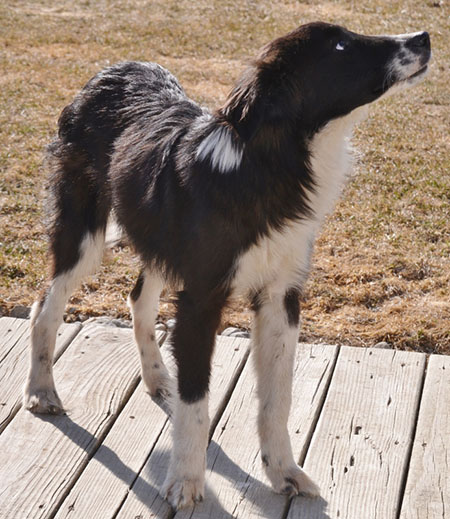 Speculation about his past is moot. We only know what we were told about him. Murphy seemed to shelter workers to be under-socialized. He may be, but that may be simply because he is a puppy who is around 7 to 8 months old. Murphy has a soft temperament, however, which can appear to be a socialization problem. He does NOT need heavy handling at all; harsh words and forcing him will cause him to shut down. A simple "Angh, angh!" will stop him in his tracks.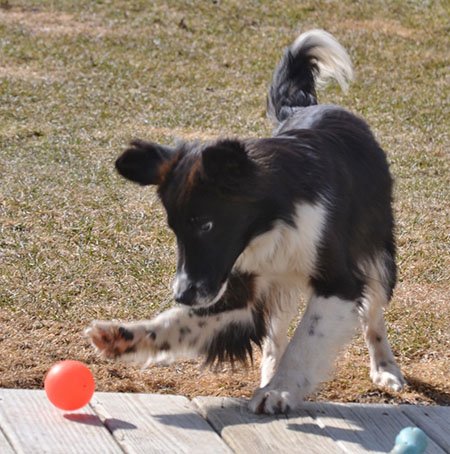 Murphy knows virtually NOTHING! He is the epitome of a clean slate. He now understands that his crate is his room, and wonderful things happen in there. "Sit"? Nahhh… He didn't even understand a collar OR a leash, let alone walking on a leash! At the shelter, he screamed when the leash was put on him and he felt tension at the other end. He is doing MUCH better with that, now. While Murphy is with me, we are working on confidence and manners, so when he goes to his forever home, THEY will have the pleasure of teaching Murphy his obedience commands. In fact, taking Murphy to a training class WILL be a condition of his adoption.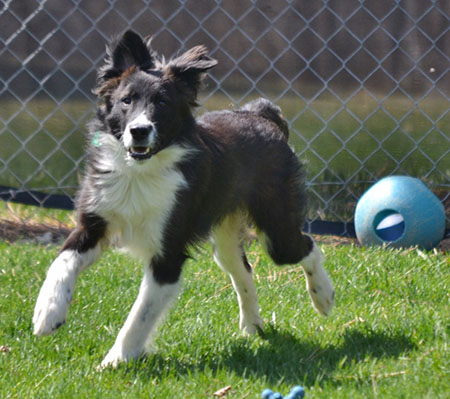 All of my own dogs are teaching him about proper interactions with other dogs. He is even very good around my teeny Chihuahuas! He sometimes likes to tease them, so he must be watched in case he gets too rough. He likes to run with my 2 Border Collies as they run after a ball, but he doesn't understand the complete retrieve concept. He LOVES toys, and will take as many as he can into his crate, or into a pile outside, where he lays in the middle of his treasures.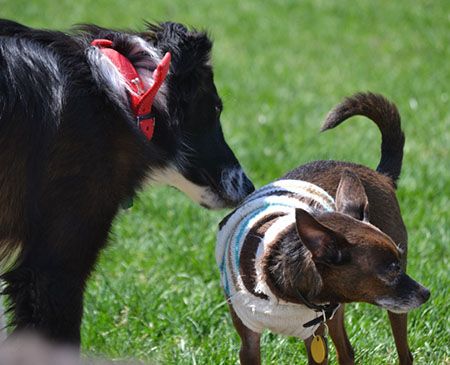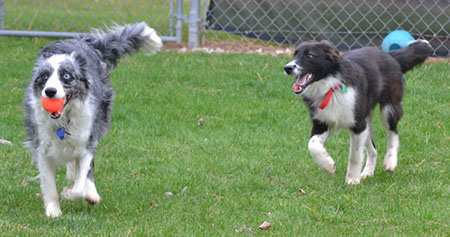 I would NOT consider Murphy potty trained, but he really understands the idea about "let's go outside to go potty!" If he has to go, he will JUMP on the door that leads to outside and whine. At this time, I must move fast to get him outside. I learned that once when I tried to finish what I was doing, and he started to pee right by the door. Speaking of pees & poos: Murphy has incredible bladder control, and when he pees outside, it seems to go one for almost forever! Although he is eating a high-quality, energy dense diet, his stools are like several poops all at once! Several times I have left him outside his crate as I took a nap (smaller confined area, NOT a whole house!) he has been a GEM, playing with different toys, laying on the couch, at my feet, or near his crate.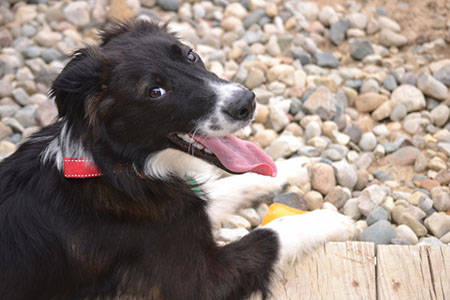 There is a side to Murphy that has started to emerge, now he has been with me a week. He fancies himself a guard-dog, and will guard-bark at unfamiliar noises or people. Although a warning bark isn't a bad thing, Murphy must learn that his human is in charge, and that he needs to quiet when he is told. Additionally, and MOST importantly, Murphy MUST meet many people, ON LEASH and WITH FOOD, so he doesn't fall back on fear of humans and unfamiliar noises or situations. With time and relationship-building Murphy should be able to rely on his human to help him to make reasonable – not impulsive – choices.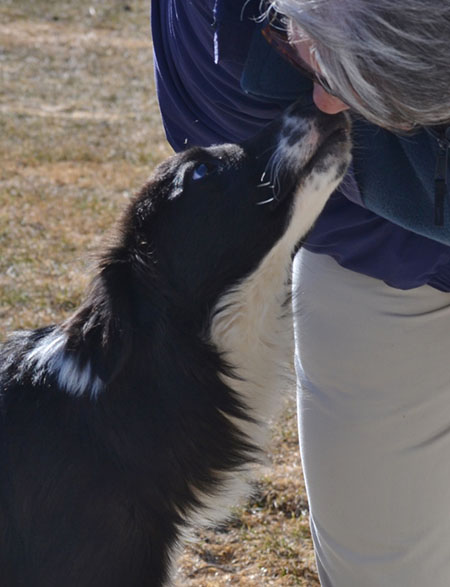 On Thursday March 9th, a friend brought over her German Shepherd to stay with me for a few days. Murphy did not like the Shepherd, and he was very fearful around my friend and her son. We worked for a few minutes with food and introductions, but she had to be on her way. Murphy leads a rather sheltered life, here. It will be imperative that he gets out to meet & greet *many* new people and *many* new dogs, otherwise he will grow up to be inflexible around other dogs and other people. It is a MUST that his new owners understand Murphy's maturing needs, both mental & physical.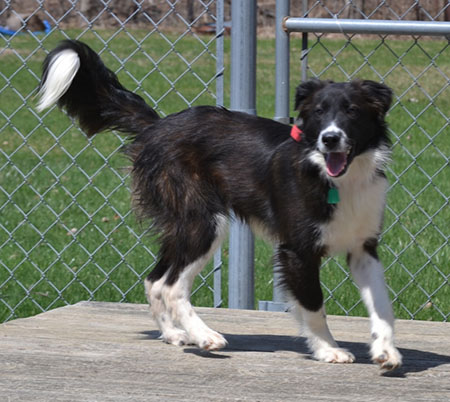 As I write this, Murphy is on a weight-gain program, eating a 1 ½ cups of food 3 times a day, with generous treats interspersed. A week after he came to live with me (April 2nd), I took him to weigh, and he is now 27.7#!!! YAY! A decent weight gain for a week! I want him to be around 30# before I have him neutered. Once he is neutered, he will be all set to meet suitors! FLASH!! Murphy's weight on 4/10/15 is 30.8#!! YAY!! His neuter will be scheduled soon!!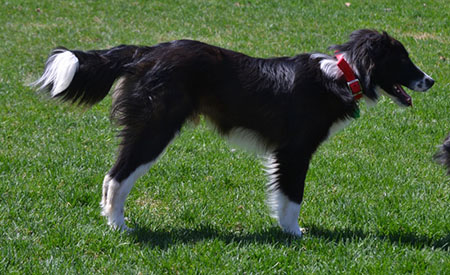 IF you are interested in a GEM of a puppy, who will grow into a wonderful, steady and responsive adult – with YOUR help! – you may want to get your application submitted, because once Murphy is ready, he won't be around in rescue long at all!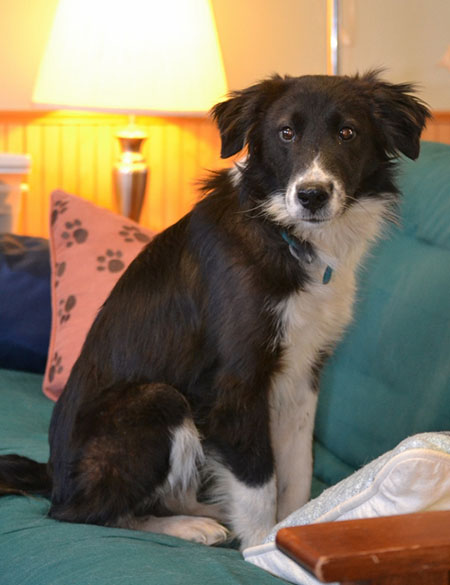 ---
---
Photos
---
Videos