Nilla
Gender:
Age: 11 Months
Height/Weight: 18" / 30 lbs
House-trained: Yes
Fenced yard required: Yes
Location: Wisconsin
Foster Home: GLBCR


Crate-trained: Yes
Treat-motivated: Yes
Toy-motivated: Tug Toys
Likes Car Rides: Yes
Good with cats: Yes
Good with kids: 12+
Commands: name, sit, learning down and wait
---
Nilla in action!
---
Nilla and I took a ride to visit Sue and her GLBCR alum Tater today, and to see how she reacts to cats. Nilla was not at all interested in Sue's cats, which surprised the heck out of me. She also got car sick on the 40 minute ride to Sue's , which also surprised me! Nilla and Tater got along very nicely, too! Here's a pic of Sue, Nilla and Tater.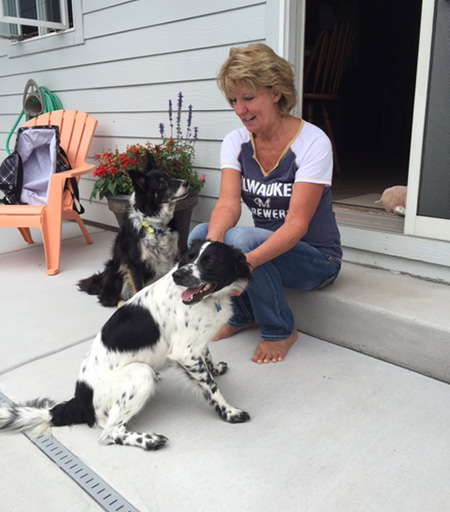 ---
Want to see Miss Nilla in action? Check out her videos on our new YouTube channel!
---
Little Nilla is a girl with spunk--a compact spitfire of a dog! While she only weighs in at 30 pounds, don't let her small size and big brown eyes fool you. Nilla will need a firm, patient, consistent owner who will know how to set boundaries and mold this sweet girl into everything she can be!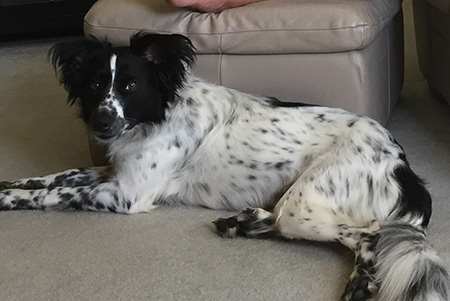 Nilla came to us from Kentucky and initially was quite skittish and just wanted to crawl into my lap and be cuddled. When I first got her, she had a bad bout of diarrhea, which has been treated successfully. Now that she's feeling good, her true personality is beginning to emerge. She loves people (and still wants to cuddle!) and does get along well with my own dog, Chester. Although she does try to dominate him at times and has exhibited some mild resource guarding towards him (making ugly faces at him when he tries to get past her to get to me), they play wonderfully together both inside and outside the house. They also enjoy their daily walks together.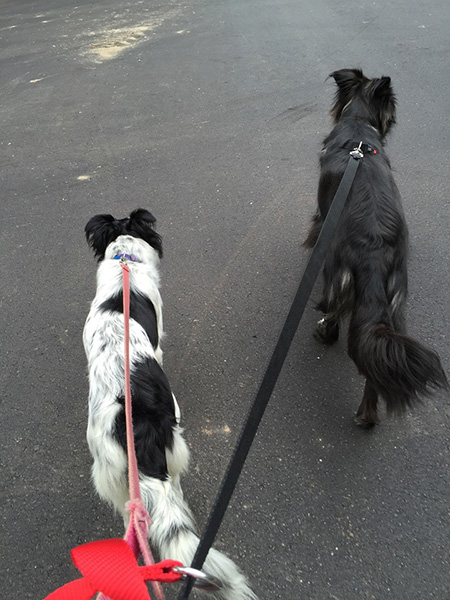 Out for a walk with foster brother, Chester.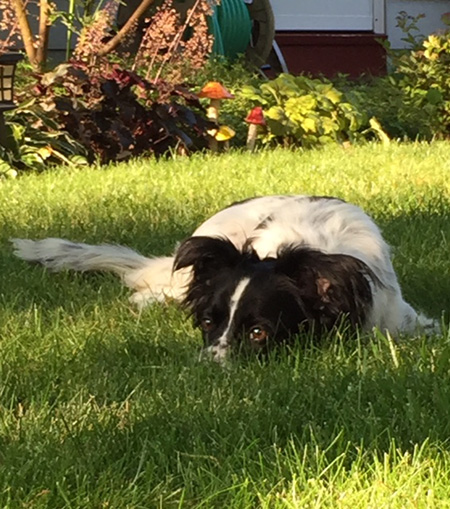 Deep in the forests of Wisconsin lurks the elusive grizzly! Never fear, with Nilla on guard, nothing will touch you!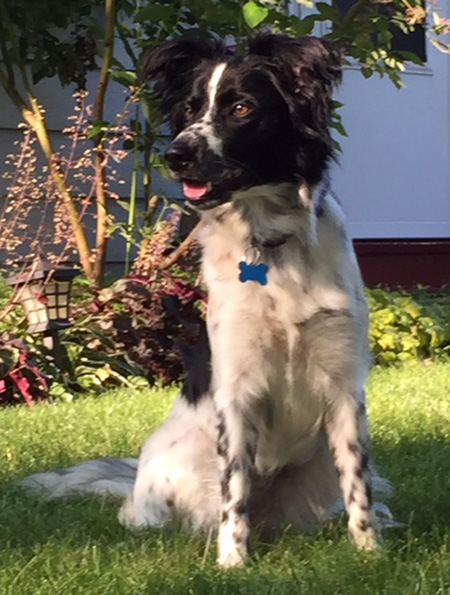 Nilla loves to play tug with me and is learning to play tug with Chester. She enjoys squeaky toys, especially the ones she can de-stuff!! She shows no interest in balls. She knows her name, sit, and we're working on down and off. Since coming here, she has learned that she needs to sit politely before the door is opened for her to go outside. She is very treat motivated, which will be of benefit in her ongoing training. She enjoys riding in the car and gazes out the window quietly, watching the world go by. In the evening, after a long day of play, Nilla lays quietly at my feet and just enjoys being part of my "pack".
Nilla will need a fenced yard. She is fascinated by birds, and does chase them. She'll even sit at the base of a tree and stare up at them! I have not had an opportunity yet to test her with young kids or cats. I suspect she may be too much for small children as she likes to jump up on people. She's also a counter surfer. Both these issues will need to be worked on. She is not bothered by thunderstorms or fireworks.
---
---
Photos
---
Videos