Pyper
Gender: Female
Age: 1-2 Years
Height/Weight: 24" / 65 lbs
House-trained: Yes
Fenced yard required: Yes
Location: NW Ohio
Foster Home: Laura


Crate-trained: Yes
Treat-motivated: Yes
Toy-motivated: Some
Likes Car Rides: Yes
Good with cats: Yes
Good with kids: Yes
Commands: Sit, Shake
---
Pyper was adopted in June, 2015. Here she is with her new family!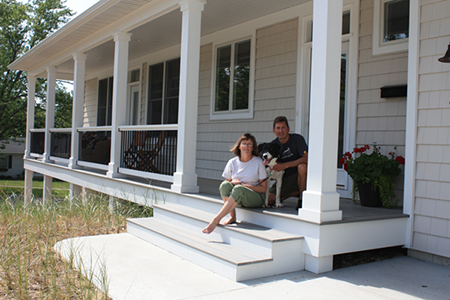 ---
Pyper playing with her foster-sibling.
Pyper enjoying a treat!
---
If you look up the word "fun" in the dictionary, Pyper's picture will probably be right next to it. This girl likes to PLAY! As a matter of fact, there isn't much about life this pup doesn't love. She has never met a human stranger, loves her foster cats, her foster Labrador sister, and every other dog she's ever met. She loves her toys, loves car rides, loves kids, and loves being involved in whatever her human is doing. She loves to give kisses! Her long white-tipped tail is always wagging about something, and she's one of the happiest, goofiest dogs her foster mom has ever met. The only time Pyper is not happy is when she is in the crate. Unfortunately, because she is still mostly puppy she does chew on things when left to her own devices and needs to be crated during the day while her family is away. She goes in reluctantly when you drop some yummy treats in the back of the crate because she wants so badly to be a good girl even though she'd really rather not go in! She sleeps on her own dog pillow in the bedroom at night with her foster parents and has been very well-mannered so far.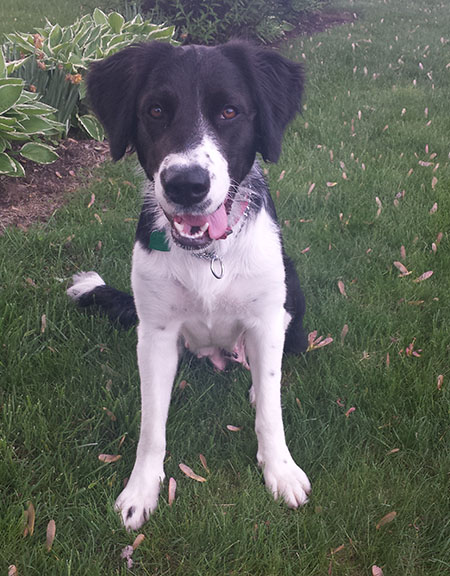 Although Pyper is a happy girl, she is a high energy dog and needs an active furever home. Take one look at her long, lean frame and you can tell that this girl likes to run! Her foster mom is a long distance runner and has taken her on a few runs and says Pyper can easily go 4 miles at a pretty good clip. She would also be a GREAT addition to any dog park due to her excellent doggie social skills, playful nature and sweet temperament. Pyper is really quite beautiful to watch when she runs because it looks so effortless for her. Her foster mom thinks Pyper would excel at lure coursing! She does have an off switch, but only after she's had her daily dose of exercise. She is definitely not an "apartment dog" and would not do well in a home where her humans are not prepared to send her to bed tired every night.
Pyper was not named, spayed, or housebroken when she got to her foster family. She was a little "rough around the edges", but her foster mom says that she is a sweet dog who is highly intelligent and wants to please. She is definitely a quick learner! Her recall is already quite good. Pyper is working on manners and basic obedience with her foster family, but she is basically a blank slate. She will need a family who is willing to work with her on doggie manners and focusing. Because she is so young, she has a tendency to get distracted during training sessions (but is quickly brought back by the scent of a treat!)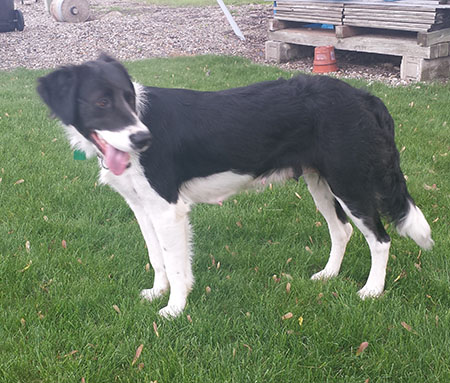 She is a quiet dog that rarely barks and would love to have her own family to play with and love. She follows her foster parents around the house everywhere because she doesn't want to miss a single moment of fun! She would love to have a doggie brother or sister who loves to play as much as she does.
---
---
Photos
---
Videos