Speckles
Gender: Female
Age: 9 Months
Height/Weight: 20" / 32 lbs
House-trained: Yes
Fenced yard required: No
Location: SE Michigan
Foster Home: Jo


Crate-trained: Yes
Treat-motivated: Yes
Toy-motivated: Yes
Likes Car Rides: tbd
Good with cats: tbd
Good with kids: Yes
Commands:
---
Speckles was adopted in February by a family who met her at the Michigan Winter Classic Dog Show in Novi, Michigan. Here she is with her new family - don't they look happy!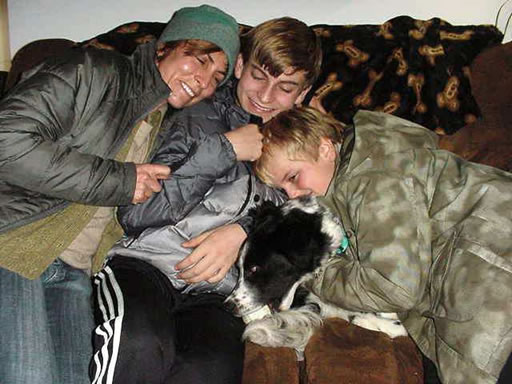 ---
Speckles is a loveable 9 month old Border Collie and her name fits her appropriately as you can see from her photo. She has thick soft fur with a bushy tail. At 32 pounds she has a stockier build. At the shoulder, her height is 19 to 20 inches.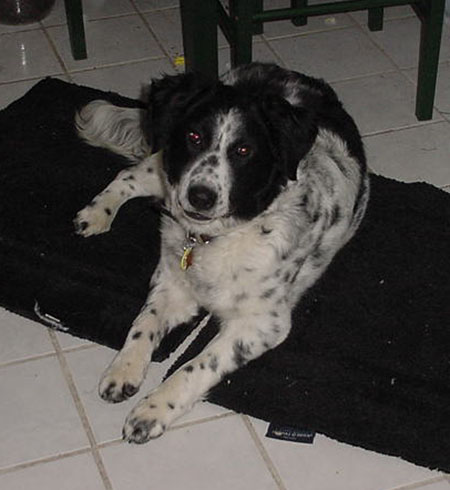 Her story: relinquished from a private home because their older dog did not get along with her. She's a medium energy girl who loves to play tug and chew up her toys (typical puppy behavior). She is now completely housebroken.
During her initial assessment she was labeled 'the life of the party' and she gets a little jumpy but she also has an off switch being a little more restrained indoors. She tried jumping up on me - a few reprimands and now she jumps around me instead of on me. She is crated when I'm at work and she sleeps in her crate at night; she might cry a little at first but settles down quickly and is calm in her crate. Since being at my home she has been pursued relentlessly by my two dogs. If the dogs don't have her completely engaged (by gnawing on and dragging her around by the hind legs) she seems to want to be with her human. She likes to sleep at your feet or will curl up on the couch next to you. This girl is responsive and a quick learner.
She now sits (90% of the time) when requested. She is extremely interested in toys and will bring toys back to you indoors. She does get a little distracted outdoors but she definitely keeps tabs on her human even when at play. Not a flight risk - shows no interest in fence climbing. But she has not been tested off leash. When initially transported, she did pull on her leash a bit (needs leash training).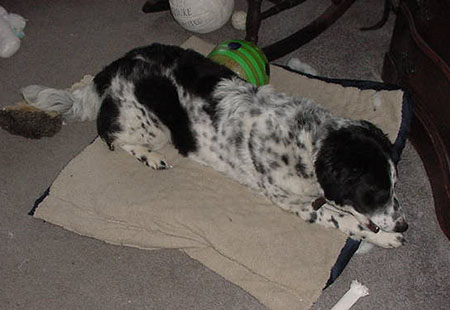 Took her to the pet store and she greeted everyone nicely and was very well behaved. Although she has a small issue with getting in the car (working on making it a more fun experience for her), once she is in the car she settles nicely and even lays on the seat next to you.
While in my lap, she did get a little snippy with an unaltered male dog (I was dogsitting) that came toward me with his toy. I have also seen her get a little snippy with my alpha female over a toy that they both really wanted. Other than that they chase, play and wrestle. Speckles wrestles fiercely and shows low herding tendencies with my dogs. It's okay with her if my dogs chase her, too. She shows interest in my cat and would like to chase him but with a quick redirect she will leave the cat alone.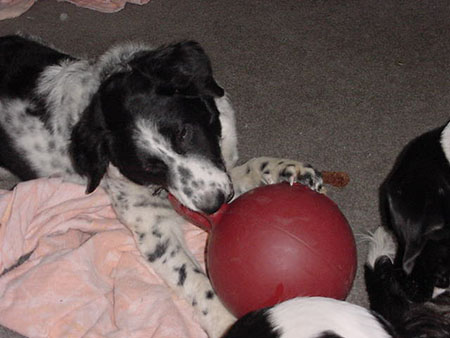 The commands we are working on are: crate (she goes in willingly by throwing a treat inside), sit (gets it 90% of the time), down, stay and leave it. She takes food well from your hand but needs to continue her current training about waiting for her food.
Regarding the house, she is well-behaved but Speckles is a puppy and is still learning new commands and house rules. She has not been kid-tested, but I feel confident she would bond with a child and become a play mate.
Available as of Jan. 14, 2015, Speckles would probably do well in most home settings. The situations I would avoid are another alpha dog or a home with toddlers that she might jump on and knock over. Although her training should be continued, she is ready for her new, loving family!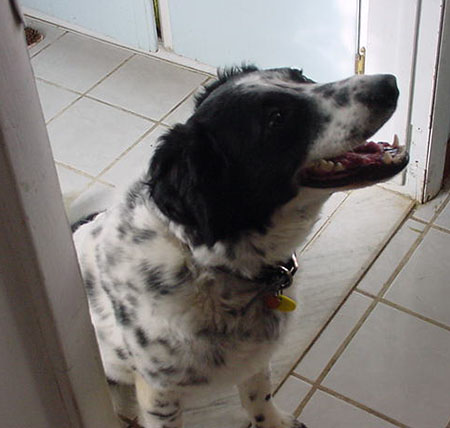 ---
---
Photos
---
Videos