Thelma
Gender: Female
Age: 10 Years
Height/Weight: tbd / 35 lbs
House-trained: Yes
Fenced yard required:
Location: SE Michigan
Foster Home: Wil and Theresa


Crate-trained: Yes
Treat-motivated: Yes
Toy-motivated: No
Likes Car Rides:
Good with cats:
Good with kids:
Commands: Come, sit, down, potty-potty. working on Kennel up
---
This week Thelma had decided other dogs can be fun. She has started running with her foster brother while he plays fetch and play bowing with her other foster brother too. She also takes a break from recieving petting at the dog bark to occasionally chase other dogs! So she went from indifference to enjoyment. This behavior is accompanied by raucous barking! (She has only barked at appropriate times so its been ok but we are ready to correct if she starts that behaviour at inappropriate times.)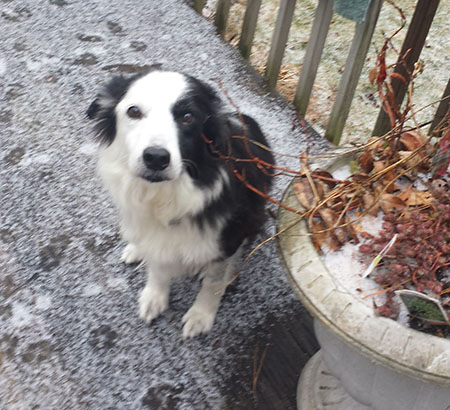 Her increased strength has her able to walk a couple of miles without even being sore the next day. She has been transitioned to straight kibble at meal time. I am hoping she shows an interest in toys soon. In the second picture I believe that her thought bubble would read, "I sat down for your picture, can we go in already because I hate the rain!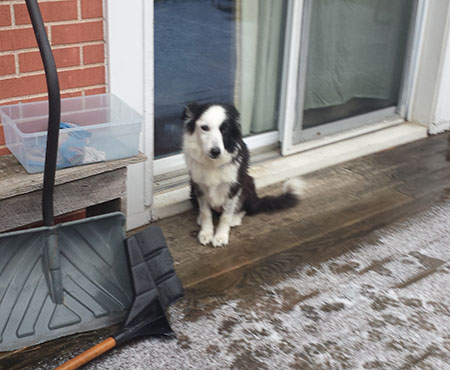 ---
OMG...Thelma nearly brought a tear of JOY to me today.
While at the Dog Park, she was sprinting back and forth between Theresa and I. We were forty to fifty yards apart. She would come flying in way too fast only to skid into a sit for some ear scratches from Theresa. Then I would call her back. BOOM full speed ahead! Tail wagging, stretching out her strides. After the second or third time coming to me, I told her belly rubs. She, without slowing, dropped to her side and turned onto her back while sliding to a stop by bumping into my legs. Tail wagging furiously! After a quick belly rub, Theresa called her back. BOOM, gone again. This happened at least a dozen times consecutively! (Mind you her fast isnt fast by BC standards but it was full speed for her!)
This dog was on her DEATH BED, a few weeks ago. HIGH FIVES all around.
And now a well deserved rest!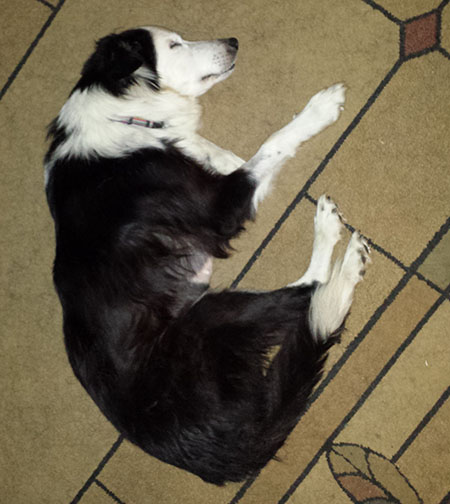 ---
Why do we do fundraisers? Thelma's foster home noticed that her belly area felt odd, so they took her into our vet, it was determined that she had fluid on her abdomen, and would need an ultrasound. On to the next vet, ultrasound performed, where it was determined she had fluid with debris, many cysts, and an infection. She had emergency surgery, even in her weakened condition, to remove all areas of concern. The GREAT vet at Vet Care Specialists also determined Thelma needed a blood transfusion. This caring vet went home and got her dogs that are donors to help GLBCR with our funds. Thelma spent 2 days at the hospital.
Thelma was released on Friday, 11/14 and is back home with her foster family. She is eating well, and presently snoring.
So, what does this have to do with fundraising....Thelma's bill is over $2900...so please help GLBCR out and shop our fundraisers or sign up for igive and download the igive button and choose Great Lakes Border Collie Rescue as your charity of choice when you shop online at over 1500 stores. Thelma and Team GLBCR thank you!
---
TO SIGN UP FOR igive visit:
---
Thelma came in very emaciated and filthy. We weighed her before and after grooming and she lost .2 lbs after becoming clean. She has been taking some coaxing to eat in the form of beef broth, eggs and rice in order to eat. She needs the calories at this point but we are weaning her back to straight kibble if possible with her health issues.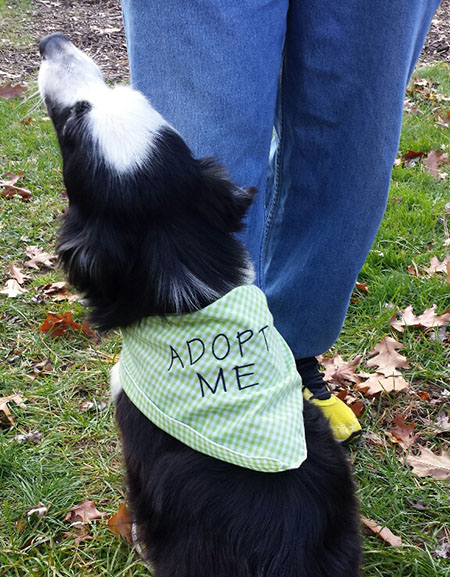 She crates up with a treat. Once she is in, she settles nicely and does not fuss. She has not had an accident in our house and signals by standing next to the door. She tolerates her resident dogs, but does not interact with them as of yet.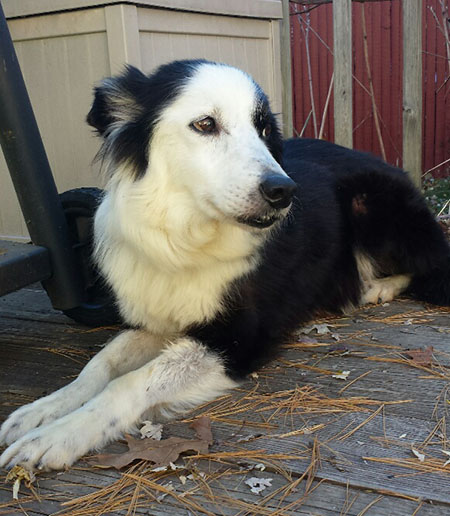 When exposed to a group of people Thelma Lou will sit in front of each person to be petted and as soon as they slow down, she trots off to the next person. This BC seems like her job is to receive cuddles. As far as drive, this old girl would be extremely low. A nice walk is all she would require for exercise. Great house manners. She is not so much shy but hesitant in new situations. She is a VERY happy dog.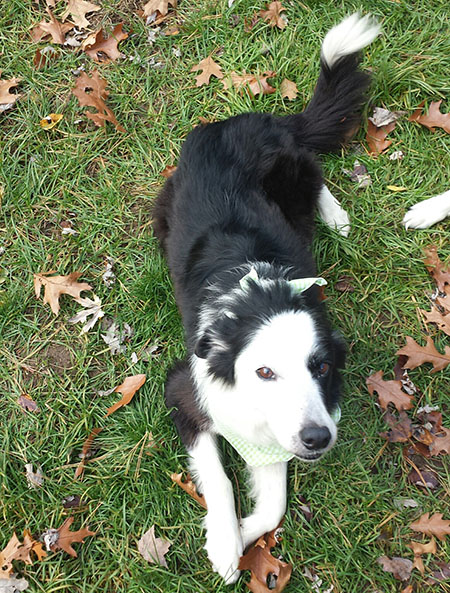 Thelma has severely scarred ear, it is not deformed just stiff with scar tissue. It is an old injury that has no ill effects upon her now. Her teeth and tongue are very worn down. The vet thought maybe she damaged them both chewing on a metal cage. Consequently, we feed her off a plate as sticking her nose in a bowl she seemed to get food up her nose. The plate seems to work a little better for her as she can come in from the side. She has some signs of arthritis in her hips but as her strength is coming back her hips seem to not bother her as much, or maybe it is the glucosamine helping her.
---
---
Photos
---
Videos