Zeke
Gender:
Age: Male
Height/Weight: 26" / 65 lbs
House-trained: Yes
Fenced yard required: tbd
Location: SE Michigan
Foster Home: Jo


Crate-trained: Yes
Treat-motivated: tbd
Toy-motivated: tbd
Likes Car Rides: Yes
Good with cats: LOVES cats
Good with kids: tbd
Commands: sit, down, stay, off, bring it (toy fetching), leave it, crate. He also knows the names of his toys which will come w/ him (squeaker & ball w/ a chuck it)
---
Zeke was adopted in August, 2015. Here he is with his new family!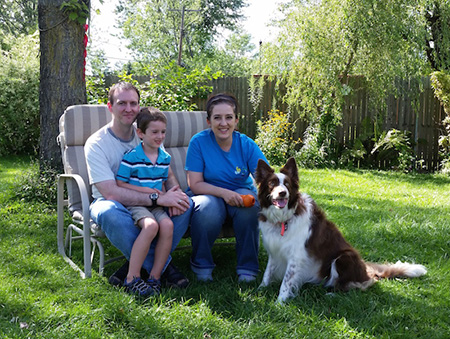 ---
Zeke is a fun-loving boy who is content to sit or lie next to his human. Most of all he wants to play, play, play. He likes to lick you to show affection but we are working on minimizing the licking. Zeke would be great in any family w/ a cat(s), female dogs, school age kids to play with or adults who want to go for walks or slow jogs. Because he is slightly overweight he does not currently have a lot of stamina. We are working on that while he walks with his foster mom and plays with his 2 foster siblings. Although he herds, he possesses only mild herding tendencies. Zeke is extremely well-behaved but he can be just a tad stubborn. For a bigger Border Collie he's just a big sweetheart who wants someone to play with and walk next to - won't you be his buddy?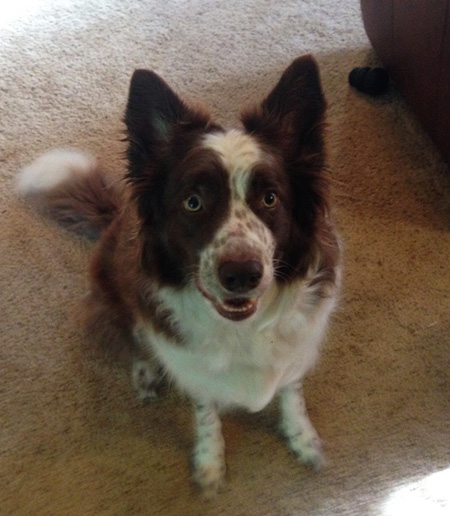 House Manners: He has been raised in a home so knows the basic rules and has been very good in his foster home. Prior to coming into foster, he was left for long hours at a time; if he gets bored, he will counter surf (working on that) or chew on paper.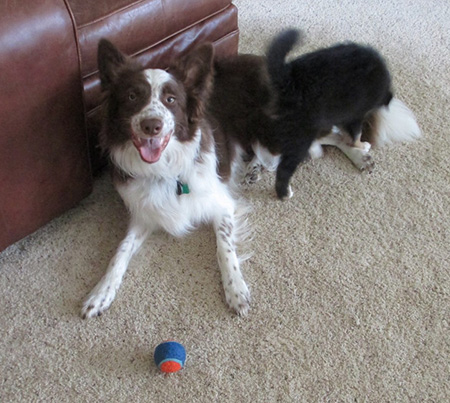 Personality Traits: Lover; loves to play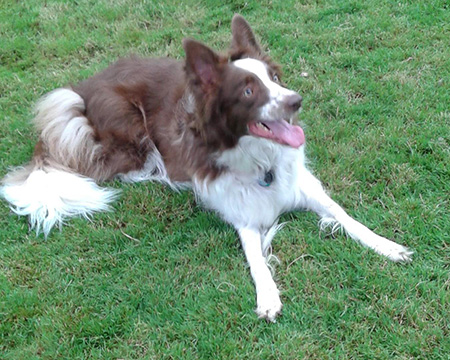 Good w/ Dogs: yes (particularly females); he may need time w/ certain males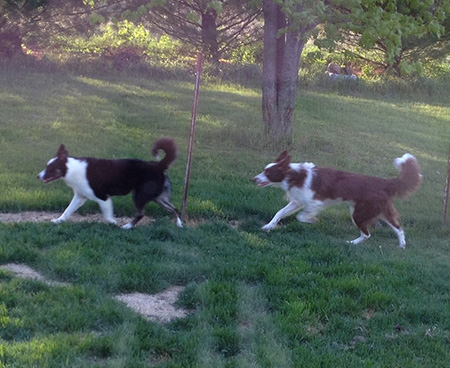 On Leash: He loves to go for walks but has a slight stubborn streak and tries to walk in front of you a bit (working on that)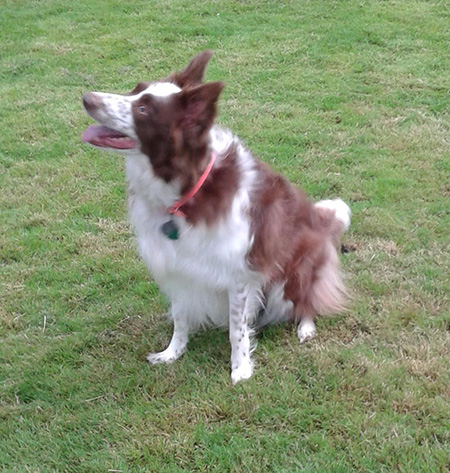 Car: Zeke will willingly jump up in the car but as soon as the car starts he will get to the floor as soon as possible and lay there quietly until the car stops. Once the car stops, he will perk up and take a look at what is going on around him. He does not get car sick.
Barking: He only barks as a watchdog to let me know something is out there I should check out. Otherwise he is very quiet.
Food: He is mildly food protective when another animal is around; best to feed him separately. He is extremely gentle when taking food from a human hand and is not food protective with humans.
---
---
Photos
---
Videos