Ziggy, now Riley
Gender: Male
Age: 7 Months
Height/Weight: 20.5" / 32 lbs
House-trained: Yes
Fenced yard required: tbd
Location: Mid-Michigan
Foster Home: GLBCR


Crate-trained: Yes
Treat-motivated: Yes
Toy-motivated: Yes
Likes Car Rides: Yes
Good with cats: Yes
Good with kids: Yes
Commands: Knows sit; is catching on to down and stay; stays back & waits before going outside if I remind him
---
Ziggy was adopted in November, 2015 and is now known as Riley. We received the following update from his new home:
"Riley is a little sweetheart!!! Actually no issues at all. He has completely settled in, is Quincy's constant shadow, and has worked his way into the heart of everyone he meets. He is getting quite obedient, except he really wants to be outside ALL THE TIME and sometimes resists coming in…but just for a moment. I really cannot say enough good things about him. There are so many adorable things that he does that it would take pages and pages to share them with you."
---
Ziggy is a 7-month-old (as of September 19) male Border Collie/Pomeranian mix. He is happy-go-lucky and loves everyone. Ziggy previously lived with two young boys and a Labrador retriever. He loves everyone he meets and has been introduced to many adults and a five-year-old girl. He does have a tendency to jump on people with his puppy exuberance when he meets them, and I am working on this behavior.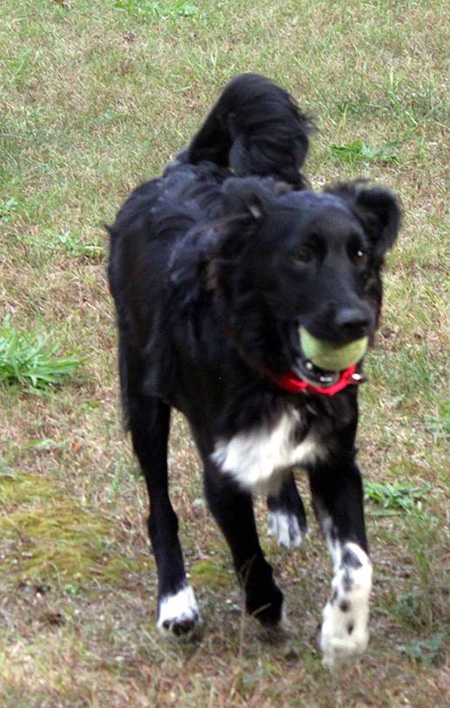 Ziggy is a cuddler. He would climb into my lap on the couch if I allowed it, but I don't allow foster dogs on the furniture. He loves his chest scratched and a good belly rub. He likes to lie by my feet and sleep. Ziggy is quite calm in the house, though he can get excited when someone comes home or a neighbor comes to the door. He likes to follow me around while inside, then lies at my feet when I sit down.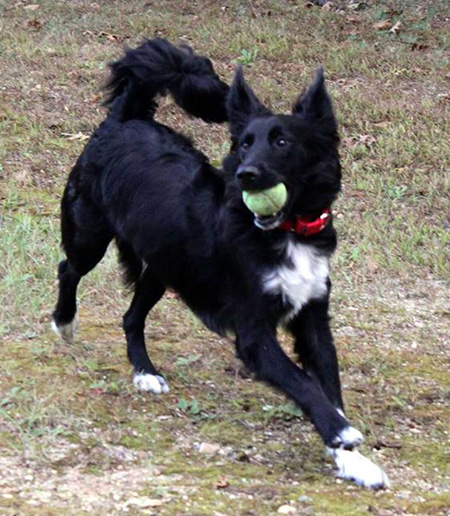 Ziggy knows the sit command and sits nicely when getting treats. He takes treats fairly gently. We are working on the stay command. He will stay, but not for long yet. We are working on the down command. He will lie down for a treat, but resists when there is no food reward offered. Ziggy comes when called about 99% of the time. If he doesn't come right away, it is because he is distracted by something and usually comes on the second call. He has never tried to run off or play the "you can't catch me" game. When I have him in the fenced backyard, he stays pretty close to me and my dog. He has never tried to go over or climb on the four-foot-tall fence.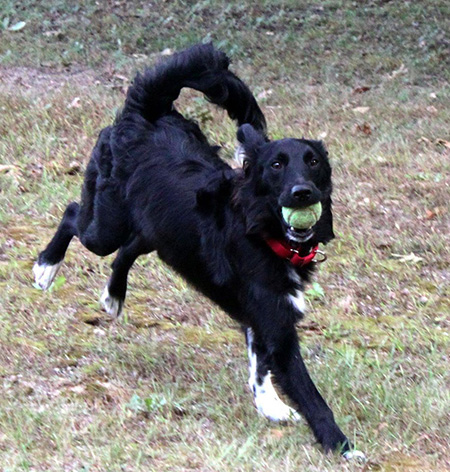 Ziggy gets along fine with my Australian Shepherd, though he will try to put some dominant moves on her if not corrected. This seems to happen less the longer he is around her. He wants to play with my cat, but he keeps a respectable distance from her. He has shown no signs of food aggression and sits nicely before I give him his food bowl or treat. I can walk around him and put my hand down by his food while he is eating. I have never fed him in the same room as my dog - house rule - so I do not know what his reaction would be.
Ziggy is crate trained. He usually goes into his crate when asked, though sometimes during the day I have to use a treat to get him to go in. He sleeps through the night unless I get him up when I take my other dog outside. He's also good in the crate while in a vehicle. He has never gone to the bathroom in his crate. Like most puppies, Ziggy likes to snatch objects on the floor. He likes socks and shoes and hair bands. If he takes something, it is replaced with a Kong or a Nylabone, and this seems to work. Now that he has his chew toys, he seems to be grabbing objects less and less.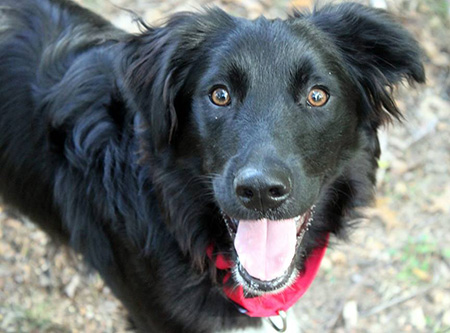 Ziggy is quite playful. He likes to chase after a tennis ball and will return it. He enjoys walks. He pulls a little on the leash, but we are working on this. He has retrieved the Frisbee a couple of times, but he has a hard time picking it up off the ground. He likes to play with balls in the house and enjoys a good chew on a Nylabone or Kong.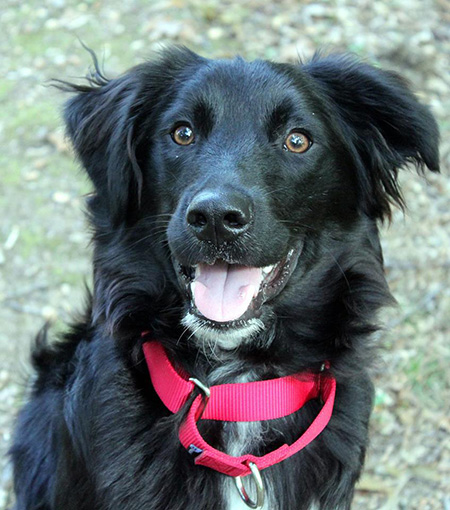 ---
---
Photos
---
Videos