Bailey, now Blizzard
Gender: Female
Age: 2 Years
Height/Weight: 22 1/2" / 40 lbs
House-trained: Yes
Fenced yard required: No
Location: SE Michigan
Foster Home: Jo


Crate-trained: Yes
Treat-motivated: Very
Toy-motivated: Very
Likes Car Rides: Yes
Good with cats: Yes
Good with kids: Yes
Commands: Sit, Down (90%), Stay (70%); Crate; Leave it (70%); Off (60%); Drop It; Closer (for toys)
---
Bailey was adopted in April, 2016 and is now known as Blizzard. We look forward to hearing updates from her new family.
---
Upon arrival, Bailey's coat was coarse but since having better nourishment, her coat is softer and shinier.
Although Bailey loves people, it did take her about a week before she really started looking into my eyes and taking directions and then snuggling. Whomever takes this sweet girl will need to be patient with her until she knows she's staying with you. Great in the house and minds her manners; she has never touched anything she shouldn't.
She possesses a strong ball drive (better own a "chuck it" with this girl or she'll wear your arm out). She is learning to have an off switch when her human no longer wants to play. She is treat and toy motivated with good recall so training comes easy. She has learned to leave her food alone until told she can have it and I have been making her sit & wait at the door when people come or when it is time to play (still needs work). With regard to fetching -- she's a natural and is learning to place the toy in my hand rather than throwing it at my feet. One thing about Bailey though, she can be a bit like a bull in a china shop when it comes to retrieving - nothing will stop her from getting that ball!
Occasionally she will wrestle with her human or another dog and she will throw paws at you or lightly wrap her mouth around your hand in play but never in an aggressive manner.
Shows no desire to jump fencing, she just wants to be with people. She is very athletic (a fast runner and will jump for toys) and so would probably do well at flyball or other doggie sports.. Have not noticed any herding instincts yet.
The ideal home for Bailey would be a large yard (not necessarily fenced) with an active person or couple who like to run (I think Bailey should explore other things than just focusing on her ball). Once Bailey gets to know you, she will be your constant friend and companion. She needs to begin that journey with her special person or people.
---
Where's the ball, where's the ball -- that's the mantra of this sweet girl. Prior to coming into our foster system, this girl was picked up and taken to a shelter -- two families had chosen not to keep her, we can't understand why. She is attentive, has great recall, likes to sit with you, belly rubs and be petted, but most of all, she WANTS TO PLAY. If you want to choose Bailey, you better own a "chuck it" for throwing tennis balls. She does show interest in catching Frisbees as well. She gets along with other dogs although she can start out a bit snarly if they get in her face. She doesn't pay much attention to my cat. Bailey does not show much interest in playing with other dogs - she prefers her human just throw the ball, but she has been caught chasing her foster siblings (both girls).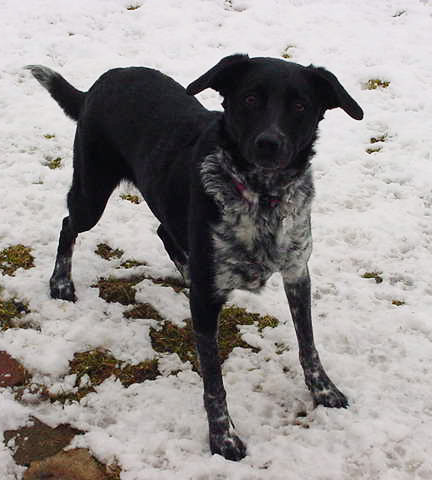 Commands are a breeze for Bailey quickly learning any command I throw at her. Although she may give a little bark to get your attention, she is basically quiet. In her crate, if you are around, she may cry a little. If you are leaving, she is perfectly well-behaved in her crate. Bailey is so happy when she is with her human; she will shadow you everywhere and lay quietly at your feet as if to say "Please don't leave me alone again." Bailey will be available as of March 17, St. Patrick's Day.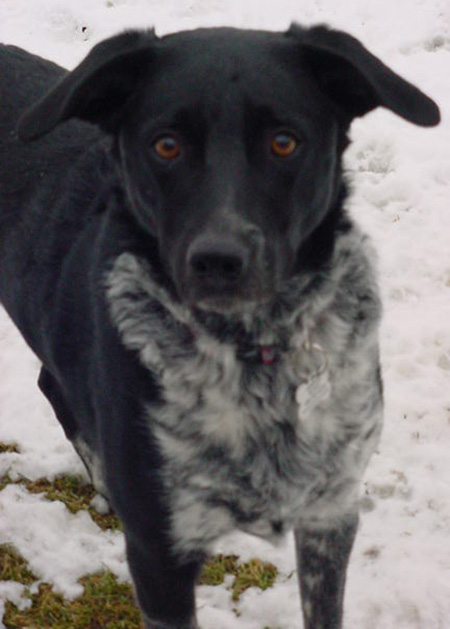 ---
---
Photos
---
Videos