Colby
Gender: Male
Age: 13+
Height/Weight:
House-trained:
Fenced yard required:
Location: SE Michigan
Foster Home: Peggy


Crate-trained:
Treat-motivated:
Toy-motivated:
Likes Car Rides:
Good with cats:
Good with kids:
Commands:
---
Colby passed peacefully in mid-January, facilitated by the same wonderful vet who assisted Avery last August. Iím not sure why this has hit me so hard. I mean, itís not as if it was a surprise, or that I expected to have him with me for the next few years. So long as he was content hanging around with us, I was willing to help him stand up and coax him to eat. But last Monday, the light seemed to go out of his eyes, and I knew it was time. I hope that wherever he is, there are plenty of tennis balls, and theyíre all in motion. Godspeed, big guy.
---
We've always said that GLBCR will be there for the life of the dog. Meet Colby.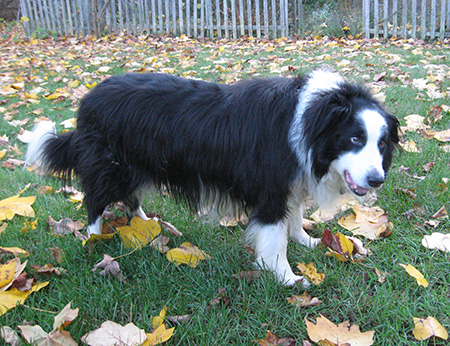 A few of you may have met Colby once before. Back in 2004.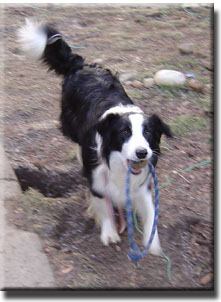 Back then, a Good Samaritan found Colby running loose and took him to a local vetís office. When the owners never turned up, GLBCR got involved. The vet (who was NOT a Good Samaritan) refused to relinquish the dog to us unless we paid them to have him ďcompletely vettedĒ at their full, non-rescue discount prices (something like $250 - $300). If we didnít pay Ė too badóthey were going to euthanize him. Fortunately, the original finder stepped up and paid the ransom, and handsome Colby came to GLBCR and to my house right before Christmas, 2003. Iím not sure on the count, but he may have been my fifth or sixth foster dog.
Colby was a wonderful dog, the nicest purebred I ever fostered. He was a great house citizen, got along with everyone (even Sam), and other than a burning desire to play fetch 24/7, he was all anyone could want in a companion. I took him to the Winter Dog show at Novi in 2004, where he distinguished himself by repeatedly stealing a brightly-colored stuffed toy from the Boxer Rescue in the next booth. After I returned it for the seventeenth time, the nice lady at the booth told me he could keep it.
Fast forward almost twelve years, and Colby is once more in need of foster care. And thatís not even the worst of it. Poor Colby isnít in the greatest of health. He is mostly deaf, and developing a cataract in his right eye. Heís overweight, a little unsteady in back end, his coat is terrible and his teeth are worse (probably from 13+ years of playing ball). Imagine a super-sized Auntie Avery who doesnít flop over like a fainting goat every time you grab his collar. Sadly, heís not as mentally sharp as Avery was (on top of everything else, heís a bit foggy).
Oh, and one more thing. Colby was diagnosed with a cancerous adenocarcinoma tumor in his nasal cavity in April, 2014. His life expectancy was such that owners were told not to bother giving him heartworm preventative last summer, because he wasnít going live long enough to develop heartworms. Yet here we are. First thing he did when he walked in the house? Found a tennis ball.
Iím not sure what the future holds for Colby. GLBCR will not be placing him up for adoption; he will be a hospice dog and weíll do what we can to make his remaining days comfortable. Despite everything, he seems to be a happy, waggy boy. Colby doesnít seem upset, so Iím trying not to be either.
---
---
Photos
---
Videos