Gazoo
Gender: Male
Age: 14 Months
Height/Weight: 22" / 52 lbs
House-trained: Yes
Fenced yard required: tbd
Location: SE Michigan
Foster Home: Mark and Barbara


Crate-trained: Yes
Treat-motivated: tbd
Toy-motivated: tbd
Likes Car Rides: Yes
Good with cats: learning
Good with kids: tbd
Commands:
---
We brought Gazoo home from the Dog Bowl in Frankenmuth. His new name is now "Paxton", or "Sir Paxton of Concord" (if you wish to be formal - Mark, his foster dad, enjoys using the more formal name).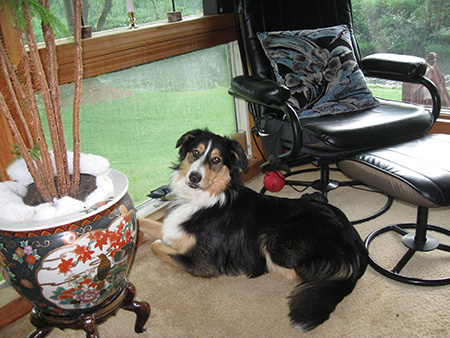 When we got him home we took him for a walk around the yard on a long leash. As he was exploring and checking out all the new smells, a group of kayakers came by. We live along a small river (it's about a foot deep and 20 feet wide behind the house). To our surprise, Paxton jumped into the water and calmly walked over to say hi and just greet the people in the kayaks. He didn't bark, growl or show any signs of aggression - he just wagged his tail and wanted to be friendly. What a cool dog!
Well, Paxton told us he wanted to keep us and he is getting settled in. He sleeps really well in his crate at night. He knows he is not allowed on the furniture; he mostly knows what his chew toys are but has gotten into a few that aren't. So we set up a toy box where all his toys go. Hopefully, he will learn to only chew on things that come from the box.
He has been a dream dog. He is enjoying learning all the new sights and sounds now around him--he especially enjoys looking out the big picture windows in our river room spotting various squirrels, chipmunks, etc. They are a great babysitter as well! Ha! For the most part, he is really settling in well, eating good, too.
Paxton is at a very good weight and we want to keep him there. We can feel his ribs but he has some meat on his bones. Bruce says "I wish I had a nice trim waist like he does". So, we are trying to figure out a feeding schedule that will help him maintain his weight, without getting heavier.
We are committed to help Paxton have a happy and healthy life. Jami says "I told him this is his forever home if he'll have us - and I got a kiss!"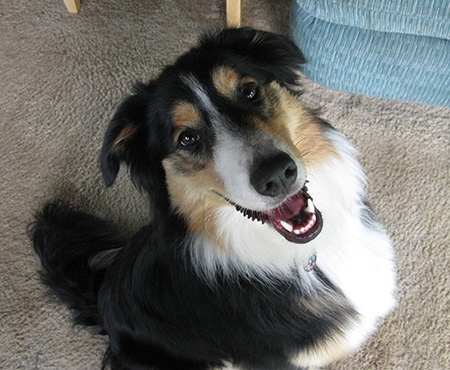 ---
Paxton was adopted in May, 2016. Here he is with his new family, along with foster dad, Mark (right).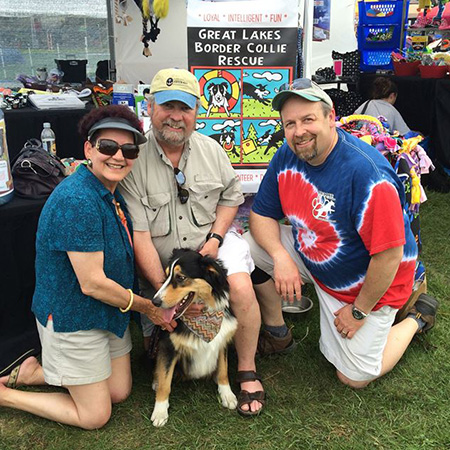 ---
Notes from the foster home: Gazoo settled in and for the most part gets along with our dogs. Good ball drive, learns very quickly, wants to be with people, excellent recall. Hasn't been around little kids yet. Good on leash. Takes corrections well from humans, not so much from our older pack members. He is getting a lot of groceries and has almost filled out to an healthy weight.
Bark meter: low
Learning ability: high
Cuddle factor: very affectionate, he's a leaner (likes to lean against humans)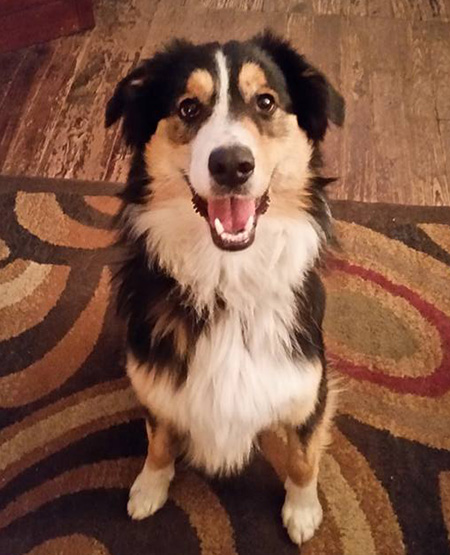 ---
---
Photos
---
Videos