Jake
Gender: Male
Age: 6 Years
Height/Weight: 22.5" / 72.4 lbs
House-trained: Yes
Fenced yard required: No
Location: Mid-Michigan
Foster Home: Pam and Roberta


Crate-trained: Yes
Treat-motivated: Yes
Toy-motivated: learning
Likes Car Rides: Yes
Good with cats: No
Good with kids:
Commands: sit, down, kennel-up, "where's your toy?
---
Jake was adopted in June, 2016. Here he is with his new people!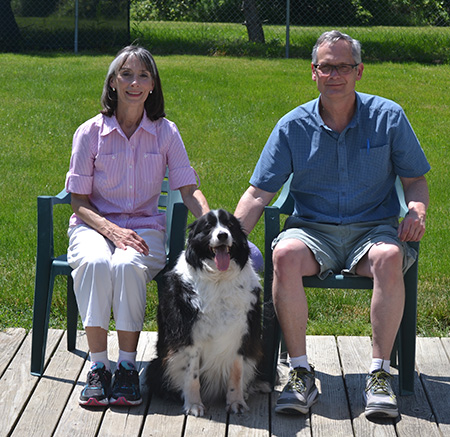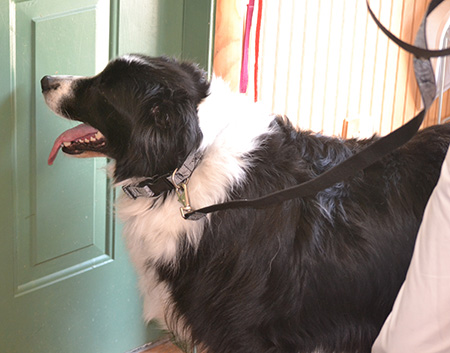 "Let's go to my FOREVER home!"
---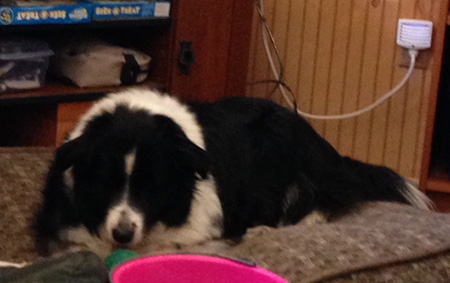 Jake LOVES a BIG, comfy dog bed with a good Nylabone to chew during our TV time together! When he's finished with his chew, he'll come to lay by my chair & nap. Like many smart & seasoned dogs, he also seems to read my intent, as well as anticipate without words.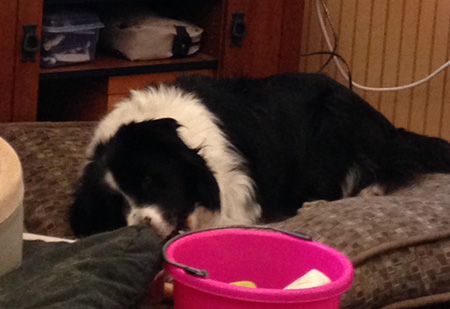 ---
I've had Jake a month. As an "anniversary gift", I took Jake to be weighed. He came to me weighing 80 pounds, and one month later, he now weighs 72.4 pounds! Jake is also a little hypothyroid, & I started him on thyroid medication last week. After he has been taking it a little while longer, I'll recheck his thyroid levels to make sure he is on the correct dosage. Being on this medication will also help him continue to lose weight. Thyroid medication is inexpensive to give, so that shouldn't be a deterrent for adopting him!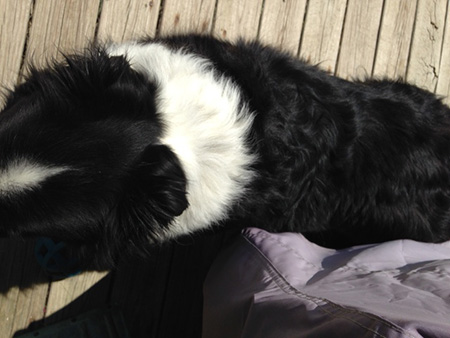 Jake's "brother" Cody's adopter reports that Cody has impeccable house manners. I have no doubt that Jake has the same wonderful manners.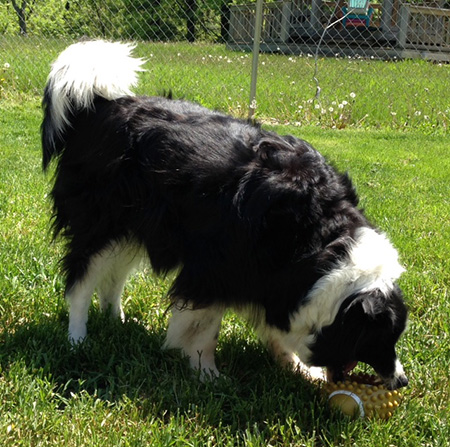 Most importantly, I know that Jake is waiting for someone to call his very own; someone to be his very own "bud". He misses that.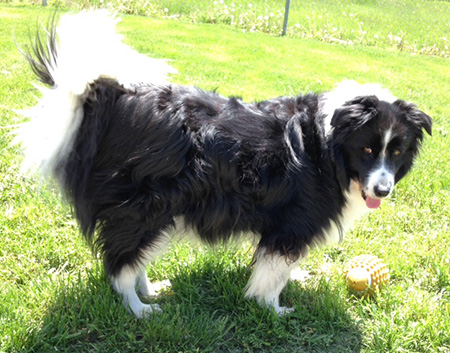 ---
ďIím looking for a dog who wants to be with me all the time.Ē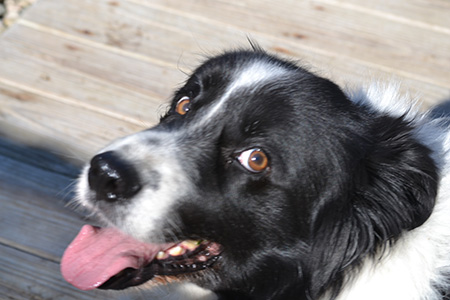 Check!
ďIím looking for a dog who will hang around with me when I am outside.Ē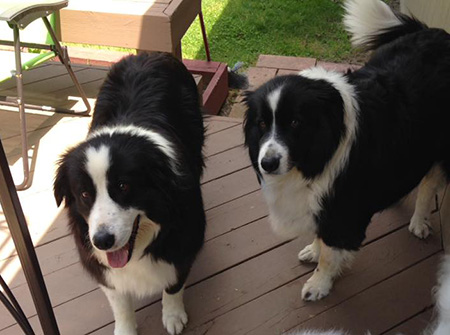 Check! In fact, once they know where they live, I donít think they will need a fence at all!
ďIím looking for a dog that is mature, so I donít have to endure the adolescent stuff, but is still active and engaging.Ē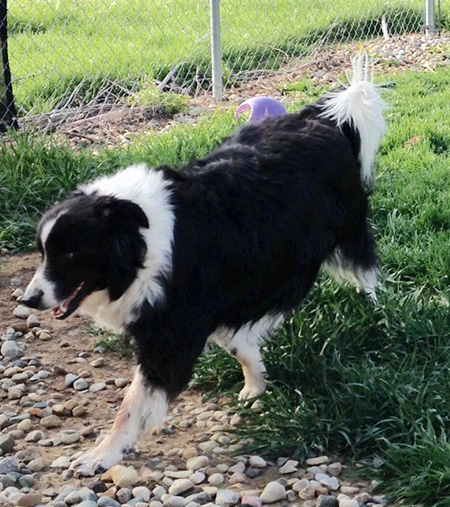 Check!
ďIím looking for a dog that will chill while I am relaxing in the evening or watching TV.Ē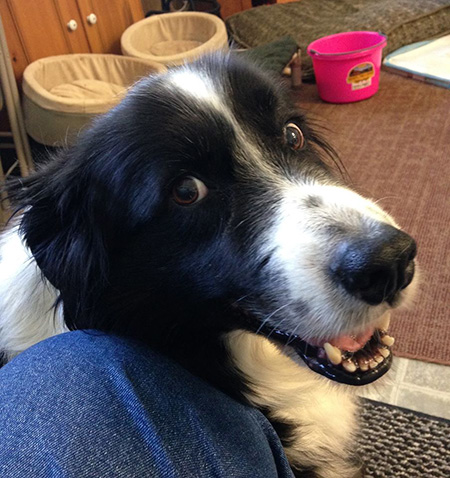 Check!
ďIím looking for a good-looking, purebred Border Collie.Ē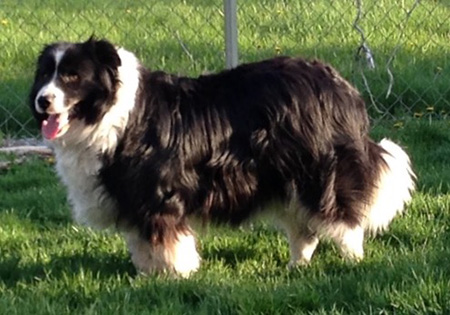 BIG check!!
Jake and his buddy Cody were taken in by a neighbor when their owner died. They did wonderful as mostly outside dogs on the farm, except for one thing: one of the boys didnít get along with the resident dog, and there were squabbles. That is how these boys ended up in GLBCR.
There was no neglect. There was no abuse. These dogs were deeply loved by their owner who died. If you look at their photos, youíll see that they were loved with food, too! Jake, when he came to me, weighed 80 pounds! That is almost TWO Border Collies in one dog! Cody weighs a little less at 63 pounds, but is still overweight. Here with me, they are both on a strict diet, and I hope to get a weight soon to see how the diets are working.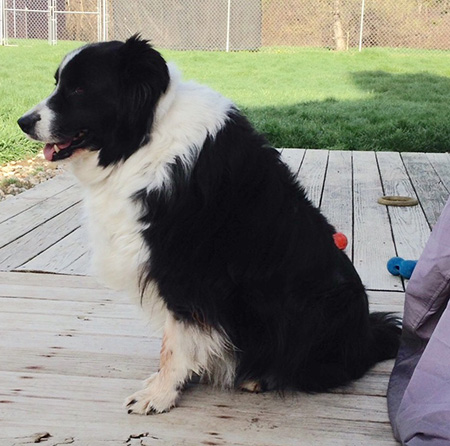 Although they spent much of their time at the caretakers home as outside dogs, it is very clear they are inside dogs! If I am not outside with them, they want to be in the house. They will just sit by the door and wait to come inside! They have a nice fenced yard with a nice deck to lounge on and many different toys to play with, but they just want to be with me!
Both boys are crate trained (I donít know if they were, previously, but they are now!) and appear to be housebroken. They LOVE to be petted and given affection. Jake is the one who will lie at my feet when I am watching TV, and Cody stays right nearby. Both dogs LOVE to chew on any of the different chew bones I have. Plush toys seem to be a project meant to be torn apart, though.
I have Chihuahuas, and both boys will stalk them every time they see them, and if any Chi goes near a crate, they sometimes will lunge at them. For that reason, I would advise NO small animals. Iím sure there had to be cats on the farms they were on, but I am unsure how they are with cats. I would suspect if a cat were to be afraid of them or run from them, they would give chase. A ďdog-brokeĒ cat may be OK, as long as the new owner is VIGILANT in keeping the cat safe and correcting the dog! In their general profile I will say NO to cats, however, because many people wonít do what it takes to keep the cat(s) safe, and I donít want these boys to come back simply because of their instinctive prey drive.
Speaking of correcting! These dogs are VERY responsive to correction. They are fairly soft dogs, especially Cody, and they donít like to be wrong. As they get to know their new environment, fair guidance will go a long way. They know their names well, and since their names are not associated with anything bad, I would recommend their names not be changed.
Both boys were born in September, 2008, but they arenít litter brothers. I suspect, though, they have lived their lives together. They can ďoperate independently,Ē though they are very used to being together. Finding a home for TWO BCs together I think will be difficult, so I am willing to adopt them out to 2 separate homes. Iím sure they will go through a mourning period in addition to the adjustment period every dog must go through when they are first adopted. If their new homes concentrate on building a bond as well as a strong relationship, each dog will probably revel in the fact they donít have to share with each other. I would recommend, for Jake, a home with no other dogs OR with another female dog, because heís the one who squabbled with the caretakerís male dog.
Both of these boys are neutered and up to date on their vaccinations and heartworm test. They each had a metabolic blood panel done, too. Jake is low Thyroid, and is just starting on medication for that, and will be tested again after he is on the medication for 2 weeks to see if the medication strength is appropriate.
Both Jake & Cody are lower energy Border Collies, though I think their excess weight can contribute to that. Jake, even with his extra weight, will put his front paws up on my lap looking for attention. I think heíd like to be a total lap dog!
All in all, these wonderful boys did nothing to cause them to lose their home; unfortunate circumstances did. They are just looking for someone to continue giving them the love they crave!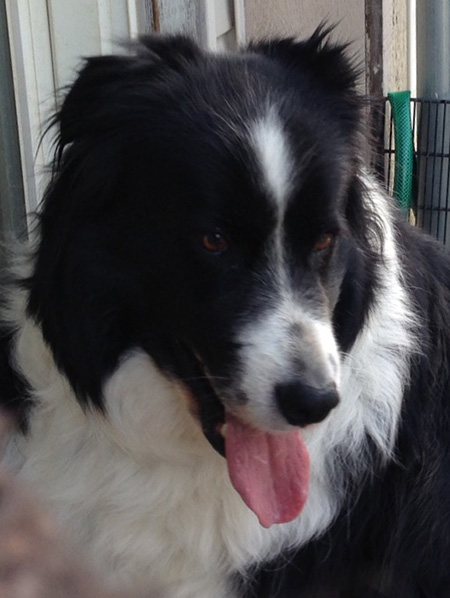 ---
---
Photos
---
Videos