Lou, now Cree
Gender: Male
Age: 8 Months
Height/Weight: 19 1/2" / 29 lbs
House-trained: almost
Fenced yard required: Yes
Location: Mid-Michigan
Foster Home: Debbie T.


Crate-trained: Yes
Treat-motivated: Very
Toy-motivated: Squeakies!
Likes Car Rides: yes
Good with cats: yes
Good with kids: yes
Commands: Sit, No
---
Lou was adopted in March, 2016 and is now known as Cree. He's fitting in well and has already been to his first disc dog event.
---
WHOA! Double take!!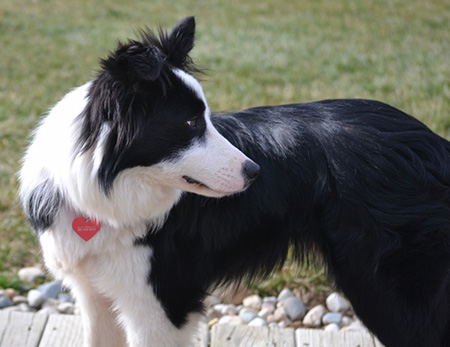 This boy is stunning! Lou is ALL THAT and more! He will be fun to show new stuff to!!! His new family will have a blast teaching him EVERYTHING and deciding on a really cool very Border Collie name… Lou just does not suit him.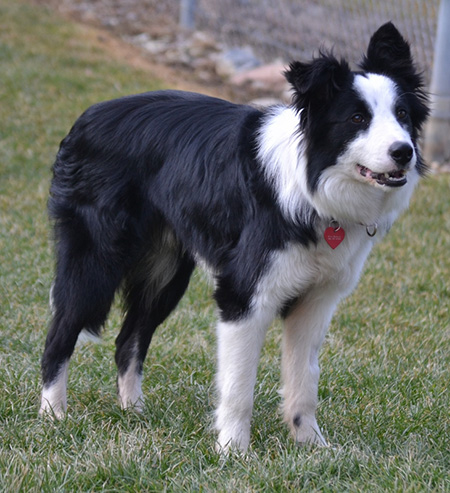 There is a LOT of adventure & fun in him, just waiting to be released. His new owner MUST commit to help him explore & understand everything new and quite probably scary in his world. This dog, without a confident advocate, very well could go down the path of a tentative and fearful pup. Socializing and showing him all of the cool things that this world has to offer in a very positive, upbeat manner will go a very long way in helping this young guy grow and flourish mentally.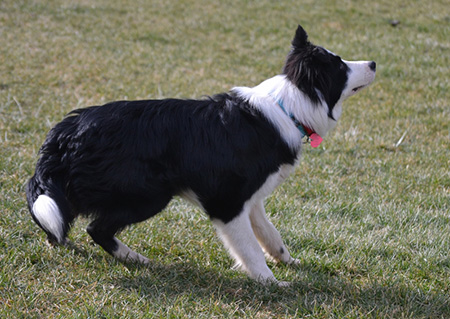 Lou came to us from a shelter in Ohio. He was so shut down and within himself when he arrived at the shelter; the volunteers there spent a TON of time with him to get him to start to open up. Now he is a very happy puppy that LOVES his humans. There is not a person that he has met that he hasn't asked for attention: KIDS, men, women. Everyone.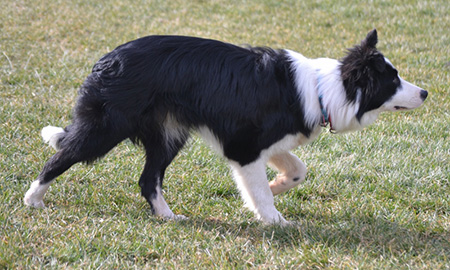 He loves to play with toys. The ball is his favorite. He will fetch and will sometimes retrieve it back to me. Lou will entertain himself by emptying the toy box and spreading toys all over, choosing some to mouth and play with. He will pounce like a cat to get them to shoot out from under his feet so he can chase them again. Like any 2 year old child, everything that is not nailed down goes in his mouth: shoes, newspaper, cookie wrappers, even his stainless steel food dish. With my guidance, he is learning what is his and what is not. His curious and exploratory behavior is not a bad thing! It is wonderful that he has no fear of picking up new & different-feeling things, like metal! and that can go a long way for someone who wants to work toward different retrieving games.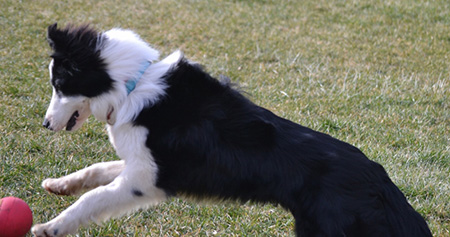 Lou is very smart puppy at 8 months old. He was taught to sit, and he does that very nicely. It seems he was not taught anything else in his previous life, wherever that was. He needs to learn basic home manners as well as oh-so-many more commands, like "down", "come", "stay", "leave it", "off", and even his name! He is not reliably housebroken. One reason is because he will not willingly go out the door into the outside world on his own. Once I lead him through the scary doorway, he is fine. He does his business and then plays with the toys outside and has a good time. I believe that he was chased down and caught (maybe very forcefully) in his past life. He plays the chase keep away game very well, so he must have had a lot of practice at it. This is also something that we are working on with a drag leash and lots of yummy treats so that he learns that coming to people is a really good rewarding thing. He is developing a great off switch in the house. Lou really is a blank slate, so any and all training will be good for him. He is agile and fast, so any dog sport (agility, flyball, obedience, rally) he should excel at. Although he is a beautiful, fast and fun boy, his new adopter MUST understand that a solid foundation of basic training and manners must be their VERY first investment into this dog. Setting a good foundation will take some time, as Lou is a young dog with an immature and innocent understanding of the world around him. Have patience and take time and your return on your "investment" will be bountiful!
If you are looking for a good looking young dog that you can have fun molding into a life-long and devoted companion, Lou could be "the one" for your family!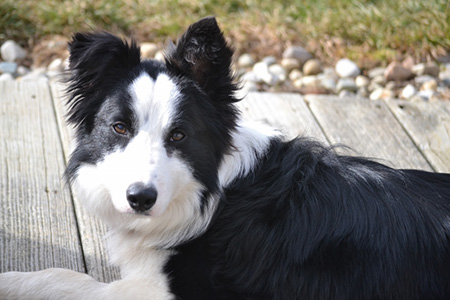 ---
---
Photos
---
Videos