Remy
Gender: Female
Age: 2 Years
Height/Weight: 21" / 36 lbs
House-trained: Yes
Fenced yard required: Recommended
Location: West Michigan
Foster Home: GLBCR


Crate-trained:Learning
Treat-motivated: Yes
Toy-motivated: Yes
Likes Car Rides: Anxious
Good with cats: Yes
Good with kids: older
Commands: Sit, down, stay, come, leave it.
---
Here are a few new photos of Remy for you to enjoy!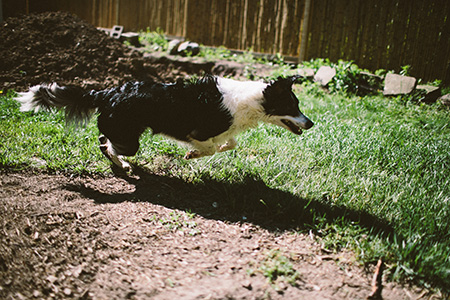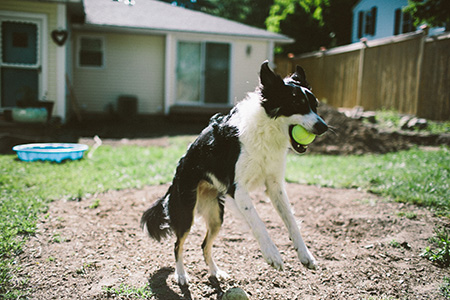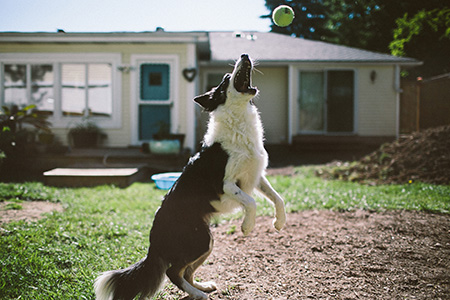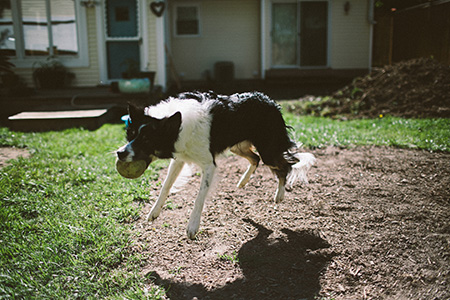 ---
Remy is a gorgeous tri-color border collie with loads of energy. She loves people, gets along with dogs and cats, and is well mannered but would run and play almost every minute of the day if given the opportunity. She especially enjoys tennis balls and will drop them at your feet repeatedly to suggest that you should throw one for her. Remy is also a good runner and has gone up to 5 miles with her current foster mom. She does best on an easy walk harness right now, as she has a tendency to pull and wander a little bit if wearing just a collar. She also does fairly well off leash, but does show a mild interest in some cars and other distractions.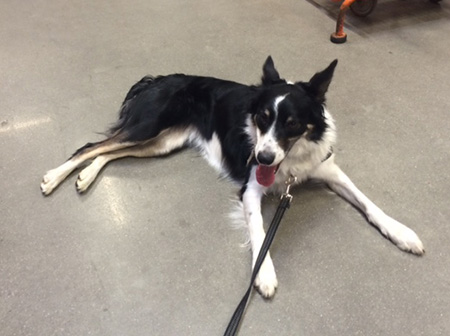 When she first moved in to her current foster home, Remy and the resident dog got on each other's nerves a bit, because Remy wants to play all the time. They are getting along great now, although Remy still occasionally pushes the boundaries with her desire to wrestle. She doesn't have much of an off switch in the house, but we think this is mainly due to the presence of another dog. With time, she might mellow out around another dog, and in a home without another dog she would likely be much more calm inside, aside from asking the humans to throw a ball for her.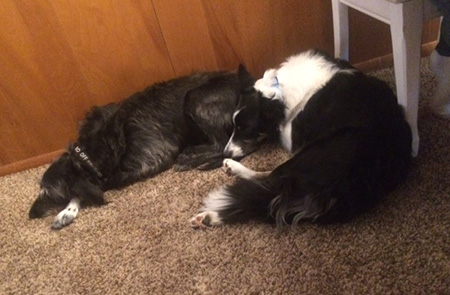 Remy came into foster care because of some inappropriate urination. She is potty trained, but in her previous home she had a few accidents on beds, and she peed on the floor in her first day at her new foster home. Since then, she has gone two weeks without an accident (as of May 21), and we believe the problem is rooted in anxiety and/or submissiveness. Positive reinforcement, establishing clear boundaries, exercise, kenneling her at night and not allowing her on beds will probably help prevent accidents in the future.
Remy does guard her food and kennel, so she should also be fed alone in a house with other animals. Most of the aggression in her kennel is when an unfamiliar dog or person approaches and she is closed in, but this does seem to subside when she gets familiar with the dog or person.
This is an affectionate, playful, and active dog. We think she could excel in flyball, agility, or as a running companion. She also already has her Canine Good Citizen certification (though she could use some brush up practice on those skills), so she will definitely be an outstanding dog for someone willing to give her an outlet for her energy and work on the two minor issues she has displayed. Again, the urination inside seems very preventable based on how she is doing at her current foster home.
---
Photos
---
Videos