Osito
Gender: Male
Age: 2 years
Height/Weight: 19" / 43 lbs
House-trained: learning
Fenced yard required: No
Location: SW Michigan
Foster Home: GLBCR


Crate-trained: Yes
Treat-motivated: Yes
Toy-motivated: Yes
Likes Car Rides: Yes
Good with cats: Yes
Good with kids: Older
Commands: sit
---
When your foster dog thinks he's a scarf...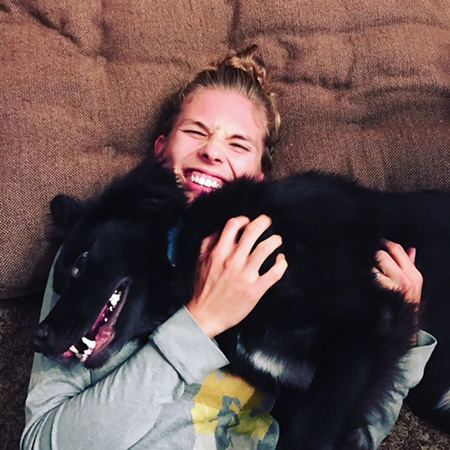 ---
Osito (Oh-Seat-Oh) is named for his looks; Osito is the Spanish word for "Little Bear." While he maintains the physique of a ferocious grizzly cub, his personality is the complete opposite. (Just kidding, he isn't that ferocious looking.) Once he has passed the initial shy phase, he becomes a Velcro dog that loves getting brushed, pets, belly scratches, and any form of attention. He wants nothing more than to please his person and is the ideal candidate for an Adult 101 Obedience Class. Osito is also great with cats, and likes playing with dogs although he has some initial shyness with them as well. He could also thrive in a home with older children who have good doggie manners.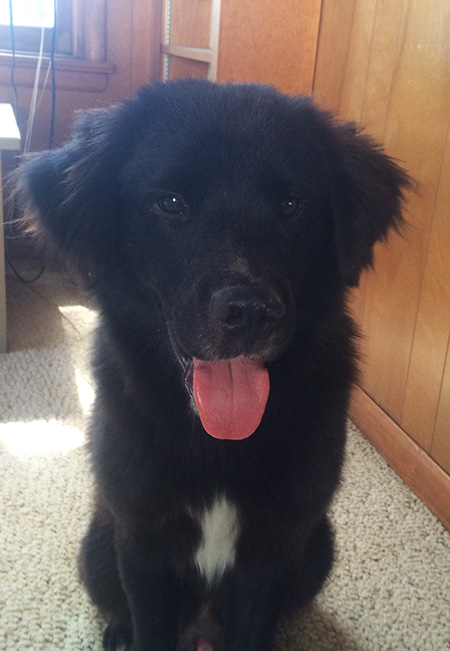 Osito arrived in foster care scared and nervous. He was pulled from a hoarding situation with his brother, Teddy Boy, and as far as we know, has lived the majority of his life outside. We suspect he has had positive interactions with some humans, as he isn't afraid of people, just shy. A month ago, Osito was very hesitant in new situations and having witnessed his progress makes our hearts full. He has blossomed into a much more confident dog who loves going for walks, playing with his foster sister, learning more tricks, taking naps on his blanket, and eating kongs filled with peanut butter. In his first week with his foster family, he did not want to walk any further than the end of the driveway, and now he loves walks and can easily go 3 or more miles at a time. Osito's foster sister is very outgoing and quick to direct his behavior and that has been very helpful. Currently, he is even approaching some new people and dogs when he goes out for walks or to the dog park.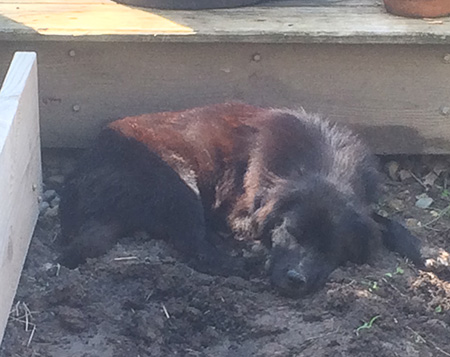 The main thing to take into account when working with Osito is that a lot of things are very new to him, and he takes a little time rather than rushing into new situations head on. He has proven to be very adaptable if given that time, and his eager to please personality serves him very well. At the moment he is still working on potty training, and accidents have become very rare. Osito does not need to use the restroom very often, which means that accidents are easily avoided if he is given opportunities to go outside and not left unattended inside while he is still learning. He walks incredibly well on a leash, but as he has gotten more comfortable walking, he has shown some interest in chasing squirrels and rabbits.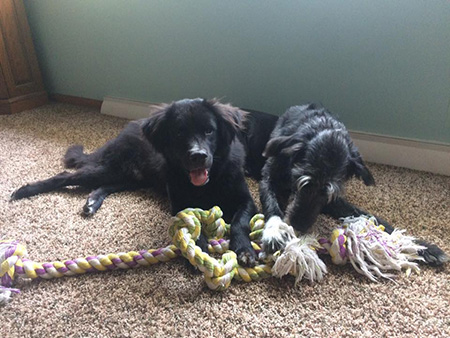 Playing with a rope with my foster sister. (I'm on the left.)
---
---
Photos
---
Videos