The Red Barron
Gender: Male
Age: 7 Months
Height/Weight: tbd / 43 lbs
House-trained: Yes
Fenced yard required: tbd
Location: SE Michigan
Foster Home: GLBCR


Crate-trained: Almost
Treat-motivated: Yes
Toy-motivated: Yes
Likes Car Rides: Tolerates
Good with cats: Yes
Good with kids: Older (12+)
Commands: Sit, Down, kennel up, circle, and learning more.
---
Barron continues to grow both physically and mentally. He is a very affectionate dog and just loves people. He really only plays with our young female Rue, is respectful of the older dogs in our pack and has good communication skills with other dogs. He played heavily with previous fosters Miggy, Baloo, Junie, and of course Higgins. He likes to play rough but he can tone it down to play "nicer" with softer dogs. I think Barron may need to go to a home with another dog, an alpha dog that likes to play as well. I think Barron would not be suited well for a home with a submissive dog. Barron does well with cats and has broke the ice with our dog-savy cats and has actually befriended them now. He continues to learn new tricks and is a very attentive student. Over the next couple weeks we will be walking Barron on leash outside our yard more often to see how he responds and to work on his leash manners a bit, but his leash manners are not an issue. Also will be getting him out alone on long lead in a big field to see how he does. He does have an off switch but is the type of dog that will require daily exercise. He does have better house manners when he is the only dog in the house and all of our other dogs are in the backyard.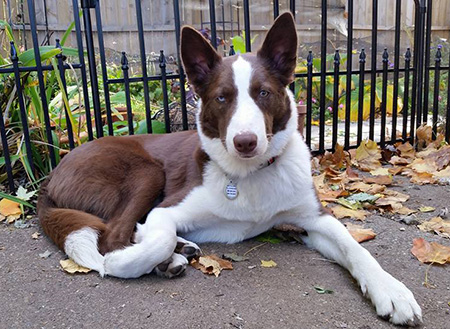 ---
New Tricks!
---
The Red Barron is a YOUNG dog and he is every bit as handsome as he appears in his photos. He looks like a full grown adult dog, but he's only about 8 months old. I have to keep reminding myself that he's just a puppy!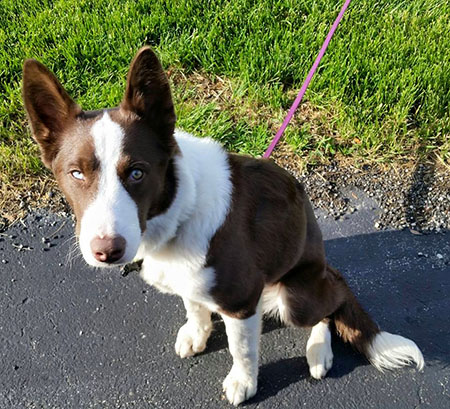 This guy is showing me that he's a super quick learner and is full of energy and his new owners will need to be prepared to harness that energy. I think there's a lot of untapped potential with this young boy. He's only been with me for a week, but he's doing really well. I've spent some time playing with Barron and some of my FitPAWS equipment. He's really enjoying the interaction and wants to work for me. :) He gets about a 30 minute training session and is taken outside for a potty break. When we come back inside, he goes right into his kennel and crashes (and snores). What a good boy!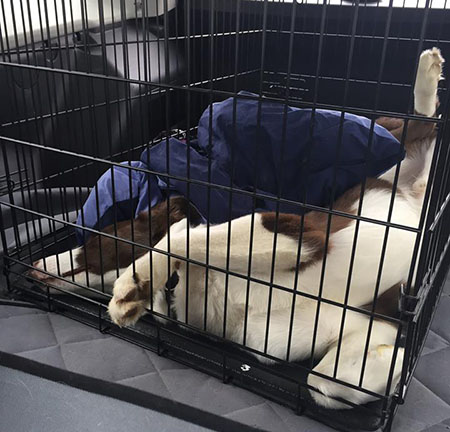 Freedom ride...nap?
Barron could be a LOT of fun, consequently he could become a real mess if we don't match him up with the right family ready to handle his energy and focused on his training. He's already learned that his crazy puppiness isn't appropriate. He is a resource guarder (food and high value treats), therefore we're being really careful. When he first arrived, Barron was guarding the water bowl from the other dogs, but he is learning that is not appropriate behavior. He does not guard toys. I've hand fed him his meals a few times, and we've seen some improvement. We're being super careful with this boy and taking our time to ensure the experiences are good for Barron (and us).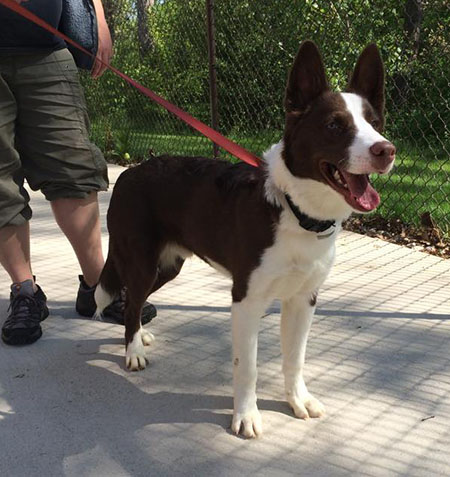 Barron is getting used to his kennel. When we bring him inside he goes right to his kennel, therefore he is learning our routine. Barron is kenneled more than I would prefer, but for now we are juggling (3) puppies and all are taking their turns being kenneled, for now. I would venture to say he is nearly crate trained. However, he prefers to sleep in a kennel in our bedroom at night (otherwise he barks a LOT). Barron is house trained.
Please note: Barron is ONLY going into a home with previous BC experience and I would prefer NO young children (no kids under 12 years old) due to resource guarding.
---
With GLBCR volunteers Meribeth and Jenn, shortly after being sprung from the shelter.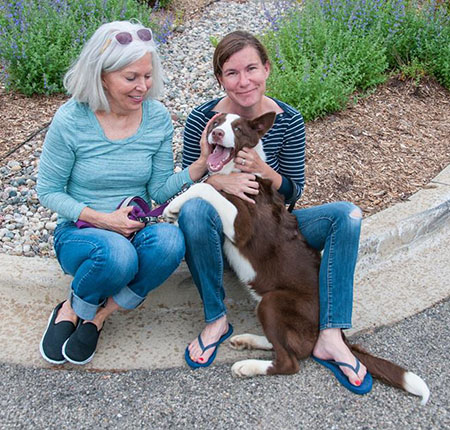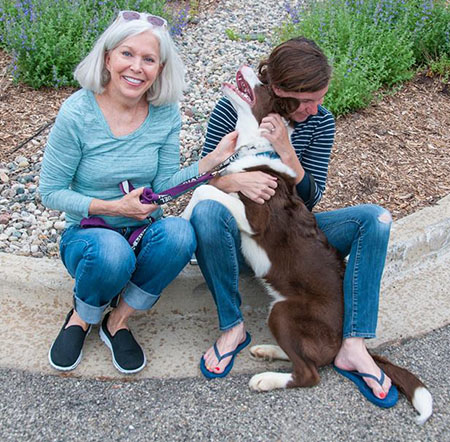 ---
---
Photos
---
Videos