Teva
Gender: Female
Age: 2 Years
Height/Weight: 20" / 40 lbs
House-trained: Yes
Fenced yard required: Yes
Location: Northern Ohio
Foster Home: Darlene


Crate-trained: Yes
Treat-motivated: A Little
Toy-motivated: No
Likes Car Rides: learning
Good with cats: yes
Good with kids: 10+
Commands: learning
---
Teva was adopted in July, 2016. Here she is with her new family!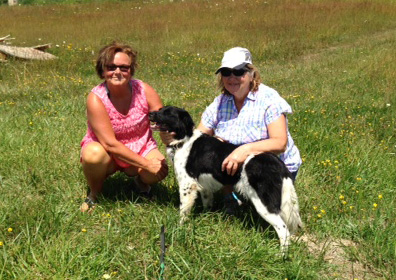 ---
Teva is a sweet, gentle soul. She is great with my cats and loves to hang with my two dogs. She warms up quickly to any new people who visit. Not your typical border collie, she so far has not tried to herd the horses or anyone else!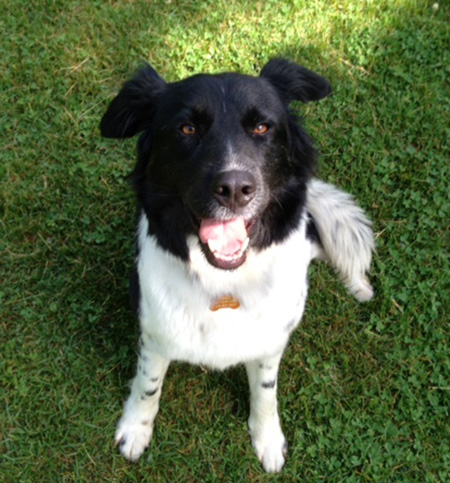 Not sure what her past life was, but she is still afraid of noises, any quick moves, toys, balls. Has started to respond well to some training with treats. Loves walks and has plenty of energy, just not the agility/fly ball kind of energy.
She is great in the house. Not a single accident and does not chew anything. I did use the crate at first and she didn't like it but didn't whine or carry on. Because she is so good, I have not used the crate for the last couple of weeks.
Teva will need someone who has patience to help her gain her confidence and get over her quircks. Obedience classes will help her bond with her new family. She loves to cuddle & there is a wonderful personality blooming!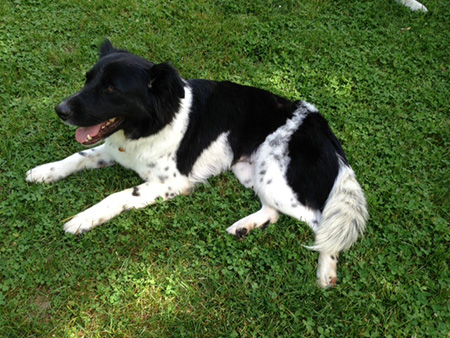 ---
Teva is becoming more comfortable & less afraid, but I think a couple more weeks will help her to transition much better. She is very sweet & gentle. Great with my cats & dogs. Very good with new people within minutes of meeting them. Lets me cut her nails without any resistance. But so afraid of noises, toys, balls. Sometimes even cowers when offered a treat. But getting better about that.
Teva is not your typical border collie. She does love to go on walks, but is not an agility, fly ball type bc. Does very well running & playing with my 5 yr. old dog.
---
---
Photos
---
Videos